Vegan Passionfruit Cheesecake
This is a real showstopper of a cheesecake; which also happens to be totally vegan. With a Tangy, tropical passion fruit gel topping, a deliciously creamy coconut cheesecake and a crunchy buttery biscuit base.  This makes a large cheesecake, yielding 12 generous portions so perfect for your next outdoor BBQ.
Prep time: 20 minutes
Cook time: 5 minutes
Total time: 25 minutes
Servings:
Ingredients:
Crust:
30 g Desiccated coconut
200 g Digestive biscuits
100 g Vegan butter
Cheesecake:
550 g Vegan cream cheese
200 ml Coconut milk ( full fat)
100 g Icing sugar
50 g Desiccated coconut
2 tbsp Lemon juice
1 tbsp Maple syrup
8 g Agar agar
2 Passion fruits
Gel:
3 Passion fruits
4 Clementines (or mandarins (orange juice would also work))
½ tsp Turmeric 
1 tsp Sugar
6 g Agar agar
Recipe:
Grease and prepare an 8inch spring-form cake tin and line with baking parchment on the bottom and around the sides.
Blitz the ingredients for the base in a food processor and add the melted butter. Press into a lined case. Pop in the fridge to set for an hour.
In a saucepan, bring the coconut milk to a boil and then add the agar agar, whisking to dissolve completely. Take off the heat and set aside.
In a large bowl, add the cream cheese, sugar, coconut, maple syrup, lemon juice,  passion fruit pulp and whisk vigorously. Slowly pour in the coconut milk/agar agar mixture and whisk until you have a smooth mixture. Pour on top the base and chill for at least 4 hours.
After 4 hours prepare the passion fruit gel by emptying the remaining passion fruits into a bowl and squeezing the clementine. Add in the turmeric, lemon juice and sugar pop this in a saucepan with a dash of water. Once simmering, add the agar agar. Whisk well to ensure no lumps. Leave to cool for 5 minutes before pouring over cool slightly before pouring over the cheesecake and pop back in the fridge for at least 2 hours or until the gel has set.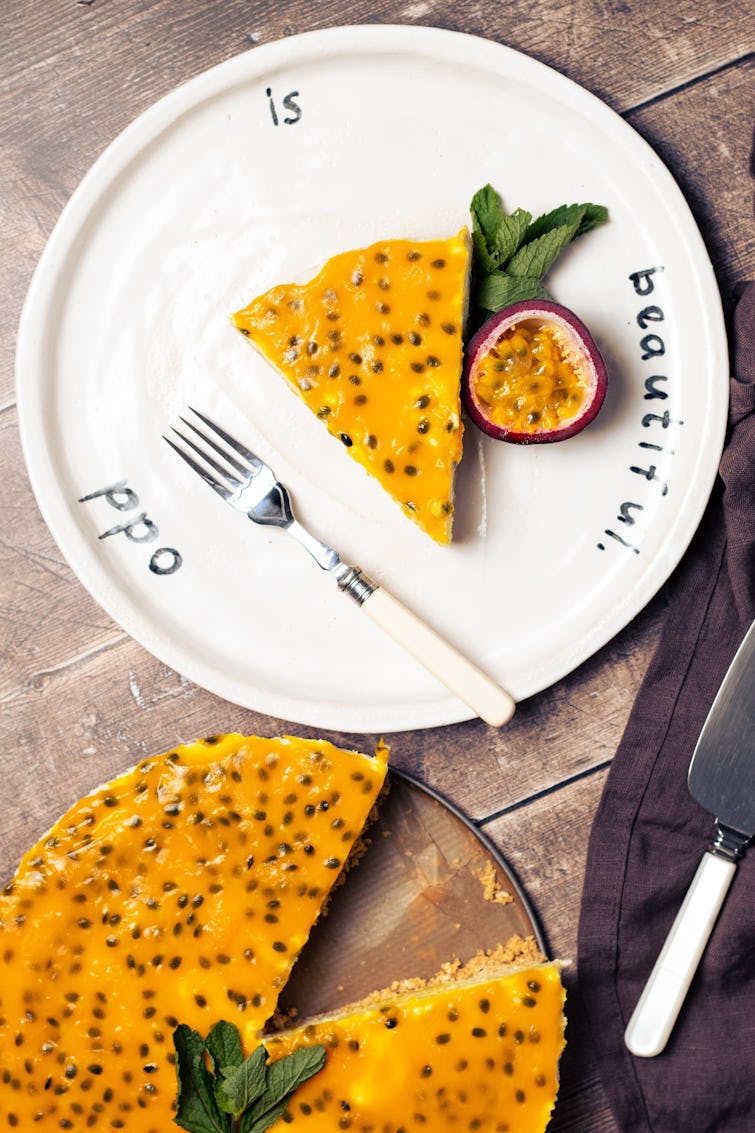 ---