Vegan Mushroom Meatballs
These vegan mushroom meatballs are hearty, meaty and bursting with mediterranean flavours.
Substitutes:
No mushroom? You can use tempeh, tofu or black beans instead.
No onion? You can use shallot instead.
No spaghetti? Try serving these meatballs with polenta.
No soy sauce? You can use Worcestershire sauce instead. Or a little miso paste diluted in water.
No walnuts? Walnuts are giving a great texture to these meatballs. You can substitute them with hazelnuts, pine nuts or pecans.
No oregano? Use any dried herbs you have on hand. Rosemary and thyme work very well too.
No vegan parmesan? You can sprinkle nutritional yeast.
Prep time: 20 minutes
Cook time: 20 minutes
Total time: 40 minutes
Servings: 2
Ingredients:
225 g Mushrooms
1 Onion (chopped)
3 Garlic cloves (chopped)
1 tbsp Oregano
½ tsp chilli flakes
1 tbsp Soy sauce
70 g Rolled oats
50 g Walnuts
1 tbsp Chia seed / Flax seed
1 Tomato sauce (of choice)
200 g Spaghetti 
Olive oil
Salt & pepper
½ a bunch of Basil leaves
vegan parmesan (grated)
Recipe:
Cook the mushrooms: Into a small bowl whisk together ground flaxseed and 2.5 tbsp warm water. Let it sit for 10 minutes. Slice the mushrooms.
Fry the garlic, onion and mushrooms until softened over medium heat. Add in the soy sauce, dried herb, chilli flakes, salt and pepper and continue to cook until most of the moisture has evaporated. Turn off the heat and set aside. Preheat the oven to 180 C
Prepare the meat balls ingredients: Add the oats and walnuts into a food processor, and blend until a coarse meal forms. Transfer to a large bowl. Now add the mushroom mixture into the food processor and blend until combined.
Transfer into the large bowl with the oats and walnuts mixture. Add the flaxseed mixture to the large bowl too, and mix everything together until combined.
Make the meatballs: Divide the mixture into 10-12 portions (around 38-42g each), roll them into balls and place on a baking tray. Bake for 20 minutes, rotating the tray half way.
Prepare the tomato sauce and cook the pasta: Cook the spaghetti in boiling salted water until al dente, reserving some of the cooking water. Warm up your tomato sauce in the same frying pan you used to cook the mushrooms. Season with dried herb of choice, fresh basil leaves, salt and pepper.
Add some of the reserved cooking water. Simmer until the meatballs are ready. Toss the pasta in the sauce and serve with the meatballs.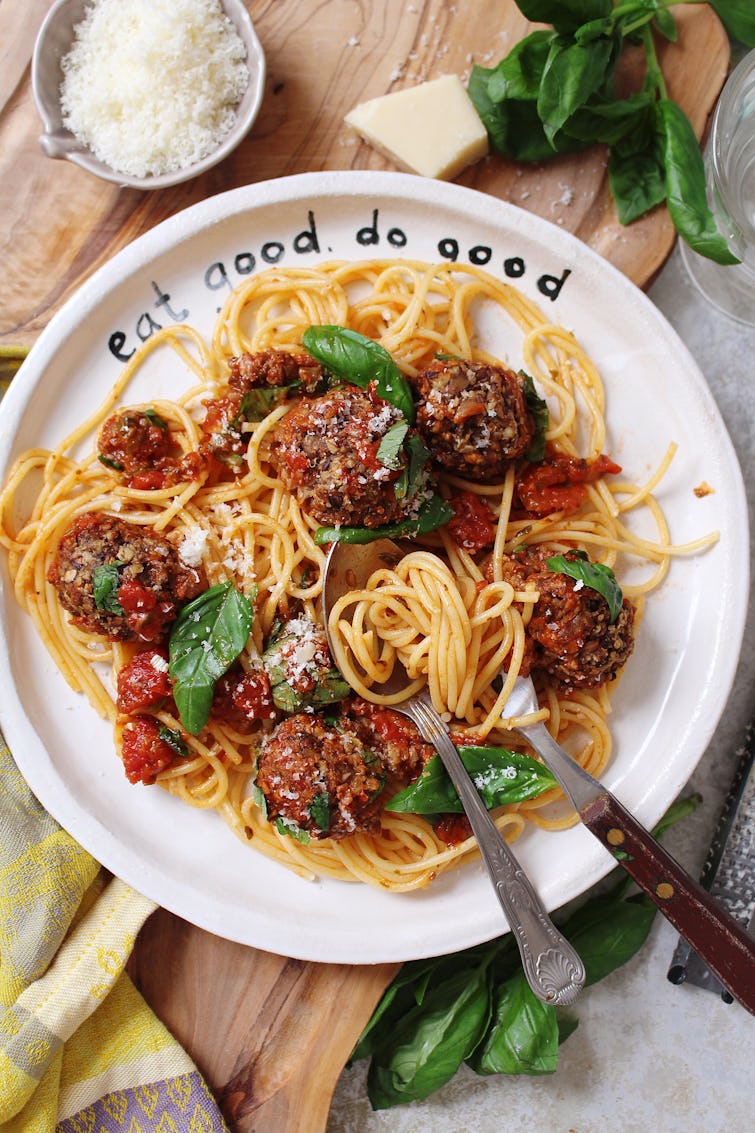 ---
How to store
You can make these vegan meatballs ahead and store them in the fridge for up to 3 days. They are also freezer friendly, and will keep for months in the freezer.