Upside-Down Pear Cake
Celebrate your pears by making this beautiful upside down cake. Showcasing caramelised pears and a tasty vanilla sponge, this recipe is one of the easier cakes you will ever make. This cake is particularly good for unripe pears, as they will soften and get warm, juicy and sweet. Enjoy!
Prep time: 20 minutes
Cook time: 40 minutes
Total time: 60 minutes
Servings: 6
Ingredients:
For the caramelised pears:
3 Pears
70 g Cold butter
70 g Caster sugar
For the batter:
300 g Plain flour
1 tsp Baking powder
150 g Caster sugar
3 Eggs
100 g Olive oil
6 tbsp Milk of choice
1 tsp Vanilla paste
Recipe:
Prepare the cake tin: Cut out a circle of baking paper that is roughly 2cm larger than the base of your round cake tin. Grease the sides of the tin (use oil or butter) and place the paper circle in the base, pressing up the sides slightly. This will help hold the caramel and prevent the cake from sticking.
Cut the pears in half with the skin on, and use a spoon to spoon out the core. In a non-stick frying pan, melt the sugar over a low heat until golden brown. Do not stir with a spoon, but if needed move the pan around a little. (Be cautious: boiling sugar is very hot, do not touch the caramel with your fingers, or you will burn yourself.)
Add the butter and stir with a wooden spoon very gently until melted. Gently place the pears cut side down in the pan - again without touching the caramel to prevent burning yourself. Cook the pears for 2-3 minutes in the caramel, over low heat and turn to coat.
Pour some of that caramel in the bottom prepared cake tin. Arrange the pear cut side down in a circle in the bottom of the cake tin.
Make the vanilla sponge cake: Preheat the oven to 180C. Mix the dry ingredients together. Mix the wet ingredients together with the vanilla seeds. Mix them together until a smooth mixture is formed. Gently spoon the mixture over the pears and smooth the surface. Bake for 35-40 minutes, or until the cake is golden and firm to the touch.
Carefully loosen and remove the sides of the cake tin. Place a serving plate over the cake and carefully turn over. Remove the tin base and baking paper. Make sure to do this while the cake is warm otherwise the caramel will harden and the cake will be more difficult to remove.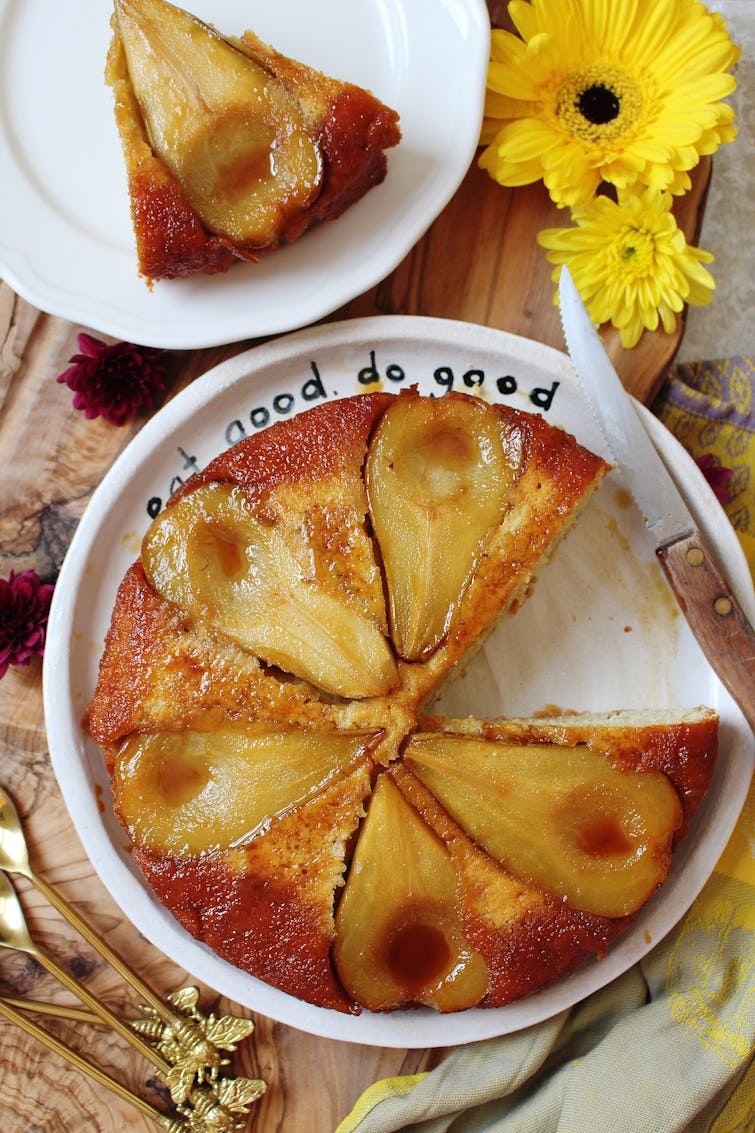 ---