Tomato & Goat Cheese Crumble with Basil
A savoury crumble that is super quick to put together. Can be eaten warm out of the oven or cold.
Substitute:
No oregano? Use rosemary instead. 
Vegan? Use vegan cheese and vegan butter alternatives.
Prep time: 15 minutes
Cook time: 20 minutes
Total time: 35 minutes
Servings: 2
Ingredients:
500 g Tomatoes
4 Garlic cloves
150 g Fresh goat cheese
2 tbsp Olive oil
Salt & pepper
10 Basil leaves (chopped )
For the crumble:
100 g Plain flour
1 tbsp Oregano
90 g Cold butter (cubed )
Recipe:
Preheat the oven to 190C/170c fan/5 gas mark.
Cut the tomatoes into chunks. Chop or grate the garlic. Place the tomatoes and garlic in a baking dish. Add a good drizzle of olive oil, season with salt and pepper. Toss well and set aside.
In a bowl add the butter, flour, oregano and a pinch of both salt and pepper. Use your hands to mix together into a crumble.
Crumble the goat cheese over the tomatoes and cover with the crumble mixture. Bake for 20-30 minutes, or until golden. You can finish on the grill oven for 3 minutes, until nicely golden on top.
Serve hot or cold with fresh basil on top.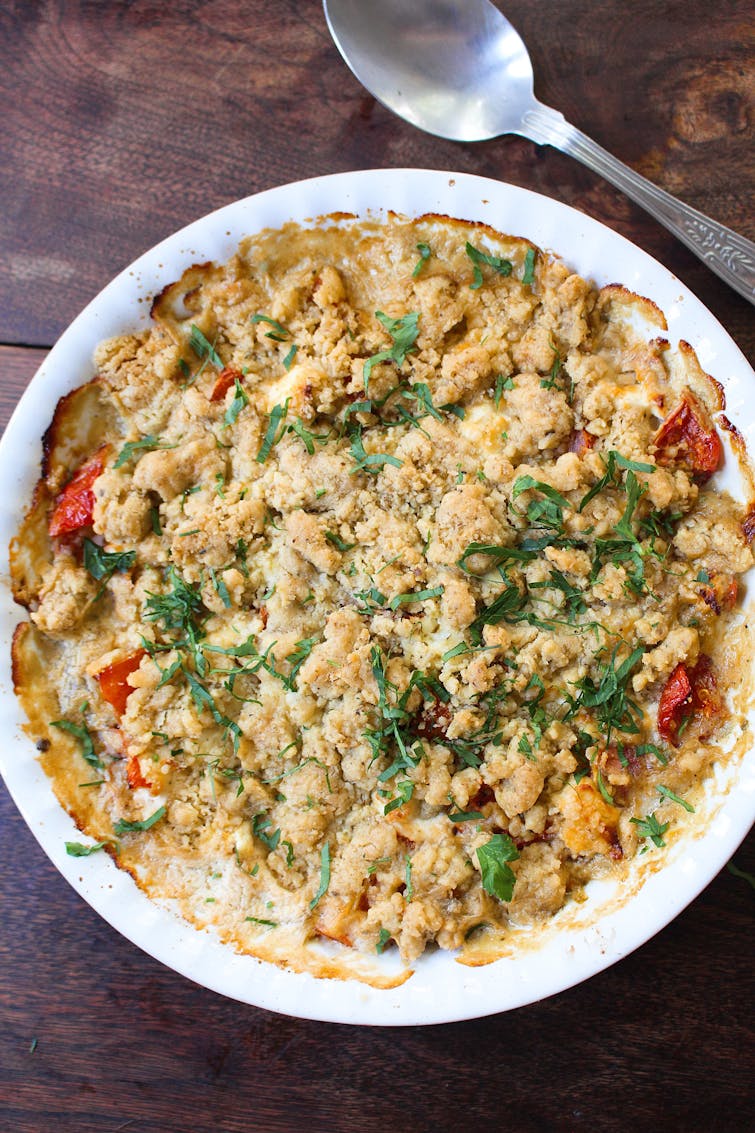 ---
How to store
Store in an airtight container, in the fridge for up to 3 days.