Tomato and Truffle Grilled Cheese
Tomatoes layered between two slices of sourdough bread with fresh herbs, truffle oil, cheddar/vegan cheese, and coated in sesame seeds spice before being pan-fried until melty and crisp. It's savoury, herby, and will make a great quick festive lunch.
Substitute:
No tomato? Try with caramelised onion and fresh pear instead. 
No basil? Use any fresh herb you have on hand instead. 
No cheddar cheese? Try with parmesan instead. 
Prep time: 10 minutes
Cook time: 10 minutes
Total time: 20 minutes
Servings: 1
Ingredients:
1 Tomato
5 Basil leaves
4 Sage leaves
1 tsp Truffle oil
35 g Cheddar (shredded )
1 tbsp Sesame seeds
2 slice Sourdough bread
2 tbsp Unsalted butter / Vegan butter
Salt & pepper
Recipe:
Thinly slice the tomato and prepare your ingredients. 
Heat up a large frying pan over medium-high heat and add 2 tbsp of butter to melt. Brush the bread slices with some of the melted butter and sprinkle one side with sesame seeds.
Grill the bread slices, in the melted butter for a few minutes on each side, until lightly crispy and golden. 
Turn down the heat. On the inside of half of the slices of bread, evenly layer the tomato slices, cheese/vegan cheese, basil and sage. Season with truffle oil, salt and pepper. Add the top piece of bread, cover the pan with a lid and cook for 3-4 minutes until the cheese has melted. 
Cut the grilled cheese in half and serve warm!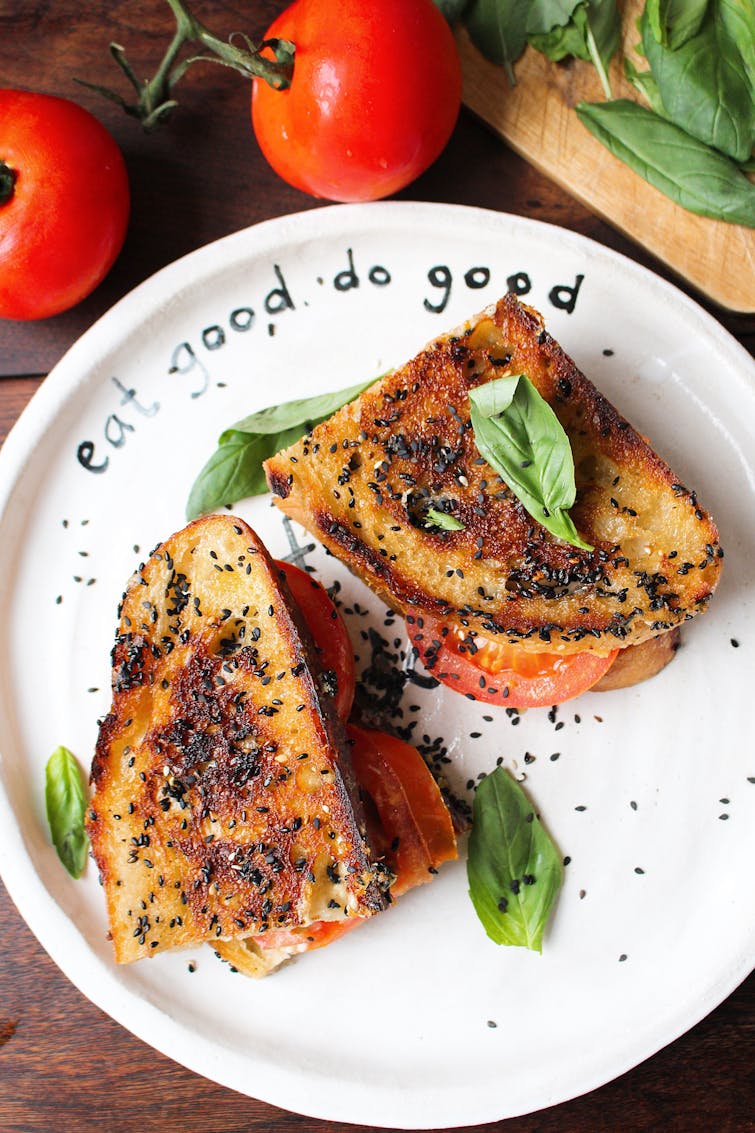 ---
How to store
Store in an airtight container in the fridge for up to 3 days. To reheat, bake in the preheated oven at 180 C/160 fan/4 gas mark, for 5-6 minutes. 
Leftovers
The grilled cheese would make a great side for any seasonal soups.