Tomato And Kale Panzanella Salad
Try this Mediterranean style tomato and bread chopped salad with kale, broccoli, and sweetcorn, simply dressed with an olive oil, mustard and red wine vinegar dressing. 
Substitute:
No kale? Try with cavolo nero instead.
No broccoli? Use any other vegetables from your Oddbox, such as asparagus, green beans or roasted aubergine. 
Prep time: 15 minutes
Cook time: 15 minutes
Total time: 30 minutes
Servings: 2
Ingredients:
3 Kale (leaves)
3 Tomatoes
1½ Broccoli
1 Corn
For the croutons
120 g ciabatta bread
a splash of Olive oil
Salt & pepper
For the dressing
1½ tbsp red wine vinegar
6 tbsp extra virgin olive oil
1 tsp Dijon mustard
Salt & pepper
Recipe:
Prepare the ingredients: Chop the broccoli into florets, and the stalk into pieces. Remove the kale stalks - keep them for stock or soup recipes. Roughly chop the tomatoes. 
Cook the ingredients: Bring a large saucepan of water to the boil. Add the whole sweetcorn, along with the broccoli. Cook the broccoli for about 4-5 minutes, until just tender, then use a slotted spoon to remove them from the pan. Leave the sweetcorn for another 10 minutes, then drain, and chop the kernels off. 
Make the dressing: In a large salad bowl, combine the red wine vinegar, mustard, olive oil, salt and pepper. Add the kale and use clean hands to massage it into the dressing for 2-3 minutes - this will make the kale more tender, making it easier to eat and digest. 
Build the salad: Add the sweetcorn kernels, broccoli, and tomatoes into the salad bowl. Mix well to coat, season to taste, add the croutons and serve.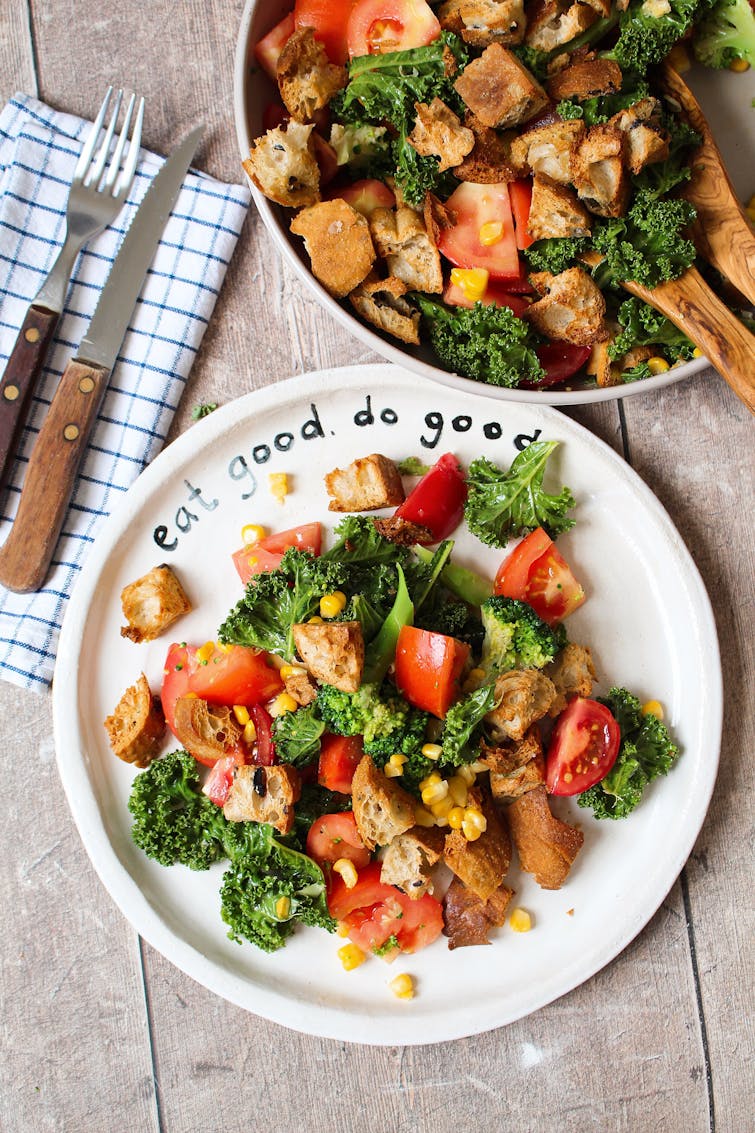 ---
How to store
You can make the salad ahead of time and store it in the fridge for up to 3 days. To avoid the croutons going soggy, store them in an airtight container, in a cool dark place and add them when ready to eat. 
Leftovers
Make a simple pasta salad with your leftovers. Cook your favourite short pasta, then drain and let cool. Toss in the salad, adding more olive oil and seasonings to taste.