Tomato Akuri with Masala Beans
Savoury Indian inspired breakfast showcasing akuri eggs which are eggs (or tofu) scrambled along with red onion, chilli, coriander, turmeric and chilli powder. They are served with grilled tomatoes and onion tomato masala baked beans. 
Substitute:
Vegan? Use tofu instead. Scramble the tofu with your hands and follow the same cooking steps. 
No garlic puree? Use fresh grated garlic. 
No ginger paste? Use fresh grated ginger. 
No chilli? Try with chilli flakes instead. 
No garam masala? Make your own garam masala from cardamom, cloves, black peppercorns, cinnamon, coriander seeds, cumin seeds, fennel seeds and star anise. Otherwise, use another spice mix such as curry powder.
Prep time: 15 minutes
Cook time: 15 minutes
Total time: 30 minutes
Servings: 2
Ingredients:
For the masala beans:
130 g Tomatoes
2 tbsp Vegetable oil
1 Onion
1 tbsp Garlic puree
1 tbsp Ginger paste
1 tbsp Tomato puree
400 g Baked beans
2 tsp Garam masala
1 Green chilli (thinly sliced )
1 tbsp Coriander leaves (chopped )
Sea salt 
For the eggs/tofu:
300 g Tomatoes
4 Eggs (or 150 g tofu)
2 tbsp Vegetable oil
1 Red onion
1 tsp Ground turmeric
1 tsp Chilli powder
Sea salt 
Recipe:
For the masala beans:  Cut the tomatoes in quarters and roughly chop the onion. In a small saucepan, add the vegetable oil, tomatoes, onion, garlic puree, ginger paste, tomato puree and a pinch of salt.
Place the pan over medium heat, cover with the lid and cook for 15 minutes, stirring often, until the tomatoes have completely broken down, and the mixture resembles a puree.
Add the baked beans, garam masala, green chilli and chopped coriander to the pan. Mix well, then cook for 5 minutes. Season to taste with salt. 
For the eggs: Preheat the oven to 190 C/170 fan/5 gas mark. Cut the tomatoes in half and place in a baking dish. Drizzle with oil and season with salt. Roast for 10-15 minutes, until juicy and tender.
Finely chop the red onion and place in a small mixing bowl along with the turmeric, chilli powder and a pinch of salt.
Heat a frying pan over medium heat. Add the vegetable oil and onion mixture. Cook until fragrant for 3-4 minutes.
Then add the eggs. Use a wooden spoon to scramble the eggs directly in the pan and cook for 1 minute.
Divide the masala beans and scrambled eggs into plates. Add the roasted tomatoes and serve.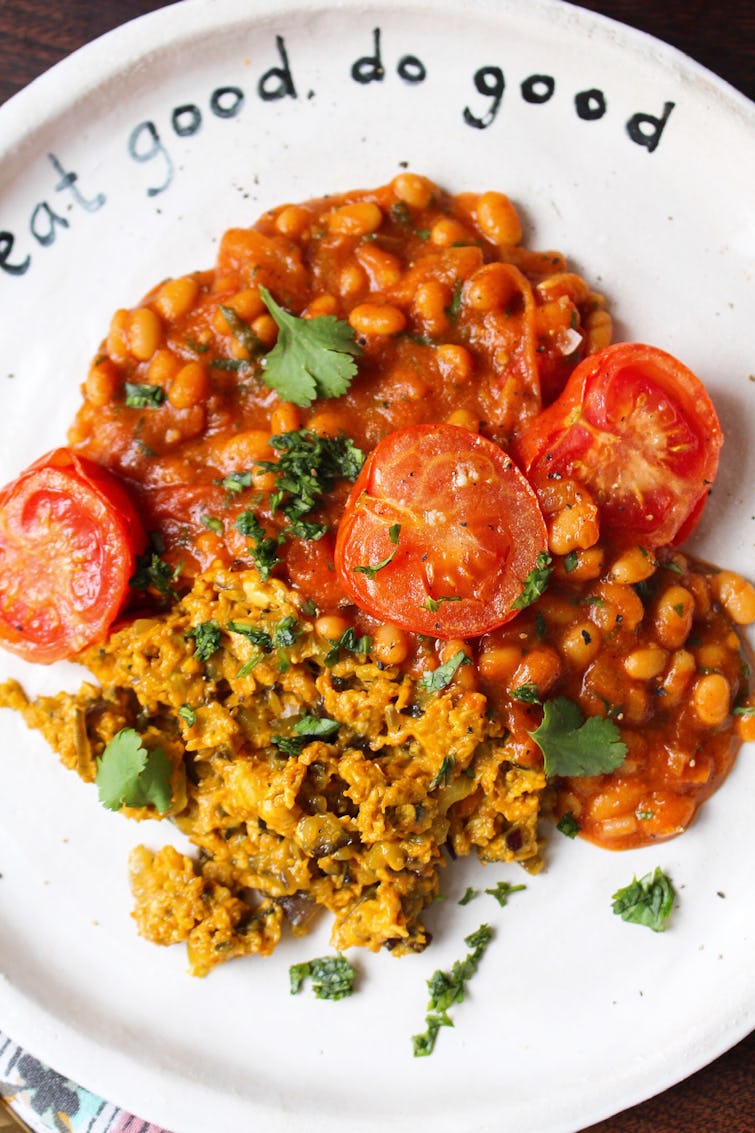 ---
How to store
Store in the fridge for up to 3 days. The masala beans can be frozen for up to 1 month.
Leftovers
Make masala baked beans shakshuka: Heat olive oil in an ovenproof frying pan over medium-high heat. Add onion, chopped peppers, garlic and cook until beginning to soften, about 5 minutes. Add chopped tomatoes and season with salt and pepper. Cook for 5 minutes. Add the leftover masala baked beans, crack eggs into the sauce (optional) and sprinkle with crumbled feta/vegan cheese. Transfer the pan to the oven and bake until the egg whites are set but yolks are still slightly runny, for 8-10 minutes.