Our best recipe for Potatoes - Potato, Ricotta & Mint Ravioli
"Fancy making something special with just a few humble ingredients? These gorgeous ravioli are filled with smooth potato puree, laced with ricotta and fresh mint – they take a fair bit of time and effort but they are perfect for a veggie dinner party dish, date night or when you are feeling like going that little bit extra! We will also use the potato skins to make a crumb for low waste! " - Storm (@whatstormeats) - guest ODDBOX chef
Prep time: 150 minutes
Cook time: 15 minutes
Total time: 165 minutes
Servings: 10
Ingredients:
For the pasta:
250 g Plain flour
2 large Eggs
Semolina (or flour for dusting)
Filling:
350 g Potatoes
3 tbsp Ricotta cheese 
1 sprig Mint (Large, roughly chopped)
Salt
3 Butter (cubes )
To serve:
Butter
Mint
Parmesan
Recipe:
To make your pasta dough, weigh out your flour and create a well. Incorporate the eggs into the flour until you have a rough dough. If it is too dry, wet your fingers with a little water until all the flour has combine. 
You want to knead the dough until smooth. This takes time and persistence (sometimes up to 30 mins!) but it is worth it! Keep kneading until the dough "bounces back" when you poke it.
Wrap your dough tightly in cling film and place in the fridge to rest for at least an hour.
Prepare your filling. You do not want your filling to be warm or hot when you fill your pasta so you need to leave enough time for it to cool down.
Boil your potatoes in a pan of salted water until cooked. Once they are cooked, drain and rinse with cold water. Now rub the skin off the potatoes and place to the side – we will do something with these!
Pop in a food processor and blend until super smooth. Add the ricotta, fresh mint and 3 cubes of butter – your mixture will be fairly sticky. Set aside to cool completely.
Place the potato skins on a tray and drizzle with a little olive oil and salt and put in a hot oven for 5 mins until crispy. When cooled, blitz to form a rough crumb.
Once your dough has rested and your filling has cooled completely, you will need to run your dough through a pasta maker, forming large sheets. If you don't have a pasta maker, do not worry – you can roll out the sheets so they are paper thin.
This is where you can get creative; make whatever shapes you like. For this recipe, simply fill the circular shape with a teaspoon of filling or pipe it using a piping bag. Brush a little water around the edge of the filling and place the second sheet over the top. Gently push around the filling ensuring that the pasta is sealed. Cut and place aside. Dust with a little semolina or flour.
You may have some filling and some pasta offcuts left over. Top tip: offcuts or "maltagliati " (meaning badly cut) in Italian, are not to be wasted! These are simply odd shaped bits of dough that you simply cook as you would normal pasta; great as lunch the next day with a sprinkling of parmesan or with pesto. Also, you'll have some of your potatoes mixture left over; put in the fridge and use with your next dinner as a decadent mash, or freeze for future fillings.
Boil a pan of salted water and cook your ravioli for approx. 2-3 mins until they float to the surface. Do a test run if need be but the pasta should be al dente and holding its shape.
In a frying pan, melt some butter with some mint leaves. Add your cooked ravioli, with a splash of pasta water and swirl them around coating them with the lovely buttery sauce.
Serve immediately with your crunchy potato crumb and lashings of Parmesan.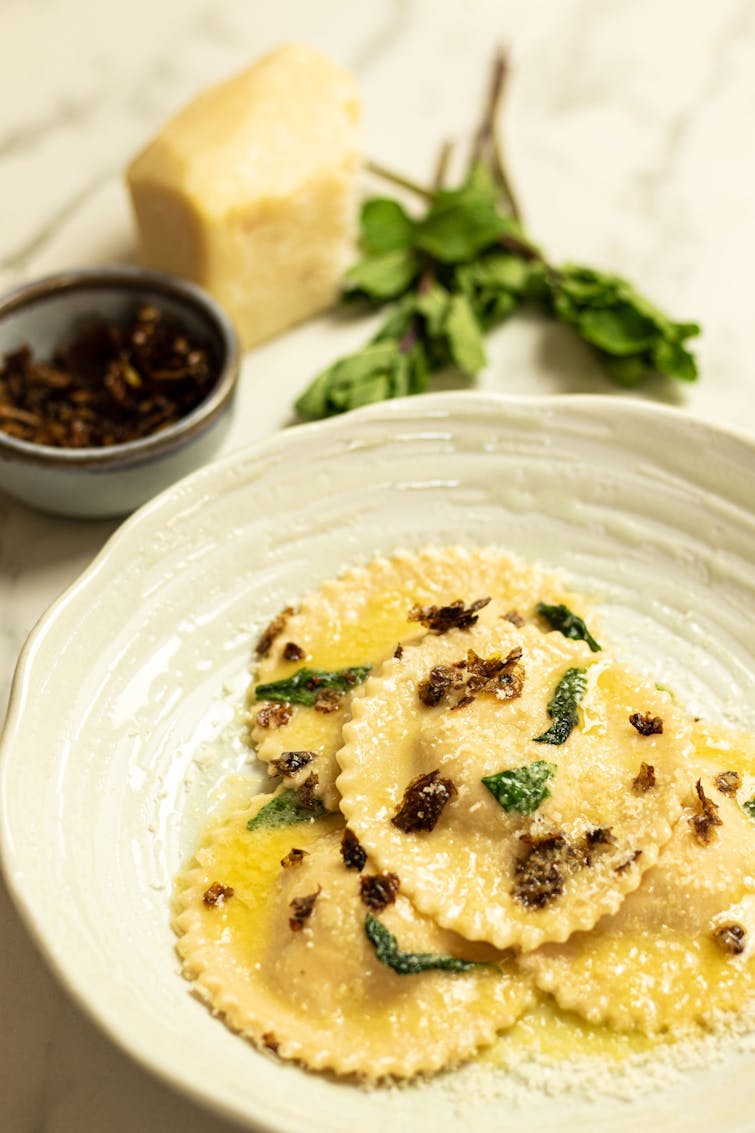 ---