Tender Broccoli Heads Gnocchi
Try this vegetable gnocchi recipe. Bright green and packed with flavours, the tender broccoli head gnocchi are boiled, then pan fried in a garlicky sage butter. Substitute the butter and parmesan to make it vegan!
Prep time: 30 minutes
Cook time: 15 minutes
Total time: 45 minutes
Servings: 2
Ingredients:
400 g Tender broccoli heads
200 g Pasta flour ( plus extra for dusting)
1 tbsp Garlic powder
10 Sage leaves
2 tbsp Butter (or vegan butter)
3 Garlic cloves
1 Lemon juice
Olive oil
Salt
Black pepper
Recipe:
Cook the broccoli heads: Bring a saucepan of salted water to the boil. Add the broccoli heads, and cook for 5 minutes, until tender. Drain and rinse under cold water to stop the cooking process. Set aside to drain. 
Mash the broccoli heads: Place the drained broccoli heads in a food processor, along with the garlic powder, salt and pepper. Blend until pureed. If too dry to blend, add a little lemon juice or a little olive oil, but make sure to end up with a dry puree. 
Make the gnocchi dough: Add the broccoli puree into a mixing bowl. Sprinkle over all of the flour and use a fork to mix it together. When dry enough start using your hands. Gently knead the mixture, adding more flour as you go, until a soft dough. Do not over knead - the more you work on your dough the more flour you will need, so stop when you have a soft dough.
Make the gnocchi: Divide the dough into 4 equal pieces and roll each into a sausage about 2 cm thick. Cut into small gnocchi and sprinkle with a little flour to prevent them from sticking. 
Boil the gnocchi: Work in batches, and cook in a pan of boiling salted water for 2-3 minutes. As soon as they come up to the surface they are ready. Remove with a slotted spoon and gently toss with a little olive oil to prevent them from sticking. 
Pan fry the gnocchi: Heat a large frying pan over medium high heat. Add the butter, sage and crushed garlic cloves. Pan fry the gnocchi for 5-7 minutes, or until golden and crisp. Finish with lemon zest and juice. Toss to coat, season to taste and serve with grated parmesan/vegan parmesan.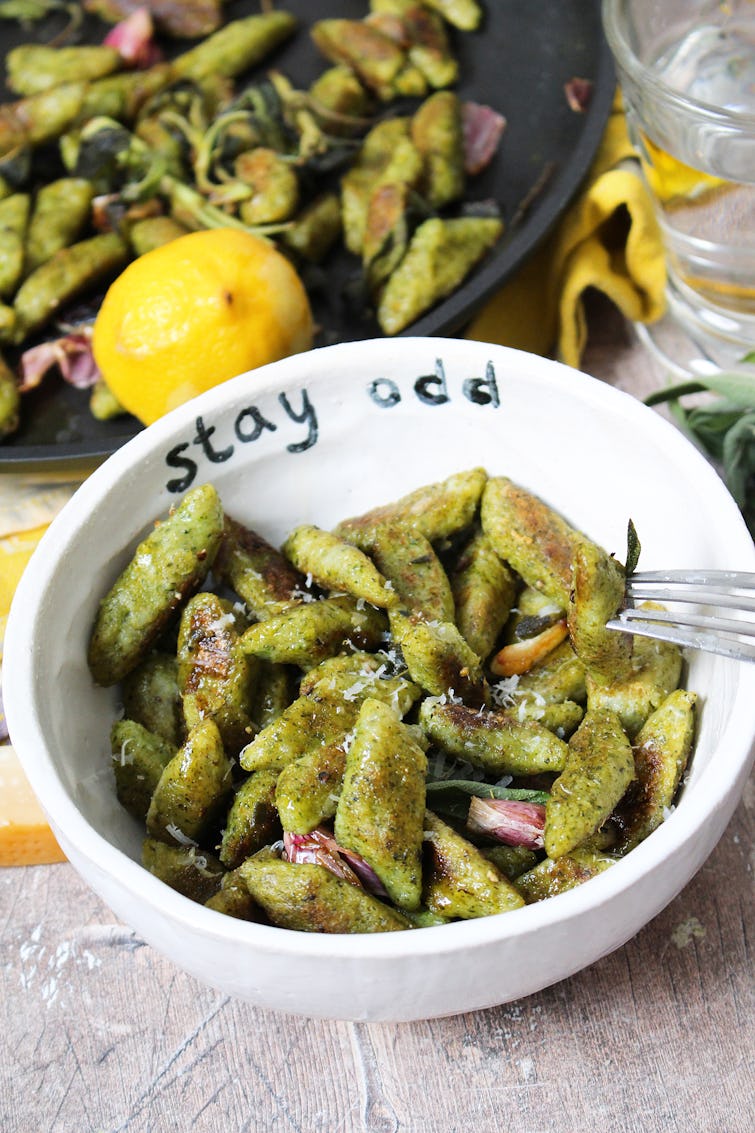 ---
How to store
Store the gnocchi in an airtight container in the fridge for up to 3 days. You can also freeze the gnocchi for up to 3 months. To freeze the gnocchi; spread them on a tray, place in the freezer and when frozen place them together into a freezer proof container. When ready to eat, defrost and pan fry for a few minutes to get them nice and crisp again. 
Leftovers
Make a gnocchi bake dish with the leftovers. Add cherry tomatoes, chopped onion, olive oil, feta or cream cheese, and seasonings into a baking dish. Bake at 200C/180 fan/6 gas mark, for 25 minutes, then toss in the gnocchis. Mix together, add back into the oven for 5 minutes and serve hot.