Sweet Potato Salad
As much as we probably shouldn't admit it, our favourite kind of salad recipes happen to be the ones that are mostly potato based. There's just no competition. 
Thanks to George from @biffenskitchen for the recipe!
How long have you been cooking? 10 years
Cooking style: Biff, Bosh, Nosh! Simple and well-balanced everyday grub!
Favourite cooking method: I love it slow 'n' low ...Risottos, Dals, Curries.
Favourite vegetable: That's like asking which child is your favourite... Red Onions. Sorry Aubergine and Broccoli but red onions go beautifully in many recipes and even better as a pink pickled onion!
Find George at @biffenskitchen and www.biffenskitchen.com/.
Prep time: 15 minutes
Cook time: 25 minutes
Total time: 40 minutes
Servings:
Ingredients:
2 kg Sweet potatoes (cut into flat strips)
120 g Feta (crumbled)
Dressing:
3 Spring onions (chopped)
1 Red chilli (finely chopped)
6 tbsp White wine vinegar
3 tbsp Olive oil
2 tbsp Clear honey
Recipe:
On a medium heat, add some olive oil and lay the sliced sweet potato pieces on your griddle pan with a pinch of seasoning. Cook until soft (the thinner the slices, the quicker they will cook). Repeat until all pieces are cooked.
Combine the dressing ingredients + seasoning. Pile the potato (hot or cold) onto a serving dish and drizzle over the dressing. Crumble over the feta and finish with more crushed black pepper.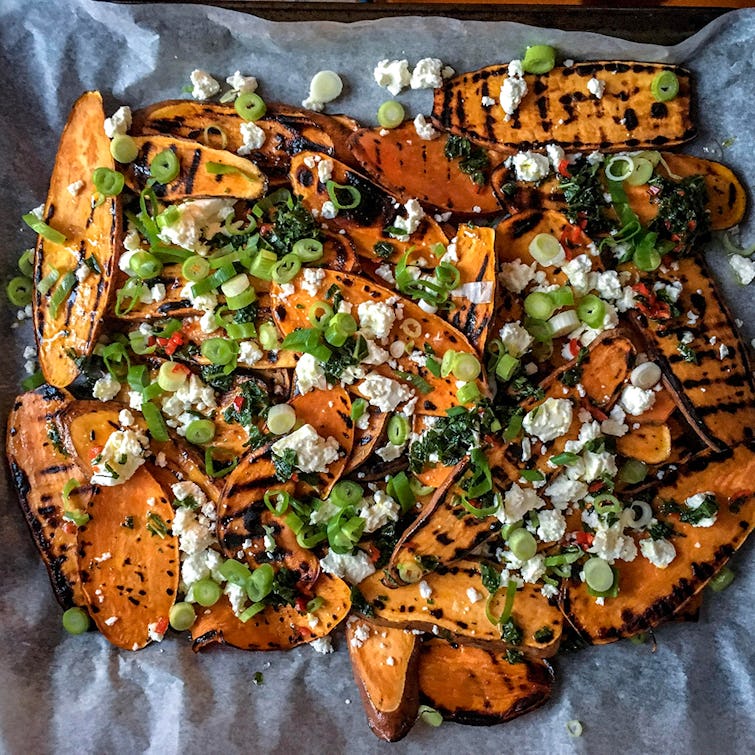 ---