Sweet Potato Falafels with Mint and Harissa Dip
The roasted sweet potatoes make the falafels so colourful and moist. Served with a spicy harissa, mint and tahini dip.
Substitute:
No tahini? Use natural yoghurt/vegan yoghurt instead. 
No almond flour? Try with chickpea flour instead. 
No mint? Use parsley or coriander instead. 
No ground coriander? Try with ginger powder, curry powder or garam masala instead.
Prep time: 15 minutes
Cook time: 45 minutes
Total time: 60 minutes
Servings: 4
Ingredients:
300 g Sweet potatoes
1 tbsp Olive oil
1 can chickpeas (drained and rinsed )
100 g Almond flour (or chickpea flour)
1 tsp Ground cumin
1 tsp Ground coriander
1 tsp Smoked paprika
Salt & pepper
300 ml Vegetable oil (for cooking )
For the dip:
1 tbsp Mint (chopped )
2 tbsp Harissa pesto
4 tbsp Tahini
Recipe:
Preheat the oven to 200 C/180 fan/5 gas mark. Scrub clean and roughly chop the sweet potatoes. Add them to a baking dish, drizzle with the olive oil, season with salt and pepper and roast for 35 minutes, or until tender.
Add the sweet potatoes, chickpeas, flour, cumin, coriander and smoked paprika to a food processor. Blend until just smooth and combined. Do not over blend as the mixture will get too wet. If this happens, just add extra flour until dry enough and you are able to form balls. 
Place the sweet potato mixture in the fridge for 30 minutes at least, until cold. Then shape the mixture into balls or quenelle of approximately 1 tbsp each. 
In a large frying pan, heat the vegetable oil. Carefully lower the falafels into the oil and cook 3-4 minutes on each side, until golden brown and crisp.
For the dip; combine all the ingredients in a bowl. 
Serve the warm falafels with the spicy sauce. If the dip is too thick, add a splash of water.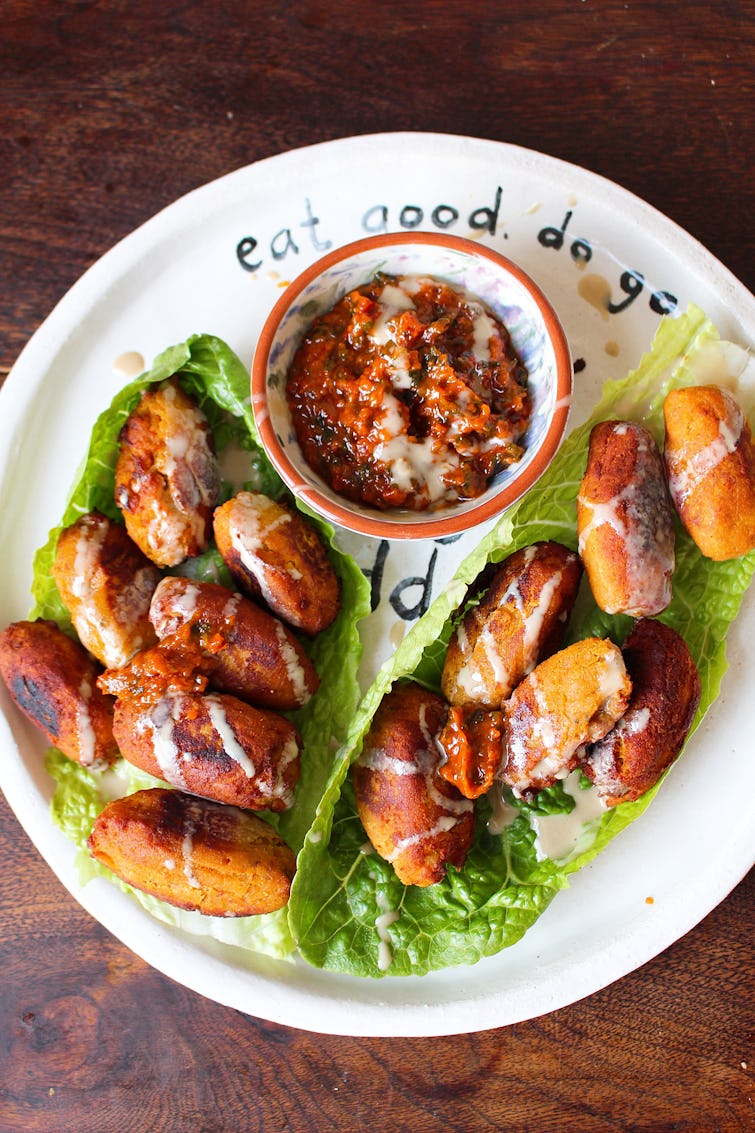 ---
How to store
Store in an airtight container, the fridge for up to 3 days, or in the freezer for up to 1 month. 
Leftovers
Serve in lettuce wraps with a dollop of natural yoghurt/vegan yoghurt and a squeeze of lime juice.