Sweet Potato, Coconut & Red Lentil Stew
Thai inspired sweet potato lentil stew. The perfect bowl of warming comfort food that's also healthy. Quickly made using sweet potatoes, red lentils, Thai curry paste, and creamy coconut milk. It's cosy, a little spicy, and filled with vegetables. 
Substitutes:
No onion? Use shallot instead. 
No sweet potato? Try with butternut squash instead. 
No soy sauce? Use tamarind instead. 
No coriander? Use fresh parsley instead. 
No coconut oil? Use a light olive oil or vegetable oil instead. 
Prep time: 10 minutes
Cook time: 20 minutes
Total time: 30 minutes
Servings: 2
Ingredients:
1 Sweet potato
1 Onion
1 tsp Ground ginger
1 vegetable stock cube
1 tbsp Soy sauce
5 tbsp Red split lentils
1 tsp Thai green curry paste (or to taste)
1 Can coconut milk
1 Can chickpeas
a bunch of Fresh coriander
2 tbsp Coconut oil
Recipe:
Finely chopped the onion. Wash the sweet potato under cold water and cut into small chunks. 
Place a large frying pan over a low-medium heat. Add the coconut oil and cook the onion for 3 minutes, until fragrant.
Add the ground ginger and thai curry paste. Cook for 1 minute, then add the sweet potato, chickpeas, coconut milk, red lentils, stock cube and soy sauce. Bring to a boil, then reduce the heat and simmer for 10 minutes, or until the sweet potato is tender. If the stew is too dry, feel free to add water. 
Finely chop the coriander. Divide the stew into bowls and top with the fresh coriander. Enjoy!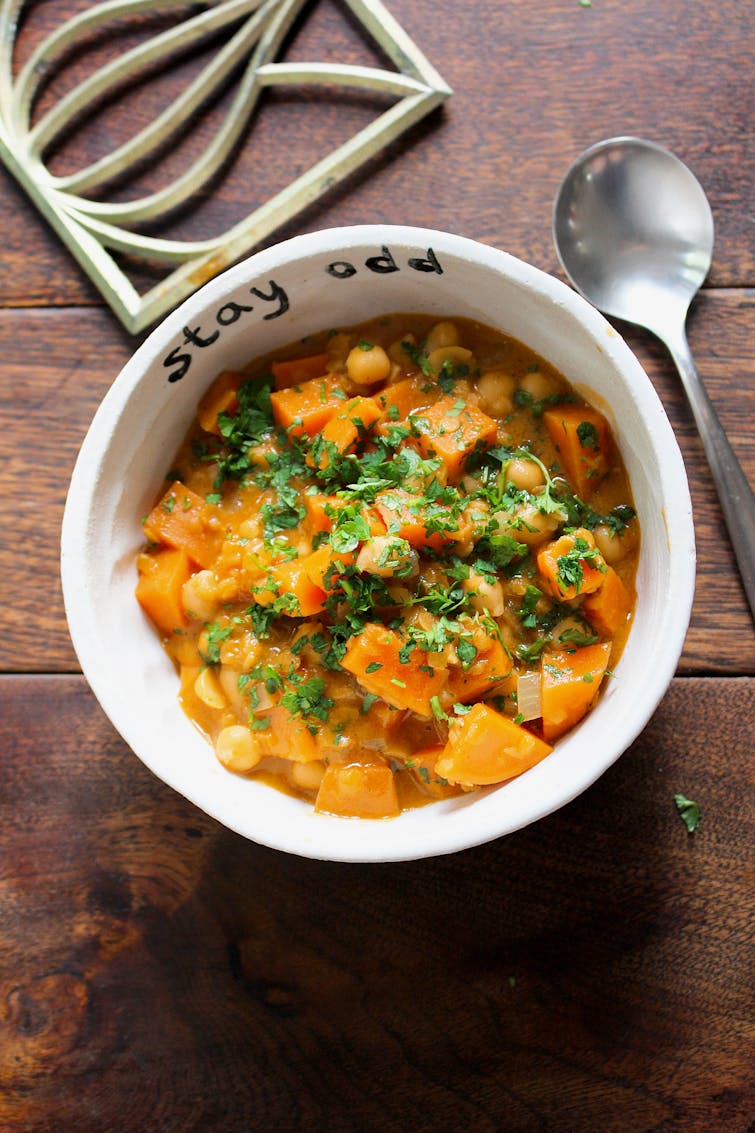 ---
How to store
Store in an airtight container, in the fridge, for up to 3 days, or in the freezer for up to 3 months.