Sweet Potato Carbonara
"A quick and delicious supper recipe! We are using sweet potatoes instead of pancetta to make a vegetarian version of the traditional carbonara. Sweet potatoes are rich in nutrients and have a creamy texture and a sweet, slightly spicy flavour - which makes them perfect as a vegetarian replacement. This recipe has very little ingredients, making it easy to recreate."
Variations: Instead of the sweet potatoes, use butternut squash. You can also use blanched asparagus, cut into small pieces. Same for the pasta; spaghetti, penne or any pasta you have on hand will do!
*Egg whites can be used for meringues, chocolate mousse, omelette, and my favourite to make frosted berries!
To make frosted berries all you need is egg white, caster sugar and small berries such as red currants or black berries. Start by brushing the berries with egg white, then dip them in caster sugar, and place them on a rack to dry, until crystallized. They make the perfect cake decoration, and are super fun to make with kids.
Prep time: 10 minutes
Cook time: 25 minutes
Total time: 35 minutes
Servings: 2
Ingredients:
450 g Sweet potatoes
2 Egg yolks
2 Garlic cloves (chopped )
400 ml Vegetable stock
Parsley (¼ bunch)
Olive oil
Salt
Black pepper
Recipe:
Prepare and cook the sweet potatoes: Peel and dice the sweet potatoes into 1 cm cubes. Compost the peels. In a large pan, fry the sweet potatoes in olive oil over medium heat. Season with salt and pepper, and cook tossing occasionally for about 6-8 minutes. Then stir in the garlic and cook, tossing occasionally, 2 minutes longer. Pour in vegetable stock, bring to a boil then reduce heat and allow to simmer until the stock has reduced by half, about 10 minutes. The sweet potatoes should be tender, if not keep cooking for 5 more minutes.
Make the egg sauce: Beat the egg yolks with half of the finely grated parmesan. Season with pepper, mix well with a fork and set aside.
Cook the pasta: Cook the spaghetti in a large pan of boiling salted water until al dente. Reserve some of the cooking water (about 2 cups), then drain the pasta. Add some of the cooking water and toss well to prevent the pasta from sticking.
Make the sweet potato cream: Take half of the cooked sweet potatoes, place in a blender along with some of the cooking water. Blend until smooth and creamy. 
Finish the carbonara: Add the sweet potato cream and the spaghetti into the pan. Toss well over the heat for 1 minutes. Season with pepper, then pour in the egg mixture and some of the reserved cooking water. Toss well, to gently cook the yolks, adding more cooking water if needed, or until nice and glossy.  Serve with the rest of the grated Parmesan, chopped parsley and black pepper.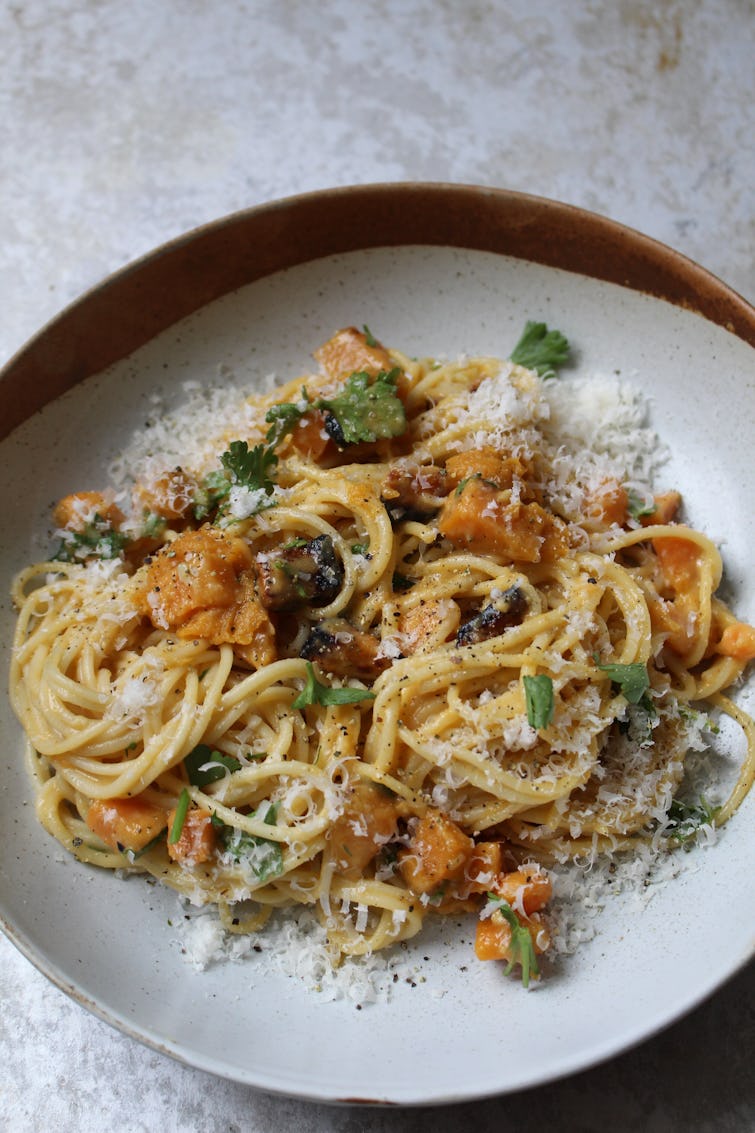 ---