Sweet Potato Baked Eggs
This delicious recipe is brought to you by our friend Helen at The Big Wide World and Me. Cooking from humble kitchen, Helen's passionate about cutting food waste & creating simple yet yummy recipes for everyone to indulge in! Check out her blog and Instagram (@thebigwideworldandme) to see more…
Prep time: 20 minutes
Cook time: 75 minutes
Total time: 95 minutes
Servings: 2
Ingredients:
2 large Sweet potatoes
2 Eggs (I used duck eggs)
1 tsp chilli flakes
a bunch of Coriander (chopped)
40 g Cashews (soaked overnight and whizzed into a cream with equal part water, and a little salt and pepper (if you eat dairy you could use single cream, double cream or a substitute instead))
Recipe:
Preheat the oven to 180C.
Wash and prick the potatoes with a fork. If you want crispy skins, rub the skin with a little oil and sprinkle with salt.
Bake in the oven until soft, about 45 minutes to an hour.
Remove from the oven and cut open the top of the potato.
Scoop out the potato mixture into a bowl, leaving a centimetre or so by the skin.
Mash the flesh in a bowl with the chilli flakes.
Pile the mash back into the potatoes, leaving a well in the middle (you can build the mash up the sides if needs be)
Crack an egg into each well and add cashew cream around the yolk.
Return to the oven and bake until the egg white is set, about 15-20 minutes.
Serve, sprinkled with coriander.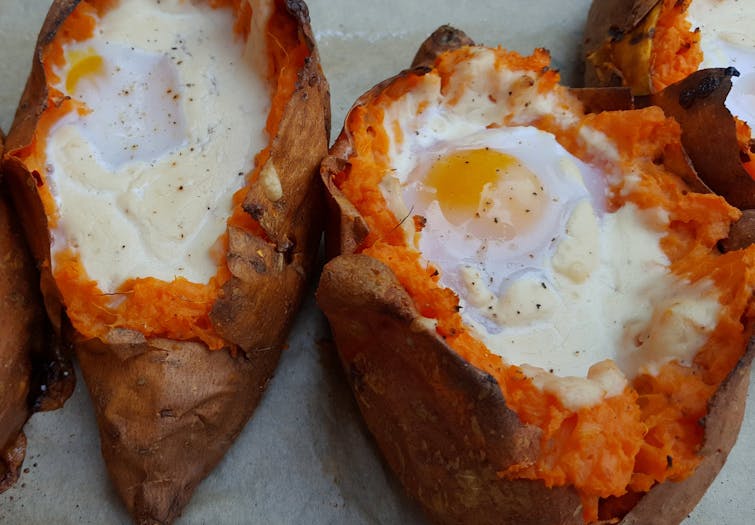 ---