Sweet Miso Roasted Fennel Pasta
The fennel is roasted in a sweet miso sauce, tossed in pasta with corn, garlic and hazelnuts to provide a different texture and a nice finishing touch.
Substitute:
No corn? Use grated courgette instead. 
No hazelnuts? Try with macadamia nuts or cashew nuts instead. 
No maple syrup? Use honey instead.
Prep time: 10 minutes
Cook time: 20 minutes
Total time: 30 minutes
Servings: 2
Ingredients:
1 Fennel
160 g Pasta (any )
160 g Corn (off the cob )
20 g Hazelnuts
2 Garlic cloves (sliced )
2 tbsp Olive oil
4 tbsp Oat milk (or any milk of choice )
For the sweet miso sauce:
2 tbsp Miso paste
2 tbsp Maple syrup
1 tbsp Rice vinegar
Recipe:
Preheat the oven to 200C/180c fan/6 gas mark.
Roughly chop the fennel into small chunks. In a large mixing bowl, combine the sweet miso sauce ingredients. Add the fennel and toss well to coat. Place in a baking dish and roast for 15-20 minutes, or until tender and lightly caramelised.
In the meantime, cook the pasta following the packaging instructions. Drain and set aside.
Place a large frying pan over medium heat. Add the olive oil and garlic. Cook for 1 minute until fragrant then add the corn, hazelnuts and pasta. Cook for 2 minutes, then add the oat milk and roasted fennel with the miso sauce.
Mix well and season to taste with salt and pepper. Divide into plates and enjoy!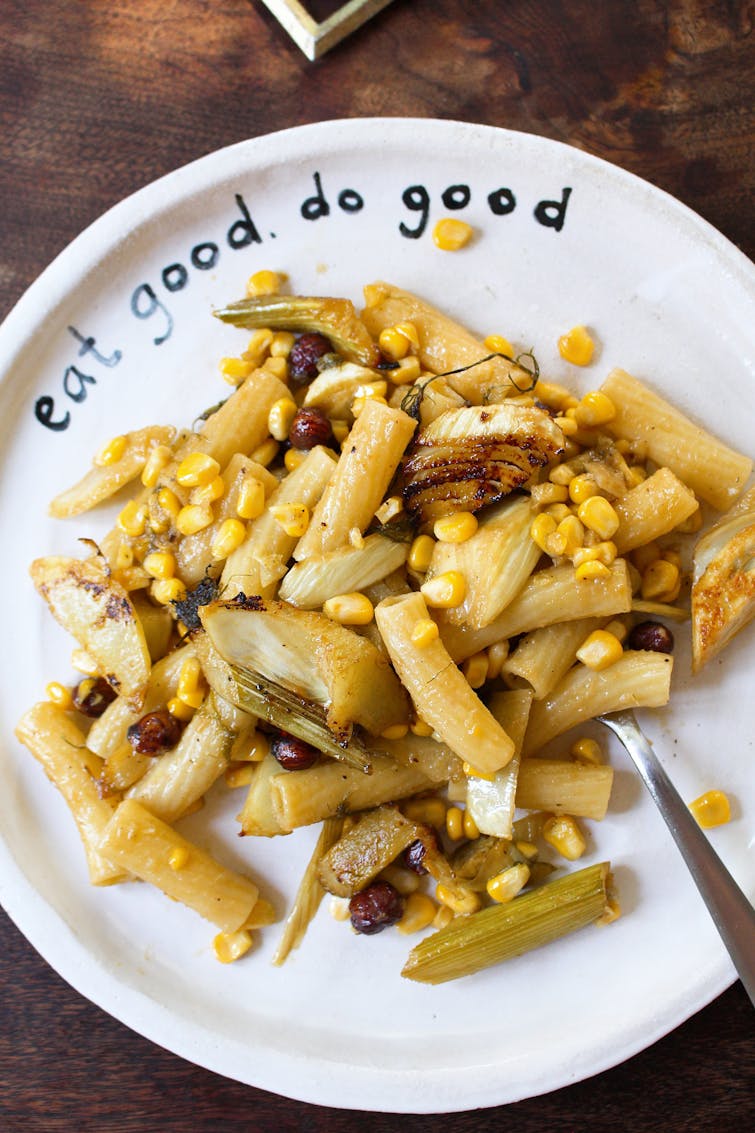 ---
How to store
Store in an airtight container, in the fridge for up to 3 days or in the freezer for up to 1 month.