Super Green Spinach Mac & Cheese
"Deliciously creamy and decadent – mac & cheese should be on everyone's comfort food menu. With added goodness from the spinach, you'll be making this gloriously green pasta dish on a weekly basis."
Prep time: 15 minutes
Cook time: 35 minutes
Total time: 50 minutes
Servings: 2
Ingredients:
150 g Macaroni (dried, or any small pasta shape!)
150 g Spinach
Basil leaves (Handful )
30 g Butter / Vegan butter
35 g Plain flour
300 ml Milk
50 ml Cream
150 g Cheddar (strong cheddar, grated)
50 g Parmesan
Mozzarella (1 ball)
25 g Breadcrumbs
Recipe:
Preheat your oven to 180 degrees. Cook the pasta in a big pan of salted water according to the instructions. Once cooked, drain well and set aside.
Blanch the spinach and basil by pouring over boiling hot water. Drain and then plunge into cold water before draining again, and squeezing out any excess moisture. In a blender, combine your spinach, basil and about 100ml of your milk. Whizz until combined.
Make the roux for your cheese sauce by melting the butter over a medium heat, adding in the flour. Gradually whisk in the rest of milk a little at a time until the sauce thickens. Add your spinach/milk and whisk continuously before add in your cream, grated cheddar, half the Parmesan and a torn ball of mozzarella. Pop back on a gentle heat until all the cheese is melted and you have a silky sauce.  Add in the cooked macaroni, pour into a ovenproof dish and spread out evenly.
Sprinkle across the breadcrumbs in an even layer followed by the rest of the Parmesan.  Pop in an oven for approximately 15-20 mins until the top has gone crispy and golden. Leave to stand for 5 or so minutes before serving.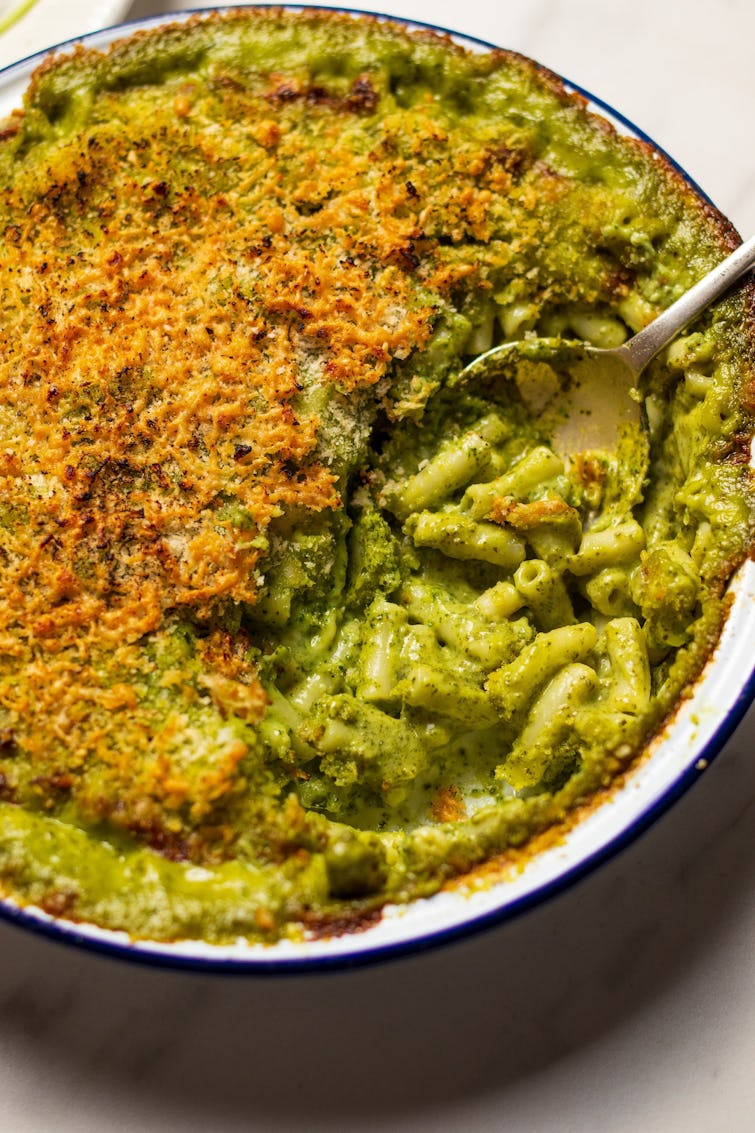 ---
How to store
This freezes wonderfully cooked – simply portion up and freeze. Cook once it has defrosted – you may need to add a splash of milk.