Stuffed Tomatoes
Try this delicious recipe; the tomatoes are carved and filled with a stuffing of rice, herbs, onion and feta. Serve these on their own, as a side dish or as part of a buffet. If you don't have tomatoes, try this with courgette, bell peppers or aubergine instead. 
Prep time: 20 minutes
Cook time: 35 minutes
Total time: 55 minutes
Servings: 4
Ingredients:
8 Tomatoes
1 tbsp Oregano
3 Garlic cloves
1 Onion (small, peeled and diced)
150 g Rice
1 vegetable stock cube
6 Basil leaves (6-8 leaves chopped)
80 g Feta (crumbled)
1 tbsp extra virgin olive oil
Thyme (½ bunch)
Salt (to taste)
Black pepper (to taste)
Recipe:
Prepare the tomatoes: Cut the top and hold the tomato in your hand, then carve the flesh out with a teaspoon. Keep the flesh with the juice in a separate bowl, and keep the tomato tops too. Sprinkle the insides of the tomatoes with a little salt, and place the tomatoes upside down on a plate for the juice to come out. Set aside while making the stuffing.
Cook the onion: On a board, chop up the tomato flesh coarsely. Heat 1 tablespoon of olive oil in a frying pan over medium heat. Add the onion, tomato flesh, and garlic. Cook for 5-6 minutes, stirring occasionally, until the liquid mixture has reduced by half. Turn off the heat and let cool for a few minutes. 
Cook the rice: Bring a large saucepan of salted water to the boil. Add the cube of stock along with the rice. Cook following the packaging instructions, which should be 10-12 minutes, then drain and set aside. 
Stuff the tomatoes: Spoon the stuffing into the hollowed tomatoes, making sure they are well packed. Place the tops back on, and place the tomatoes into a baking dish over a bed of thyme so that they don't roll over. 
Finish the stuffing: Preheat the oven to 180C/160 fan/4 gas mark. Add the cooked rice, crumbled feta, oregano and chopped basil leaves to the pan. Season to taste with salt and pepper, and mix until combined. 
Bake the tomatoes: Bake for 30 minutes, and serve hot or cold.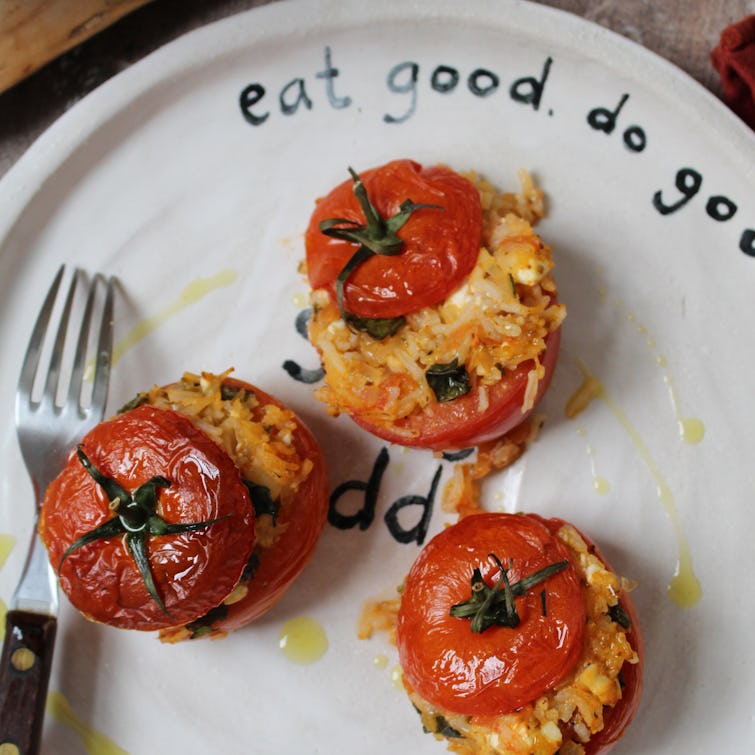 ---
How to store
Store the stuffed vegetables in an airtight container in the fridge for up to 3 days. 
Leftovers
The stuffed tomatoes can be reheated or eaten cold. They would be great served alongside a simple green salad with a mustard based vinaigrette made from ½ chopped shallot (or onion), 1 tsp dijon mustard, 4 tbsp extra virgin olive oil, salt and pepper.  If you have any rice filling leftover, try and make a rice salad. Toss the filling in lettuce and season to taste.