Stuffed Cabbage Parcels
Cabbage leaves stuffed with chopped cabbage, lentils, fresh herbs and spices then baked in a passata style tomato sauce.
Substitute:
No white cabbage? Use any cabbage you have: red cabbage, savoy cabbage..
No carrots? Use parsnips or jerusalem artichokes instead. 
No lentils? Try with rice or beans instead. 
No cumin seeds? Use fennel seeds instead. 
No turmeric? Add ground coriander or ground cumin instead. 
No passata? Pour a can of chopped tomatoes into a food processor and blend until smooth.
Prep time: 15 minutes
Cook time: 30 minutes
Total time: 45 minutes
Servings: 2
Ingredients:
1 Cabbage (any)
1 Onion (chopped )
1 Carrot (cubed)
1 can lentils (drained and rinsed )
1 tbsp Cumin seeds
1 tsp Ground turmeric
Olive oil
Salt & pepper
For the tomato sauce:
500 g Tomato passata
2 Garlic cloves (chopped )
1 tbsp Dried thyme
30 g Parsley
Salt & pepper
Recipe:
Preheat the oven to 180 C/160 fan/4 gas mark. Gently remove the outer cabbage leaves trying to keep them whole, and roughly chop half of the cabbage center - reserve the other half for another recipe.
Blanch the outer cabbage leaves in boiling salted water until tender, for 4-5 minutes, then drain and lay out on a chopping board.
In a large frying pan, heat 2 tbsp of olive oil. Add the chopped onion, cumin seeds, turmeric and a pinch of both salt and pepper. Cook until fragrant, about 3-4 minutes.
Add the chopped cabbage, cubed carrot and lentils. Cook for 5-7 minutes, until tender. If the mixture is too dry add a splash of water. Season to taste with salt and pepper.
In the meantime, pour the passata in a baking dish and season with dried thyme, salt and pepper.
Spoon 3 tablespoons of the lentil mixture into the centre of each cabbage leaf.
Roll up and place, seam-side down, in the baking dish.
Drizzle with olive oil and bake for 20 minutes. Serve with fresh parsley on top.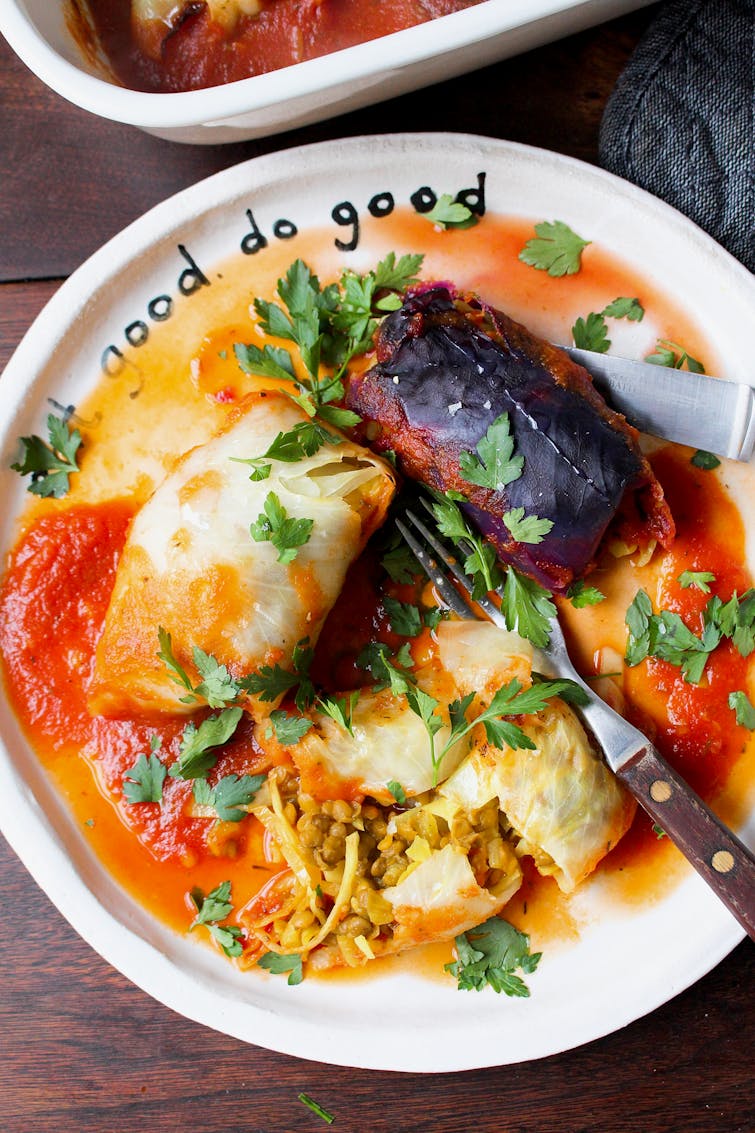 ---
How to store
Store in an airtight container in the fridge for up to 3 days. Reheat in the preheated oven at 180 C/160 fan/4 gas mark for 10 minutes. 
Leftovers
Serve the leftovers with a side of potato salad or warm crusty bread.