Sticky Toffee And Pomegranate Pudding
Try this fluffy and moist cake made from dates, pomegranate seeds, butter, sugar, eggs, flour, and served with a caramel buttery top.
Substitute:
No golden syrup? Try with treacle instead. 
No self raising flour? Use plain flour and add 1 tsp of baking powder to the recipe. 
No golden caster sugar? Try with dark moscato sugar instead. 
Prep time: 20 minutes
Cook time: 30 minutes
Total time: 50 minutes
Servings: 7
Ingredients:
190 g Pomegranate seed
190 g Deseeded date
190 ml Water
1 tsp Bicarbonate of soda 
For the batter:
60 g Butter / Vegan butter
2 tbsp Golden syrup
40 g Light brown sugar
2 large Eggs
190 g Self raising flour
1 tsp Baking powder
For the sauce:
120 g Butter / Vegan butter
150 g Golden caster sugar
90 g Double cream / Vegan cream
Recipe:
Prepare the baking dish: Preheat the oven to 180 C/160 fan/4 gas mark. Grease a 23x23 cm square baking dish (use a little butter/vegan butter or vegetable oil) and dust with flour. 
Soak the dates: Roughly chop the dates, and boil 190 ml of water. Put the chopped dates, boiling water and bicarbonate soda into a bowl, stir and leave for 10 minutes.
Make the batter: Cream the butter and golden syrup together in a stand mixer or with a whisk, until well mixed, then add the sugar and mix again. Beat in the eggs, then fold in the flour and baking powder until you have a smooth, thick batter.
Pour the dates and their liquid into the batter and mix gently, then fold in half of the pomegranate seeds.
Bake the cake: Pour the batter into the prepared dish, and bake for 30 minutes, until a cake tester comes out clean.
Make the sauce: Pour all of the sauce ingredients together in a pan, and heat under medium heat until the butter has melted. Bring to boil for 4-5 minutes, until golden and creamy.
When the cake is cooked, pour half of the sauce over for the cake to soak it up. Leave to cool for 5 minutes, then pour the rest of the sauce and sprinkle with fresh pomegranate seeds. Serve warm.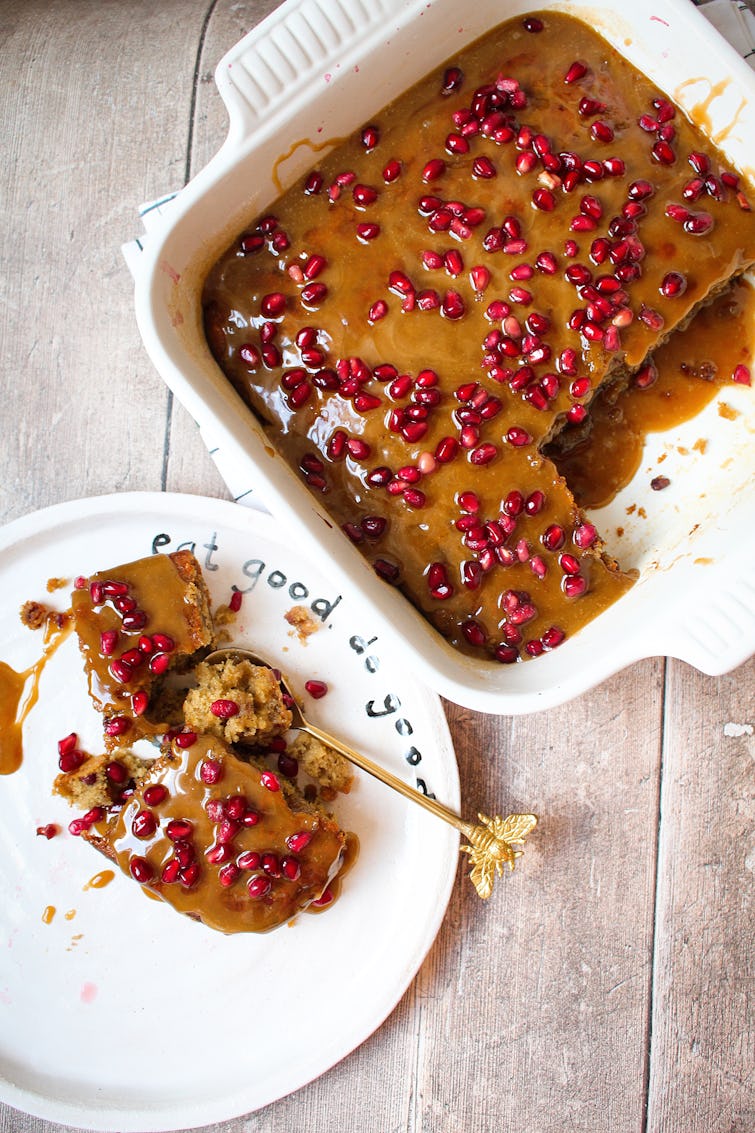 ---
How to store
This cake should be eaten warm, but if needed store in an airtight container in a cool place, or in the fridge for up to 3 days. 
Leftovers
Serve any leftovers with a scoop of vanilla ice cream.