Roasted Squash and Aubergine Pizza with Caramelised Onions
Try this delicious pizza! The fresh pizza dough is topped with caramelised onions, blue cheese, creamy aubergine and sage roasted butternut squash. It is baked until the cheese is melted and bubbly, and the pizza golden.
Substitutes:
No butternut squash? Try with pumpkin instead. 
No red onions? Use shallot or white onions instead. 
No blue cheese? Try with burrata or mozzarella. 
Vegan? Swap the blue cheese for a vegan alternative. 
Prep time: 15 minutes
Cook time: 35 minutes
Total time: 50 minutes
Servings: 2
Ingredients:
½ Butternut squash
½ Aubergines
2 Red onions
6 Sage leaves
50 g Blue cheese
Olive oil
Salt & pepper
For the dough:
200 g Plain flour (type 00)
5 g Fast action dried yeast
½ tsp Fine salt
½ tsp Caster sugar
160 ml Water
Recipe:
Make the pizza dough: In a large bowl, stir together the flour, yeast, sugar and salt. Make a well in the centre, add the water, and mix with a wooden spoon until combined. Tip out onto a floured surface and knead for 1 minute, just until smooth.
Place the dough back in the bowl, cover the bowl with a clean tea towel and let sit at room temperature while you prepare your pizza toppings.
Make the toppings: Preheat the oven to 190 C/170 fan/5 gas mark. Cut the butternut squash and aubergine in small cubes of approximately 1 cm. Place on a large oven tray, drizzle with olive oil, season with salt and pepper and toss well to coat.
Roast for 15 minutes, then remove from the oven.
Make the caramelised onions: Finely slice the onions. Heat up 1 tbsp of olive oil in a frying pan over medium high heat.
Cook the onions, stirring often, until tender and slightly caramelised. Reduce the heat to low-medium if needed. Season with a little salt and pepper. 
Roll the pizza dough: Preheat the oven to 220 C/200 fan/7 gas mark. Grease a large baking tray with olive oil. Turn the dough out onto the oiled tray, and using your fingers, push/roll the dough out until it is pretty thin.
Add the toppings: Spread the caramelised red onion over the dough, then top with butternut squash, aubergine, blue cheese and sage leaves. Roast for 10 minutes, until golden.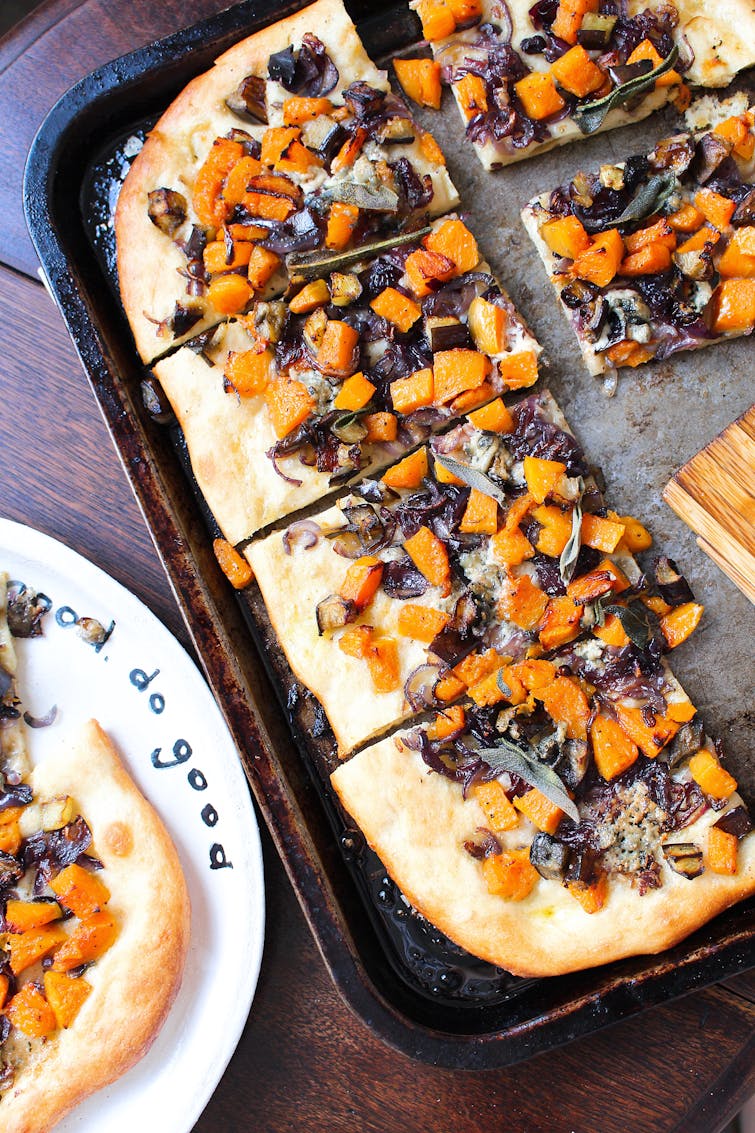 ---
How to store
You can cook the butternut squash, aubergine and onions in advance. If so, store in the fridge in an airtight container until ready to use. When the pizza is cooked, store in the fridge for up to 3 days.
Leftovers
Serve your leftover pizza with a side of green salad from your Oddbox.