Spring Onion Scones
Try this savoury scones recipe made with chopped spring onions and cut into scone triangles to avoid any waste. Quick to make, these scones will make a great addition to any afternoon tea, or food spread. 
Prep time: 10 minutes
Cook time: 15 minutes
Total time: 25 minutes
Servings: 8
Ingredients:
6 Spring onions
150 g Self raising flour
110 ml Milk (milk of choice)
65 g Butter (or vegan if needed )
½ tsp Dijon mustard
Salt (to taste )
Black pepper (to taste)
Recipe:
Prepare the ingredients: Preheat the oven to 200C/180 fan/6 gas mark. Finely chop the spring onions and chop the butter in small cubes. 
Make the dough: In a mixing bowl, add the flour, butter, salt and pepper. Use your fingers tips to break up the butter in the flour. Keep going until you have a breadcrumb size mixture. Make a well in the middle, pour in the milk and mustard. Use a fork to bring all the ingredients together into a sticky dough. Add the spring onions and mix to combine.
Cut the dough: Dust a clean surface or large board with a little flour. Place the dough on top and use your fingers to gently roll it until it is 2.5 cm thick. Cut the dough into 8 triangle scones. 
Bake and serve: Place the scones on a prepared baking sheet and bake them in the oven for 15-20 minutes, until risen and golden brown. Serve with butter, or alternatively cream cheese.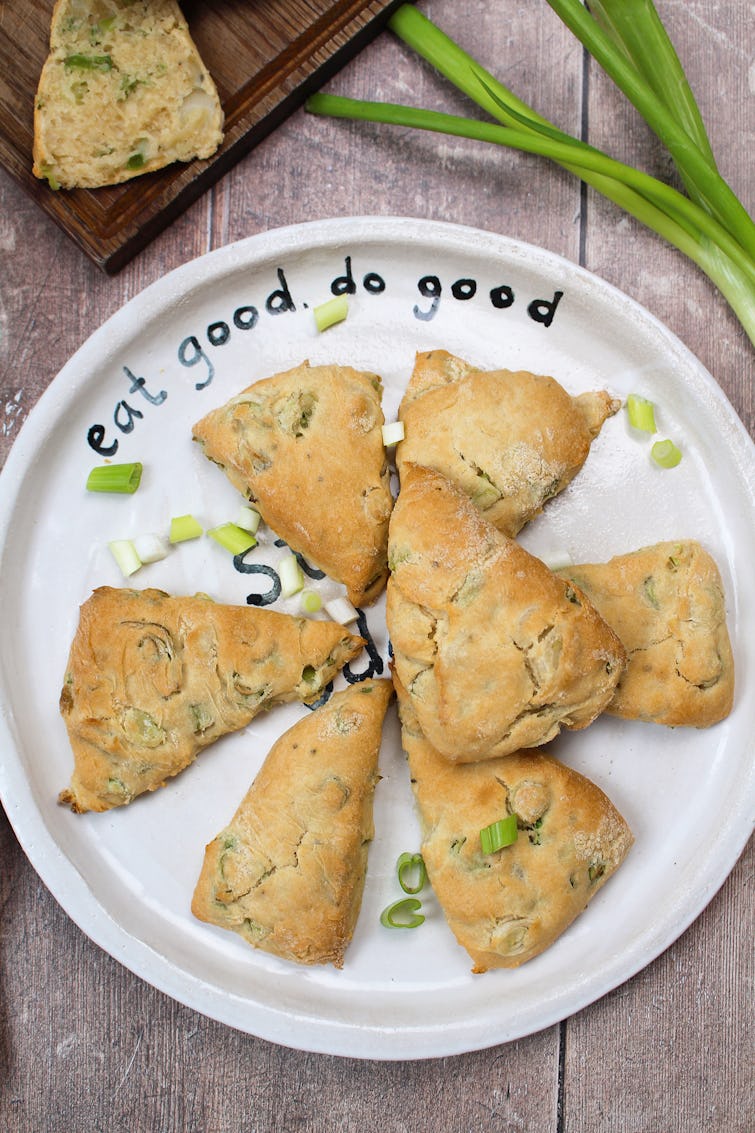 ---
How to store
Store the scones in an airtight container at room temperature for up to 3 days.
Leftovers
Try making little scone sandwiches. Cut them open horizontally and stuff with hummus, beetroot dip, chutney or cream cheese.