Spring Onion Quiche
Use spring onions to make this vegetarian quiche. The homemade pastry case is filled with spring onion cream and baked until golden and set. 
Substitute:
No spring onions? Try making the quiche with leeks, asparagus, broccoli, onions, or even grated carrots.
No gruyere? Use any cheese you like. Comte, emmental and goat cheese are good alternatives. 
Dairy free? Substitute the butter, creme fraiche, double cream and gruyere with vegan alternatives. 
No pastry ingredients? You can use a pre-made puff pastry instead. 
Prep time: 30 minutes
Cook time: 30 minutes
Total time: 60 minutes
Servings: 6
Ingredients:
For the pastry:
170 g Plain flour
100 g Butter (cold, cut into pieces)
1 Egg yolk
Water (cold)
½ tsp Salt
For the filling:
a bunch of Spring onion
200 g Creme fraiche
200 g Double cream
3 Eggs
60 g Gruyere cheese (grated)
Salt & pepper
Recipe:
Make the pastry: Preheat the oven to 190C/170 fan/gas mark 5. Put all the pastry ingredients in a food processor and pulse until all combined.
Tip the dough on a floured surface and roll out as thinly as you can. If the dough is too sticky, place it in the fridge for 10 minutes before rolling.
Grease a tart tin and place the rolled out pastry into the base. You can fold the pastry edges inside to avoid any waste. Prick the bottom with a fork, line the pastry case with foil, shiny side down, fill with dry beans (or rice) and bake for 15 minutes.
Remove foil and beans and bake for 4-5 minutes more until the pastry is pale golden. 
Prepare the filling: Chop the spring onions and fry in a little oil for 5 minutes, until lightly charred.
In a bowl, add all of the filling ingredients along with he spring onions, and mix to combine.
Bake the quiche: Pour the spring onion filling mixture into the baked pastry.
Bake for 25 minutes, or until golden and softly set.
Let the quiche settle a little then cut and serve.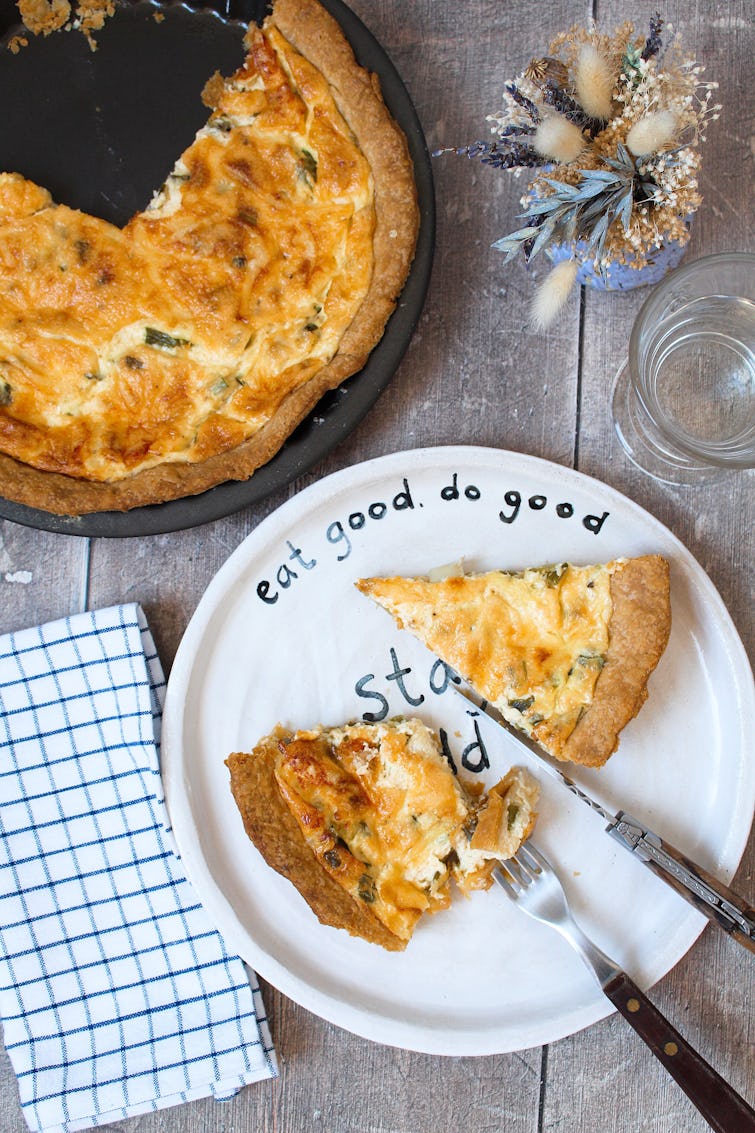 ---