Spooky Butternut Squash & Red Pepper Empanadas
Hello gourd-geous to these spooky little empanadas! With a delicious filling of spiced butternut squash, red pepper and manchego, these are great for kids lunch boxes (just leave out the chilli!) or for sharing with the family. They are fun to make so why not get everyone involved. Bone-appetit!
By our amazing guest-chef & Oddboxer Storm (@whatstormeats)!
Prep time: 50 minutes
Cook time: 40 minutes
Total time: 90 minutes
Servings: 14
Ingredients:
For the filling:
300 g Butternut squash
1 Bell peppers (red)
1 Garlic clove (crushed)
chilli flakes (optional)
60 g Manchego cheese (grated)
Paprika
Sea salt 
Black pepper
Olive oil
For the dough
450 g Plain flour
125 g Unsalted butter
a pinch of Salt
1 Egg
Water (cold)
1 Egg (for glazing/sealing)
Recipe:
Prepare the filling by dicing the squash and pepper into small pieces. Place onto baking paper-lined tray and dress the veggies with garlic, paprika, sea salt and chilli flakes. Drizzle with olive oil. Roast in a fan oven on 180 degrees for 20 mins or until the squash is cooked through.
Once the filling is cooked through, remove and mix together, mashing the squash a little. Add the grated manchego and leave to cool.
For the dough, melt the butter and leave to cool slightly. Place the flour and salt in a large bowl. Pour in the butter and egg and combine with the flour.
Then add a couple of tablespoons of cold water at a time until you have a soft dough.
Turn out the dough onto a clean work surface and knead for a couple of minutes until smooth. Pop in a clean bowl and set aside in the fridge for at least half an hour.
Lightly flour a work surface and roll out the dough to a thickness of about 3mm. Using a cutter, cut out an equal number  - you can reroll any offcuts so don't throw them away!
Fill the bottom piece of dough with about a teaspoon of the mix before brushing around the edge with a little egg. Place the top piece of dough with your pumpkin face over the top. Seal with a fork and place on a baking try with parchment.
Once you have filled the tray, brush with egg and bake for 15/20minutes at 180-190 degrees until golden brown.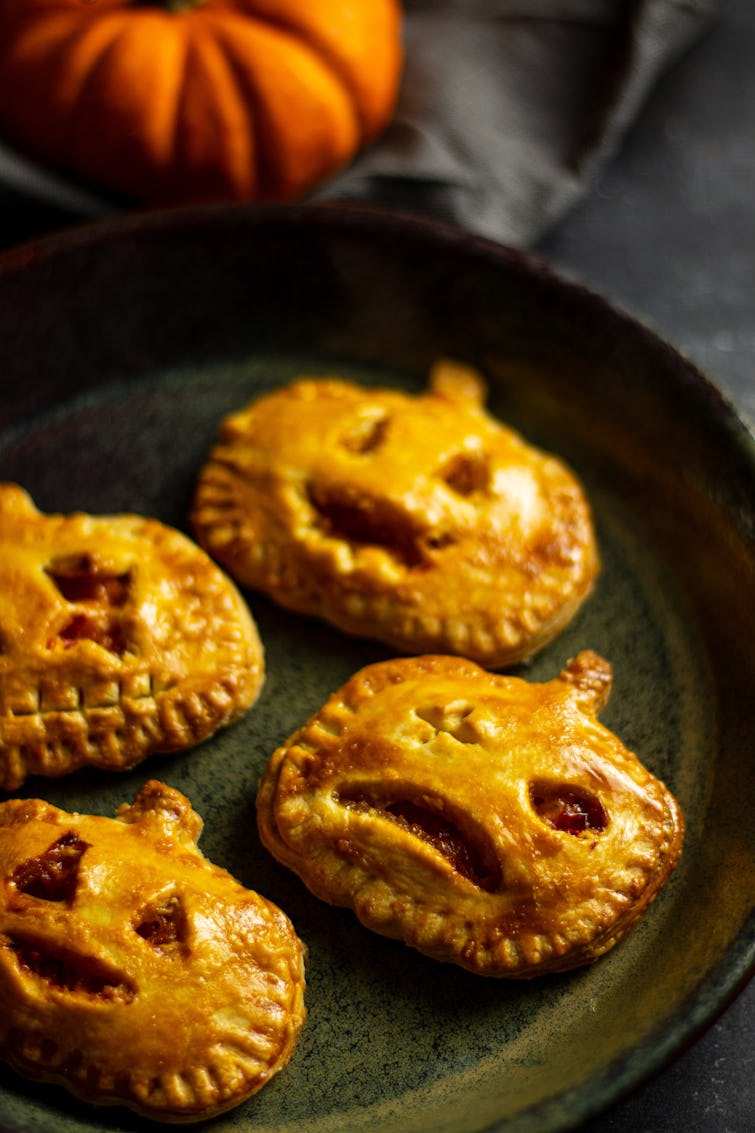 ---