Spinach Pancakes with Fried Egg & Maple Syrup
A delicious brunch recipe perfect for a lazy bank holiday weekend or late breakfast. The fluffy green pancakes are served with a delicious fried egg and topped with a drizzle of maple syrup. 
Substitute:
No spinach? Try with rocket, lettuce, kale or spring greens instead. 
No maple syrup? Use honey instead. 
No spring onions? Try with fresh herbs like dill or parsley instead.
Prep time: 15 minutes
Cook time: 10 minutes
Total time: 25 minutes
Servings: 4
Ingredients:
For the pancakes:
60 g Spinach
100 ml Milk of choice
200 g Self raising flour
1 tsp Baking powder
3 Eggs
Salt & pepper
Olive oil (for cooking )
For serving:
4 Eggs
Maple syrup
100 g Frozen or fresh peas
3 tbsp Spring onions (sliced )
Chilli flakes
Recipe:
Place the spinach and milk of choice in a food processor.
Blend until smooth and green. 
Pour the milk mix into a bowl. Add the flour, baking powder, eggs and a pinch of both salt and pepper.
Whisk until combined, you should have a thick, smooth and vibrant green batter. Let it rest for 10 minutes.
Heat a large frying pan over medium heat and add a drizzle of olive oil. Spoon 4 tablespoons of batter per pancake into the pan. Depending on the size of the pan, you should be able to cook 2 or 3 pancakes at a time. Cook the pancakes for 2-3 minutes on each side, until puffed and golden green-brown.
Repeat until you have 8 pancakes.
Use the same pan to cook the eggs. Add a drizzle of olive oil and keep the pan over medium heat. Crack the eggs into the pan and fry to your liking. If using, add the frozen peas to the pan too and season with salt and pepper.
To serve; stack a few pancakes on the side of your plate, add the egg and top with the peas, spring onions and chilli flakes. Drizzle with maple syrup to taste and enjoy!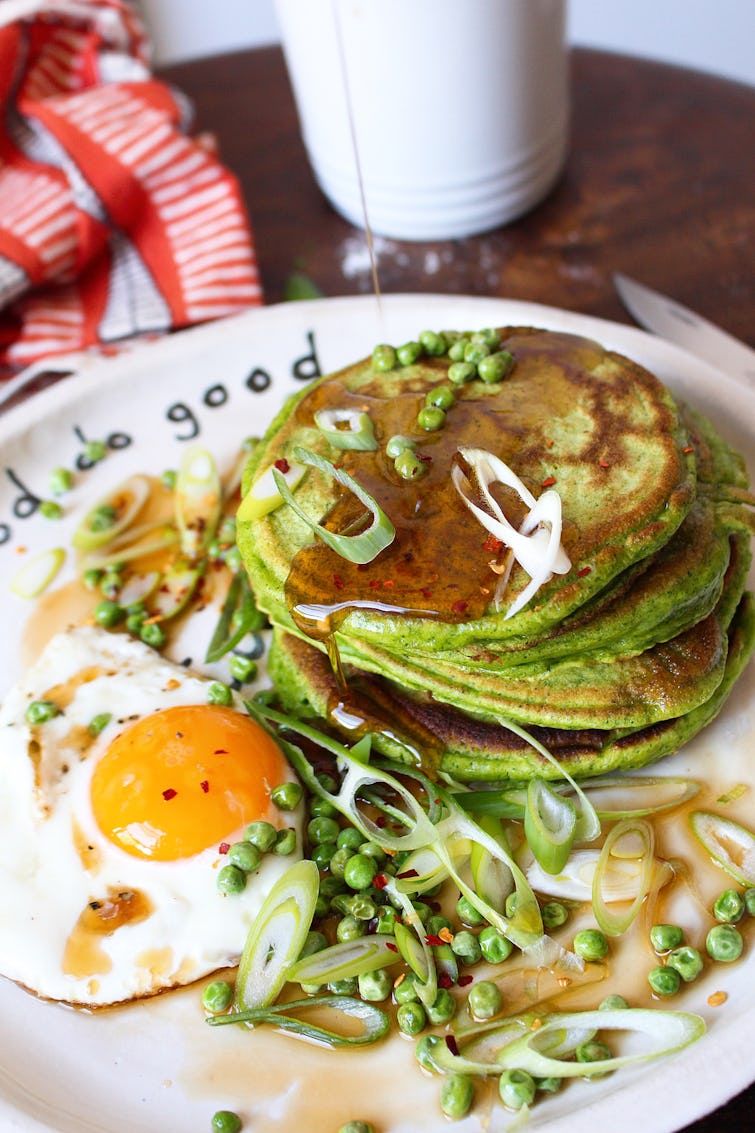 ---
How to store
Store in an airtight container, in the fridge for up to 3 days or in the freezer for 1 month. To freeze the pancakes; layer the cold pancakes between sheets of baking paper or reusable waxed paper, place in an airtight container in the freezer.
Leftovers
The spinach pancakes are delicious with both sweet and savoury toppings. Try serving them along with crumbled feta and roasted vegetables. Another great serving option would be pesto, avocado and chilli flakes. Finally, why not try using berries and yoghurt as a topping with a drizzle of maple syrup.