Spinach Gazpacho
A fresh green gazpacho is the perfect starter for a spring gathering. This is so easy to make, as it only requires chopping and blending. The spinach is paired with other green goodies such as cucumber, creamy avocado and celery.
Substitute:
No spinach? Use kale, spring greens, lettuce or mixed leaves instead. 
No basil? Use parsley or coriander instead. 
No cucumber? Try with a courgette instead. 
No lemon? Use lime instead.
Prep time: 10 minutes
Cook time: minute
Total time: 10 minutes
Servings: 2
Ingredients:
80 g Spinach
20 g Basil leaves
10 g Mint leaves
250 g Cucumbers
1 Avocado
120 g Celery stalk
1 Lemon
2 tbsp extra virgin olive oil
1 tbsp red wine vinegar
Salt & pepper
Recipe:
Wash the spinach, basil and mint under cold water. 
Wash cucumber and celery under cold water. Peel the avocado and lemon.
Roughly chop the cucumber, celery, avocado and lemon.
Put all the ingredients, except the oil and vinegar into a food processor with a good pinch of salt and pepper and blitz, adding enough water to get a soupy consistency. 
Add the olive oil and vinegar. Taste the gazpacho, and add a little more vinegar and seasoning if necessary. Chill for at least 2 hours, or if in a rush add ice cubes to cool down the gazpacho. 
To serve, divide between shallow soup bowls.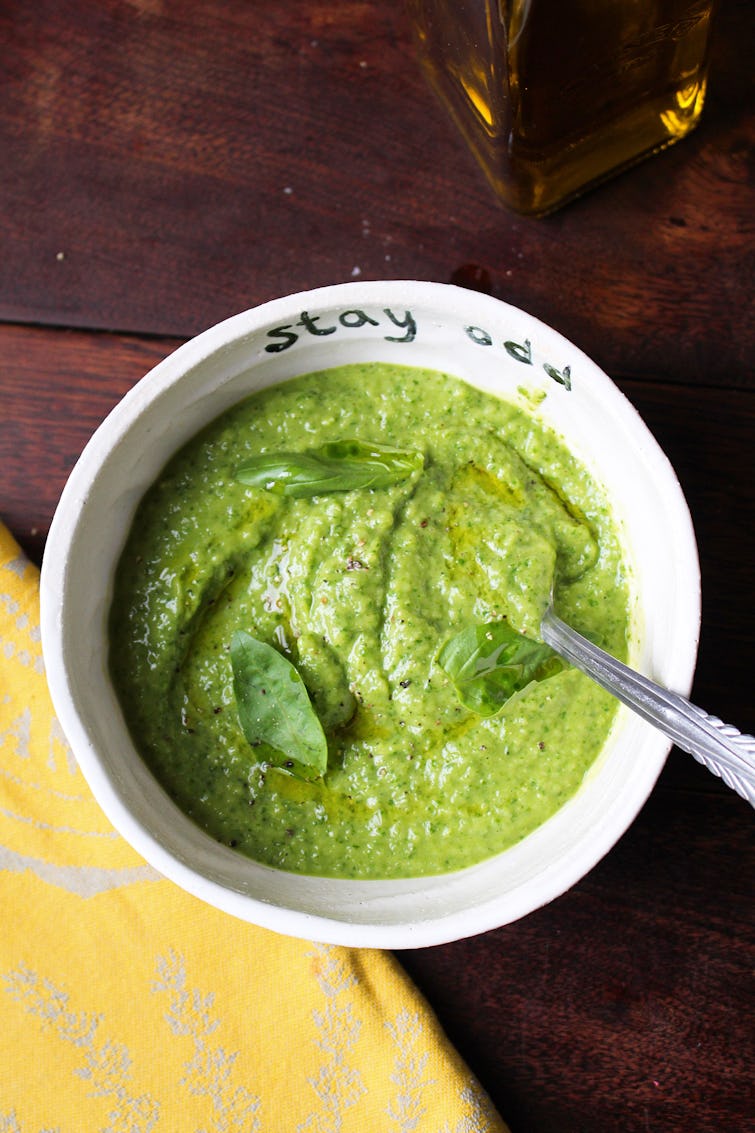 ---
How to store
Store in the fridge for up to 3 days, or in the freezer for up to 1 month.
Leftovers
Serve with goat cheese crostini: Heat the oven to 180 C/160 fan/4 gas mark. In a small bowl combine olive oil and grated garlic cloves. Brush over slices of bread. Bake for 10-12 minutes until the bread is crisp and golden. Spread goat cheese/vegan alternative and serve on the side.