Spinach Cannelloni
Cheesy spinach filling piped into cannelloni pasta tubes, placed in a baking dish and covered with chopped tomatoes and grated cheese. Baked until cooked though and the cheese melted. 
Substitute:
No spinach? Try with kale, cavolo nero or pak choi instead. 
Vegan? Use plant based ricotta and parmesan alternatives. Substitute the egg for 1 tbsp chia seeds.
No chopped tomatoes? Try with passata sauce instead.
Prep time: 20 minutes
Cook time: 50 minutes
Total time: 70 minutes
Servings: 4
Ingredients:
150 g Cannelloni pasta
6 tbsp Parmesan (grated ) / vegan parmesan
For the spinach filling:
400 g Spinach
250 g Ricotta cheese  / vegan ricotta style cheese
3 Garlic cloves (chopped)
1 Egg / Chia seed
a pinch of Ground nutmeg 
4 tbsp Parmesan (grated) / vegan parmesan
1 tbsp Olive oil
For the tomato sauce:
2 Tin chopped tomatoes (800g)
1 Onion (chopped)
1 tbsp Oregano
10 Basil leaves (chopped)
1 tbsp Olive oil
Salt & pepper
Recipe:
Measure and chop all your ingredients.
Make the tomato sauce: Heat up 2 tbsp of olive oil into a saucepan, and cook the onion over medium heat for 5 minutes, until tender. Add oregano and season generously with salt and pepper. Cook for 1 minute, then add the chopped tomatoes and 400 ml water. Bring to a boil, reduce the heat and simmer for 5 minutes.
Make the spinach stuffing: Heat the olive oil in a large frying pan, and cook the spinach until wilted, for about 2-3 minutes. Squeeze to get rid of any excess water, and roughly chop. In a mixing bowl, combine the spinach, ricotta, parmesan, nutmeg and egg. Season with salt and pepper. Spoon the filling into a piping bag or any bag with a corner.
Preheat the oven to 180 C/160 fan/4 gas mark. Ladder a layer of tomato sauce at the bottom of your oven dish. Pipe the spinach mixture into the cannelloni tubes and lay them in the oven dish.
Spread the tomato sauce over the cannelloni, and add grated parmesan.
Place in the oven and cook for 45 minutes, or until the top is golden and the pasta tender (if the top browns too fast, cover the dish with foil).
Remove from the oven and let stand for a few minutes before serving.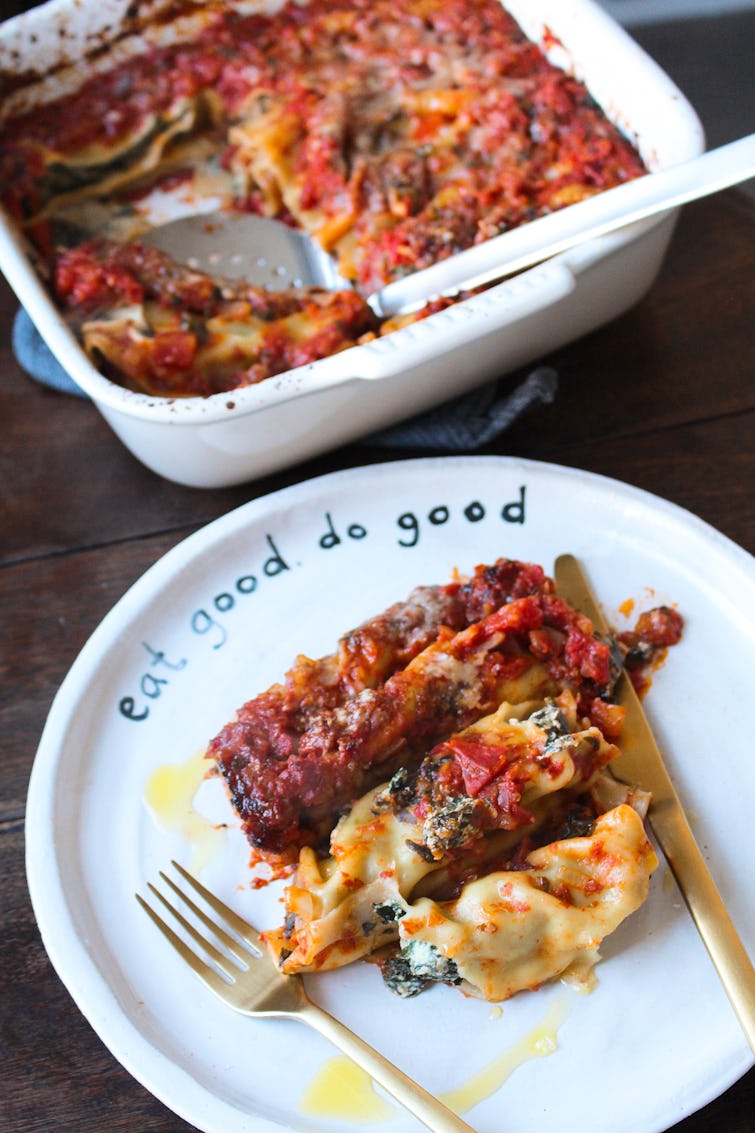 ---
How to store
Store in an airtight container, in the fridge for up to 3 days or in the freezer for up to 1 month. 
Leftovers
Serve the leftovers with a side of lettuce seasoned with a light vinaigrette.