Spinach Filo Parcels
These little spinach parcels are fun and easy to make and require only a few ingredients. They are perfect on their own, and will make a great addition to your summer food boards. 
Substitute:
No spinach? Try with spring greens, kale or cavolo nero. 
No ricotta? Use crumbled feta or some creme fraiche instead. 
No onion? Try with a shallot, red onion or a couple of garlic cloves. 
No olive oil? Use a light vegetable oil instead. 
Prep time: 20 minutes
Cook time: 20 minutes
Total time: 40 minutes
Servings: 2
Ingredients:
200 g Spinach
1 Onion
90 g Ricotta cheese  / Plant cream
6 sheets Filo pastry
Olive oil
Salt & pepper
Recipe:
Cook the spinach: Wash and pat dry the spinach. Finely chop the onion. Add 1 tbsp of olive oil in a large frying pan and cook the onion for 5 minutes, until tender. Add the spinach and cook for 3 minute, until just wilted. Season with salt and pepper. Drain the cooked spinach and squeeze excess moisture out. 
Make the spinach filling: Place the slightly cooled spinach in a bowl along with the ricotta/vegan cream. Mix well until combined. Season to taste. 
Stuff the filo pastry sheets: Preheat the oven to 180C/160 fan/4 gas mark. Cut long strips of the filo pastry - about 6 cm wide. Brush one pastry sheet with olive oil. Place about 1 tablespoon of the spinach mixture on one end of the sheet and keep folding it into triangles till the end. Seal the end with olive oil. Repeat until all the mixture is used - you should have 12-13 parcels. 
Bake the spinach parcels: Lightly oil a baking tray and place the spinach parcels on the tray. Make sure to brush them with a little olive oil too - this will get them nice and golden. Bake for about 15-20 minutes, until crisp and golden brown.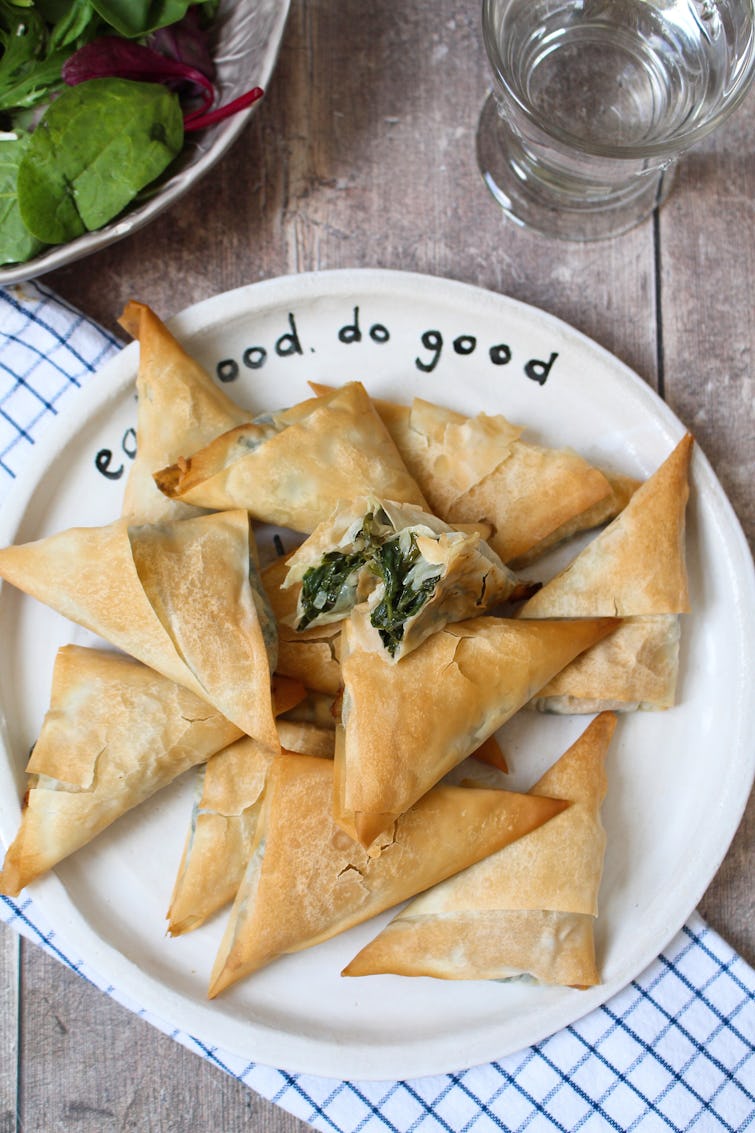 ---
How to store
Store your spinach parcels in an airtight container, in the fridge, for up to 3 days. The pastry will go a little soggy; simply bake them at 180C/160 fan/4 gas mark for 5 minutes, until crisp again. You can freeze the spinach mixture on its own for up to 3 months. You can also freeze the filo pastry on its own in its packaging for up to 3 months. Avoid freezing the spinach parcels, but instead freeze each part individually. 
Leftovers
- Serve your spinach parcels on their own or with a spicy dip or chutney of your choice.  - You can use the spinach ricotta mixture to make raviolis. Make pasta from 100 g pasta flour (type 00), 1 egg, 1 tsp olive oil and 1 pinch of salt. Roll out pasta sheets and make raviolis or tortellinis with the spinach mixture.  - The spinach parcels would also be delicious served with our grated carrot salad.