Spicy Kohlrabi Fries with Aioli
Spicy and crispy baked kohlrabi fries, served with a garlic mayonnaise. Simple yet delicious.
Substitute:
No kohlrabi? Try with parsnips, carrots, swede or turnips instead. 
No smoked paprika? Use cayenne pepper or any other spices of your choice. 
No mayonnaise?Dip your fries into relish or sauce of your choice. 
Prep time: 15 minutes
Cook time: 30 minutes
Total time: 45 minutes
Servings: 2
Ingredients:
2 Kohlrabi
2 tsp Smoked paprika
2 tbsp Olive oil
Salt & pepper
For the aioli:
4 tbsp Mayonnaise / Vegan mayonnaise
2 Garlic cloves (grated)
Recipe:
Preheat the oven to 200 C/180 fan/6 gas mark and line a large baking tray with baking paper. Slice the kohlrabi skin-on into 1.5 cm thick slices.
Then cut into long sticks.
Place your kohlrabi fries onto your prepared baking tray. Sprinkle the fries with smoked paprika, salt and pepper.
Drizzle with the olive oil and gently mix to coat well.
Spread the fries in a single layer, onto the prepared baking tray.
Roast for 25-30 minutes, flipping halfway through until golden and crispy on all the sides.
In a small mixing bowl, combine the mayonnaise/vegan mayonnaise and grated garlic. Set aside.
Remove the fries from the oven and while they are still hot sprinkle with sea salt. Serve with the aioli.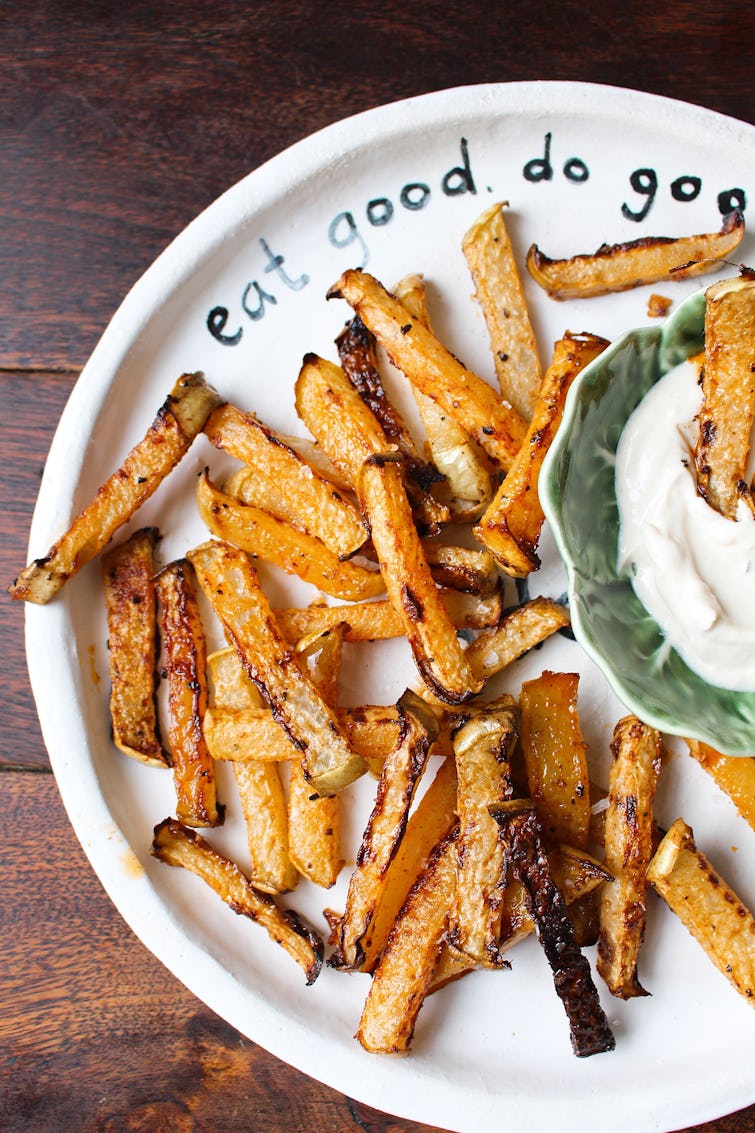 ---
How to store
Store in an airtight container in the fridge for up to 3 days. Reheat in the preheated oven at 180 C/160 fan/4 gas mark for 10 minutes. 
Leftovers
Make kohlrabi gnocchi: Mash the kohlrabi fries, add pasta four and mix into a soft dough. Cut your gnocchi and cook in boiling salted water.