Spiced Green Beans in Tomato sauce
Try this simple spiced green beans recipe made with a freshly made curry style sauce from ginger, garlic, cumin, turmeric, chopped tomatoes, and garam masala. 
Substitute:
No green beans? Try this with pak choi or kale. 
No potatoes? Follow the same recipe without the potatoes and serve with rice. 
No ginger? Try with ½ tbsp ginger powder instead. 
No chopped tomatoes? You can use 3-4 fresh tomatoes instead. If too dry add a little water or stock.
Prep time: 10 minutes
Cook time: 20 minutes
Total time: 30 minutes
Servings: 2
Ingredients:
250 g Green beans
100 g Potatoes (optional)
1 Onion
20 g Ginger
2 Garlic cloves
1 tsp Ground cumin
1 tsp Garam masala
1 tsp Turmeric 
1 Tin chopped tomatoes
1 Lime juice
1½ Olive oil
Salt (to taste)
Recipe:
Prepare the ingredients: Cut the green beans into 1 cm long pieces and dice the potatoes into 1 cm cubes. Blanch the potatoes for 5-10 minutes, until just tender. Drain and set aside. The smaller you cut the potatoes the quicker it will cook. Finely chop the onion, ginger and garlic.
Cook the green beans: Heat the olive oil in a large saucepan on medium heat. Add the onion and cook for 5 minutes until softened a little. Add the ginger, garlic, cumin, garam masala and turmeric. Saute for 1-2 minutes, stirring often then add the diced potatoes. Stir well then add the chopped tomatoes and green beans. Cook for 15-20 minutes, or until potatoes are tender.
Serve: Remove the pan from the heat and leave aside for 2-3 minutes. Season to taste with salt and serve with fresh lime juice.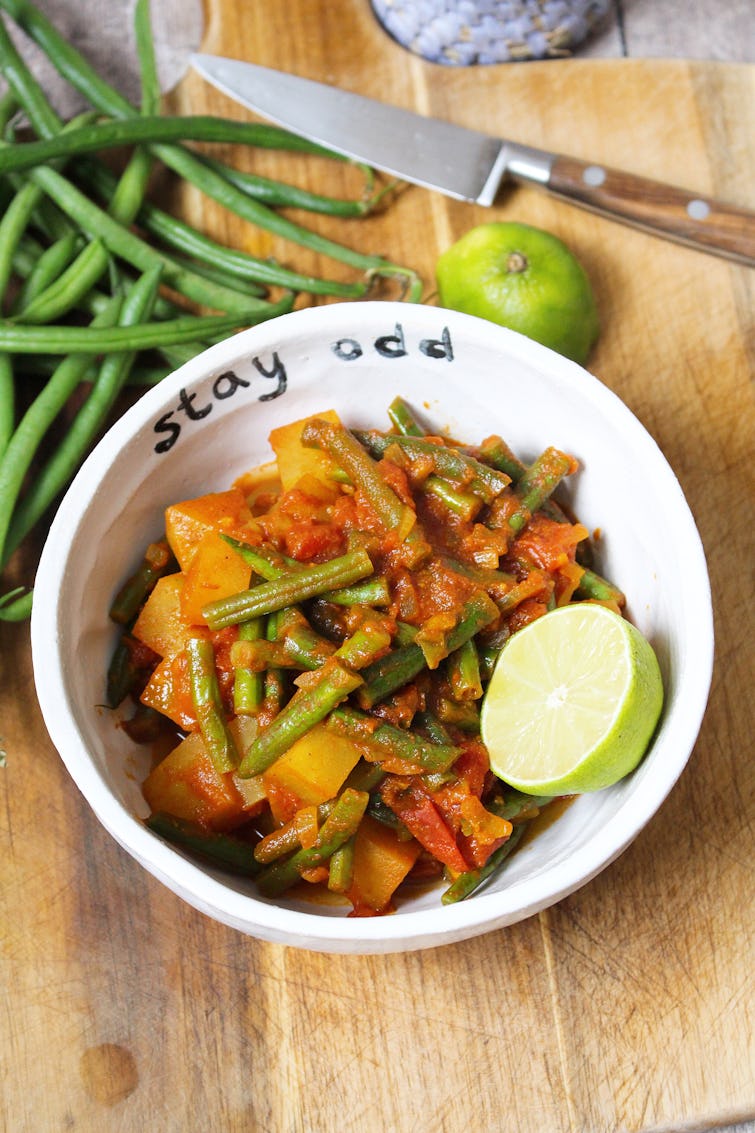 ---
How to store
Let cool fully then store in an airtight container, in the fridge for up to 3 days. The spiced green beans in tomato sauce will also last up to 3 months in the freezer.
Leftovers
Reheat leftovers and serve as a side. If the dish is too dry, add water while reheating.