Spanish Style Tomato Toast
Try this quick summery recipe showcasing raw tomatoes pureed and served on toasted garlic bread slices. 
Substitute:
No loaf of bread? You can use any type of bread. Baguette and ciabatta are good options. 
Prep time: 10 minutes
Cook time: 5 minutes
Total time: 15 minutes
Servings: 3
Ingredients:
5 Tomatoes
1 Bread (loaf)
2 Garlic cloves
extra virgin olive oil
Salt & pepper
Recipe:
Make the toast: Preheat the grill oven to 200C/180 fan/6 gas mark. Halve the loaf in half lengthwise and then slice into 4-5 cm thick pieces crossways. Place bread on a baking tray, soft side up, drizzle with olive oil, and season with salt and pepper. Toast for 5 minutes, until golden brown. Remove the bread from the oven and rub with the halved garlic cloves.
Make the tomato topping: Quarter the tomatoes and place in a food processor, along with salt and pepper. Blend for 15 seconds, or until pureed. If the tomato is too liquid, pass half of the blended tomato mixture in a fine sieve. Reserve the tomato water for soups, drinks or pasta sauces.
Finish the toasts: Spread the tomato mixture onto the toasts, drizzle with more olive oil, sprinkle with salt and serve immediately.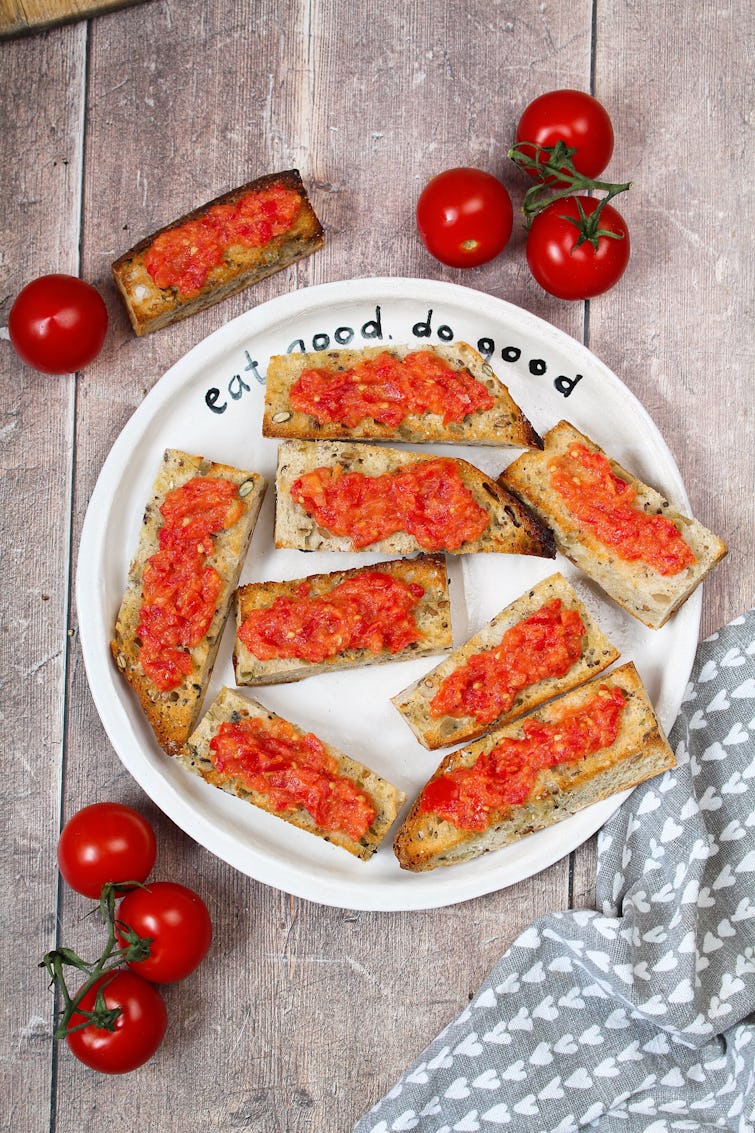 ---
How to store
How to store: Store the tomato mixture in the fridge for up to 3 days, or in the freezer for up to 2 months. Store the toasted bread in an airtight container, at room temperature for up to 3 days. 
Leftovers
Leftovers: Use the tomato mixture to make a cold tomato soup. If you have bell peppers in your box you can also blend them with the chopped tomatoes, along with red onion, garlic and a little red wine vinegar.  Use the bread to make croutons. Cut in smaller pieces, toss in oil and chopped rosemary. Then roast at 180C/160 fan/4 gas mark, for 8-10 minutes. The croutons are great served in salads, or soups.