Smacked Cucumber Salad
Try these savoury bites of smacked cucumber tossed in spicy and garlicky soy sauce. Make them the star ingredient by serving alongside sushi rice. 
Substitute:
No sriracha? Try with chilli flakes or another chilli oil. 
No sesame oil? Use olive oil instead. 
Prep time: 15 minutes
Cook time: 10 minutes
Total time: 25 minutes
Servings: 3
Ingredients:
1 Cucumber
a pinch of Salt
2 Garlic cloves (chopped)
1½ tbsp Soy sauce
1 tbsp Rice vinegar
1 tbsp Sesame oil
1 tsp sriracha
Recipe:
Prepare the cucumber: Put the cucumber on a chopping board and place a chef's knife, flat, on top. Using the palm of your hand, smack the knife until the cucumber splits and breaks. You can also use a rolling pin to smack your cucumber. Chop into bite size pieces and transfer to a bowl. Sprinkle salt on top, toss and set aside.
Make the dressing: Meanwhile, make the chilli oil by whisking the garlic, soy sauce, rice vinegar, sesame oil and sriracha in a bowl. Top the cucumber with chilli oil, toss to coat and serve. You can do this in advance and let the cucumber marinade in the oil for a few hours.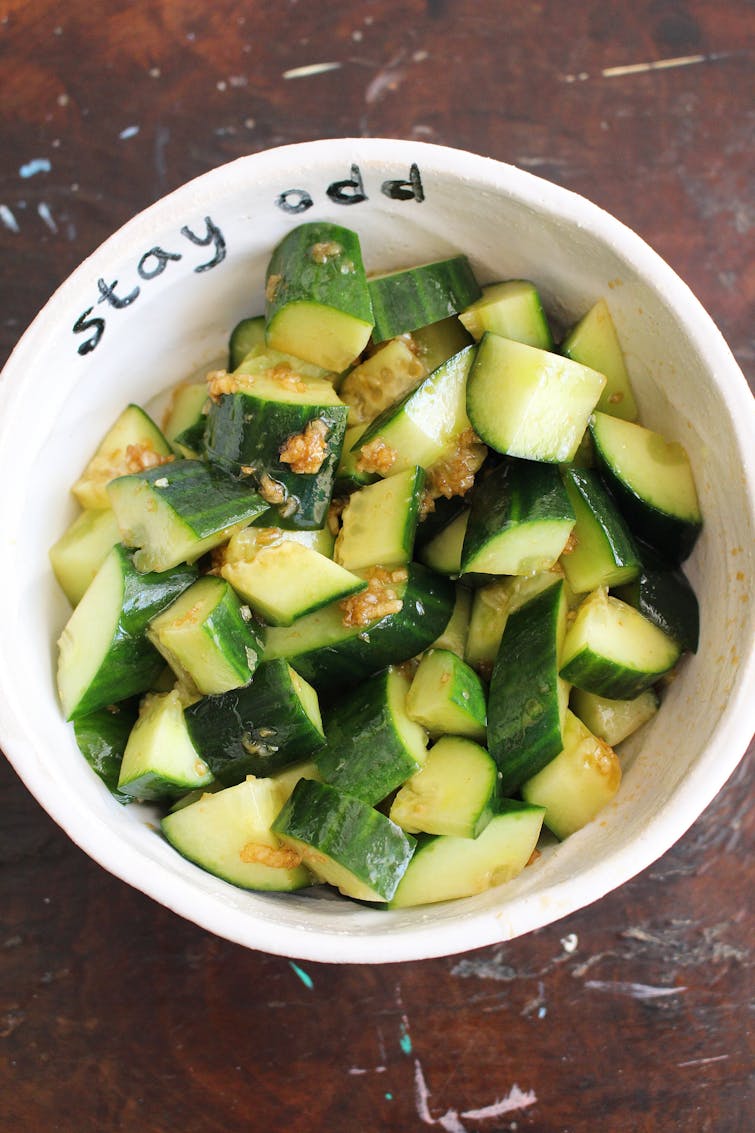 ---
How to store
Store the smacked cucumber salad in the fridge for up to 2 days. 
Leftovers
Serve the smacked cucumber salad alongside sushi rice. Cook 125 g sushi rice in 150 ml water until tender, then mix in a vinegar made from 15 ml rice vinegar, 4 g salt and 9 g sugar.