Skin-On Kiwi Pancakes
Try these deliciously zesty kiwi pancakes. Made with skin on kiwis and drizzled with maple syrup. Courtesy of guest chef Camille @callherchef
Prep time: 10 minutes
Cook time: 10 minutes
Total time: 20 minutes
Servings: 1
Ingredients:
For the pancakes:
3 Kiwi
150 g Self raising flour
20 g Porridge oats 
1 tsp Chia seed
1 tsp Baking powder
190 ml Oat milk
15 ml extra virgin olive oil
1 tbsp Maple syrup
For cooking:
Coconut oil (or olive oil)
For the topping:
Maple syrup
Flaked almonds
Recipe:
Measure your ingredients.
Cut off the small kiwi extremities which are very hard and bitter - make sure to compost them. Slice the kiwis with the skin on, and cut them in cubes. 
Stir all of the dry batter pancake ingredients together.
Make a well and add all the wet pancake ingredients.
Fold in the kiwis. Whisk to form a smooth, thick batter. 
Warm a teaspoon of coconut oil in a pan over a medium heat. Spoon about 2 tablespoons of pancake batter into the pan.
Cook on one side for 3 minutes until golden. Turn and cook on the other side for 2-3 minutes, until puffed and golden. Repeat until the pancake mixture is finished.
Serve on their own or with topping of choice. I used maple syrup and flaked almonds.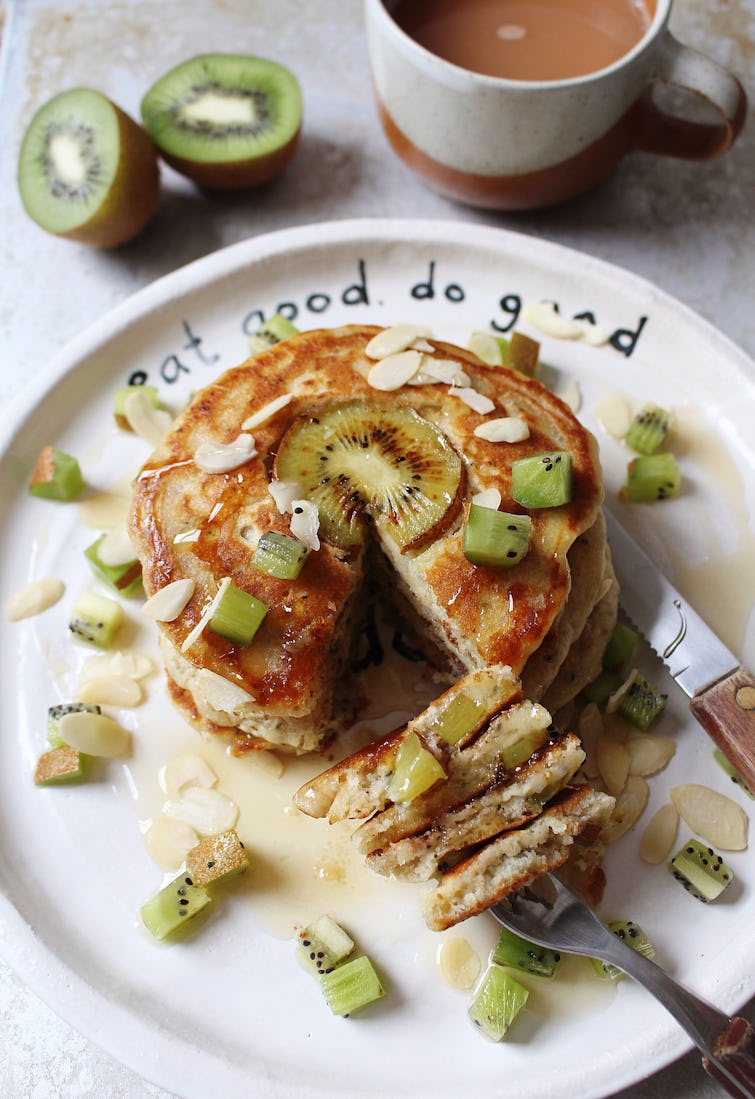 ---