Sesame Miso Ramen with Mushrooms, Broccoli, Carrots and Brussels Sprouts
30 minute sesame miso ramen with crispy mushrooms, broccoli, carrot and brussels sprouts. Perfect for the days you need a fast but healthy dinner. The ramen is creamy, a touch spicy, flavoured with miso, and filled with noodles.
Substitute:
No brussels sprouts? Try with kale, or pak choi instead. 
No dried mushrooms? Just do without!
Prep time: 10 minutes
Cook time: 20 minutes
Total time: 30 minutes
Servings: 2
Ingredients:
200 g Mushrooms
100 g Broccoli
1 Carrot
200 g Brussels sprouts
300 ml Broth
10 g dried mushrooms
1 tbsp Miso paste
1 tbsp Soy sauce
1 tbsp Rice vinegar
1 tbsp Ginger (grated)
2 Garlic cloves (grated)
120 g Noodles
1 tbsp Sesame seeds
a pinch of chilli flakes
Olive oil
Salt & pepper
Recipe:
Measure and chop your ingredients.
In a large saucepan, combine the broth, 400 ml water, soy sauce, rice vinegar, miso, and chilli flakes. Add the dried mushrooms (if using), ginger, and garlic. Simmer on low heat for 10 minutes.
Use a tong to remove the dried mushrooms - do not discard , just finely chop and put them back into the saucepan. Bring the broth to a boil and stir in the noodles, and broccoli. Cook for 5 minutes, or until the noodles are soft.
Preheat the oven to 190 C/170 fan/5 gas mark. On a large baking tray, place the brussels sprouts and mushrooms. Drizzle with olive oil, season with salt and pepper.
Roast for 10-15 minutes, until cooked and golden. 
Ladle the noodle broth into bowls and top with the crispy mushrooms, brussels sprouts, raw grated carrot and sesame seeds. 
Serve and enjoy!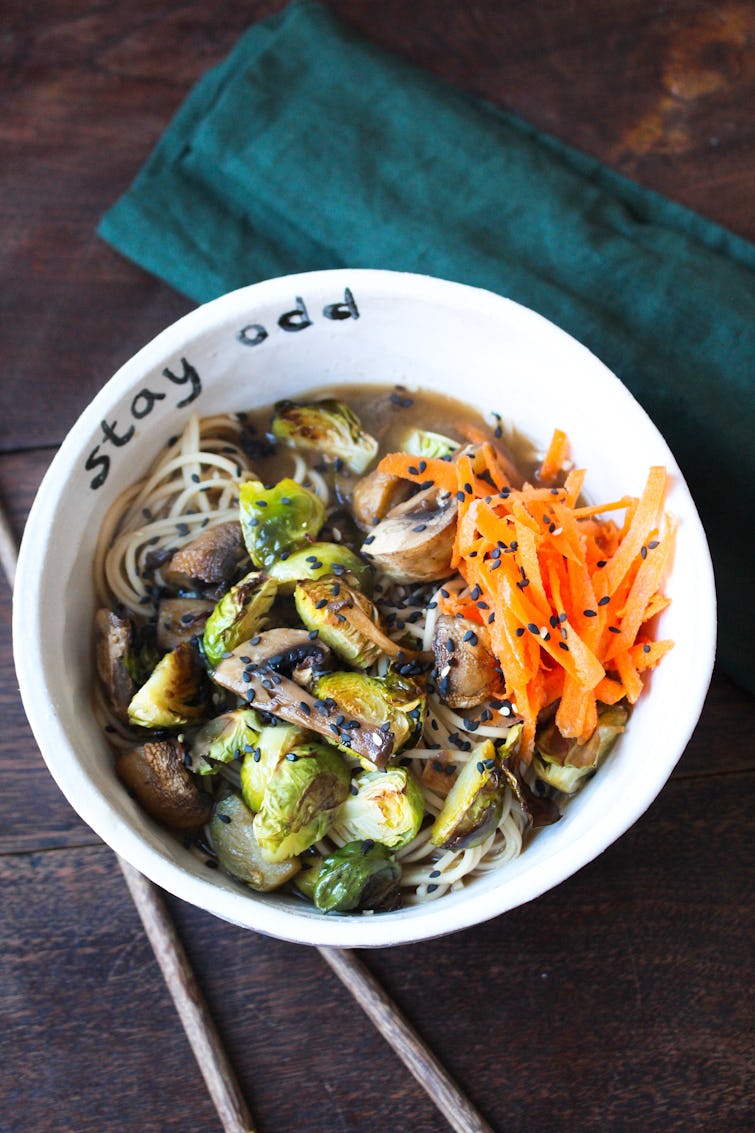 ---
How to store
Store in an airtight container, in the fridge for up to 3 days, or in the freezer for up to 1 month.
Leftovers
Make spring rolls! Stuff your rice paper with your noodles leftover, along with the veggies or any vegetables you have on hand.