Sesame Crust Cauliflower Steaks
The cauliflower is tender on the inside, but crispy on the outside, with flavours of nutty sesame seeds throughout. Served with a lime, soy sauce and sweet chilli dressing. The cauliflower steaks are dredged into egg wash/vegan milk, sesame panko and brushed with olive oil before baking. The steaks can be made ahead, frozen uncooked and cooked when ready to eat.
Substitute:
No lime juice? Try with lemon juice instead. 
No eggs? Use plant based milk instead. 
Prep time: 10 minutes
Cook time: 25 minutes
Total time: 35 minutes
Servings: 2
Ingredients:
1 Cauliflower
2 Eggs (or plant based milk)
5 tbsp Panko breadcrumbs
5 tbsp Sesame seeds
Olive oil
Salt & pepper
For the sauce:
2 tbsp Lime juice
2 tbsp Soy sauce
2 tbsp Sweet chilli sauce
Recipe:
Preheat the oven to 180 C/160 fan/4 gas mark and line an oven tray with baking paper or reusable silicone mat. Cut the cauliflower leaves out and set aside for now. Cut the cauliflower through the core into 4 steaks.
Break the eggs into a large bowl and mix in 1 tbsp of water. Dip the cauliflower into the egg mixture until coated on each side.
In another bowl, add the breadcrumbs, sesame seeds, and a pinch of both salt and pepper. Now dip the cauliflower steaks into the sesame seeds until coated on each side. 
Drizzle the lined oven tray with olive oil and place the cauliflower steaks on top. Drizzle the cauliflower steaks and bake for 30-35 minutes, until tender on the inside and crispy on the outside. 
Toss the cauliflower leaves in olive oil and season with salt and pepper. Spread on a baking dish and bake for 5 minutes. 
In a small bowl, combine the lime juice, soy sauce and sweet chilli sauce. 
Serve the cauliflower steaks with the roasted cauliflower leaves and a generous drizzle of sauce.
Enjoy!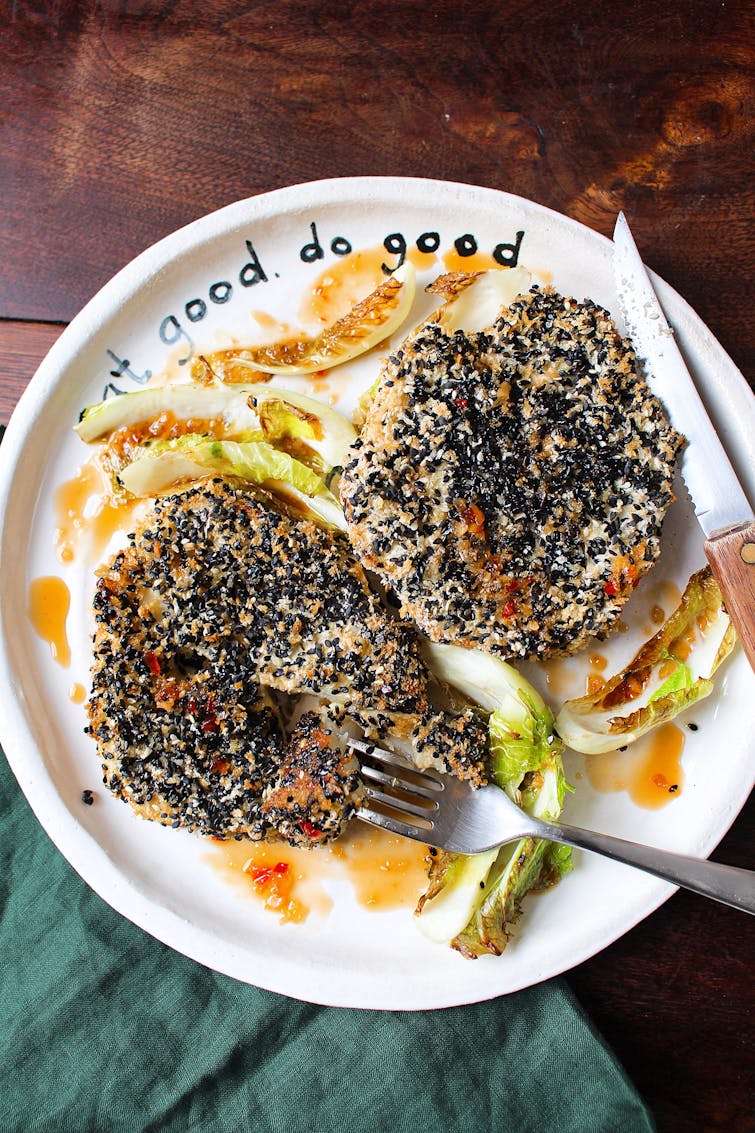 ---
How to store
Store in an airtight container, in the fridge for up to 3 days. You can freeze the cauliflower steaks, uncooked and bake them when ready to eat.
Leftovers
Serve the leftovers with a marinara tomato sauce and lentils.