Savoury Radish Muffins
Radish muffins are the perfect food on the go. The radishes become sweet and tender and give a wonderful texture to the muffins. 
Substitute:
No radish? Try to make these muffins with carrot, red onion, or leeks. 
No garlic powder? You can use fresh garlic instead. 
No rosemary? Use any dried herbs you have on hand. Oregano and thyme are good options. 
No milk? Use yoghurt instead. 
No honey? Use maple syrup. You can also do without the honey. 
No goat cheese? Try with crumbled feta, blue cheese or mozzarella. 
No olives? Use sun dried tomatoes or capers. 
Prep time: 20 minutes
Cook time: 15 minutes
Total time: 35 minutes
Servings: 4
Ingredients:
250 g Plain flour
2 tsp Baking powder
½ tsp Fine salt
a pinch of Black pepper
1 tsp Garlic powder
1 tsp Rosemary (chopped)
3 Eggs
50 g Olive oil
5 tbsp Milk of choice
1 tsp Runny honey
200 g Radishes
150 g Goats cheese (crumbled)
12 Black olives (sliced)
Recipe:
Preheat the oven to 180C/160 fan/4 gas mark, and grease a standard-size 12-hole muffin tin.
Cut the radishes in quarters, or half for the smaller ones. 
In a large mixing bowl, mix the flour, baking powder, salt, pepper, garlic powder and rosemary.
In a smaller bowl, combine the eggs, olive oil, milk of choice and honey.
Add the egg mixture to the flour mixture and mix well until combined.
Fold in the radishes, crumbled goat cheese and sliced black olives. 
Divide the batter in the muffin tin.
Bake for 15-20 minutes, or until a skewer comes out clean.
Leave the muffins to cool in their tin for 10 minutes and enjoy!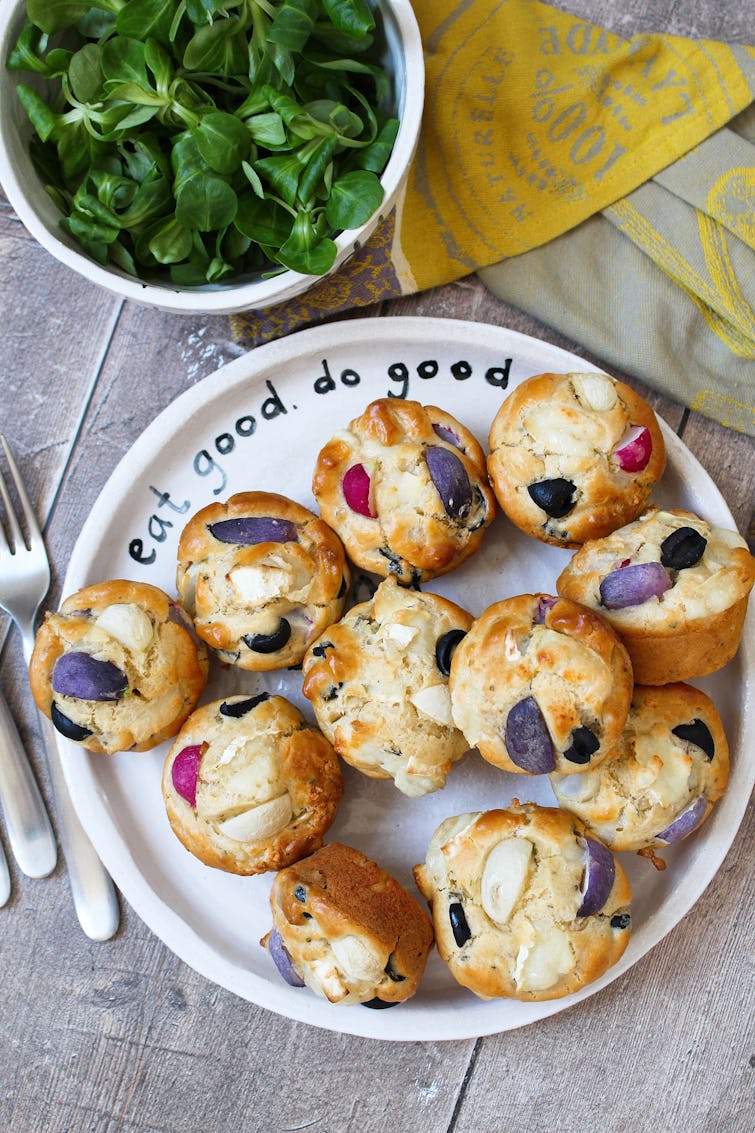 ---
How to store
Store your muffins in an airtight container for up to 3 days. You can freeze them, for up to 3 months. Pop them in the oven to defrost. 
Leftovers
The muffins are perfect on the go, or with a side of green salad.