Salt-baked Potatoes with Herby Creme Fraiche
Substitute:
No potatoes? Use any root vegetables of your choice, such as beetroots, carrots, parsnips or celeriac. 
No egg whites? Use 3-4 tablespoons of aquafaba instead. 
No creme fraiche? Try with yoghurt or a vegan alternative. 
Prep time: 20 minutes
Cook time: 60 minutes
Total time: 80 minutes
Servings: 3
Ingredients:
500 g Potatoes (about 4 medium potatoes )
260 g Plain flour
90 g Fine salt
2 Egg whites / Aquafaba
100 ml Cold water
For the dip:
200 g Creme fraiche / vegan creme fraiche
2 tbsp Lemon juice
10 g Parsley
10 g Mint
Salt & pepper
Recipe:
Preheat the oven to 180 C/160 fan/4 gas mark. Mix the flour and salt in a large bowl. Add the egg whites and cold water and mix with a fork to form a dough. Knead the dough in the bowl for a minute and form a smooth ball. Wrap in a clean tea towel and set aside for 5 minutes.
To make the dip, combine all the ingredients in a bowl. Set aside.
Cut the dough in the same amount of potatoes. If you have 4 potatoes, cut the dough in 4. Flatten each dough and place a potato on top. Using your hands, wrap the dough around each potato and press the edges together to seal.
Place the potatoes in a baking dish, and roast for 1 hour, until the dough is hard and golden, and the potatoes inside are tender.
Slice open the salt crust to reveal tender cooked and perfectly seasoned potatoes. Serve the potatoes in the crust with the herby creme fraiche (don't eat the crust - when you are done compost it).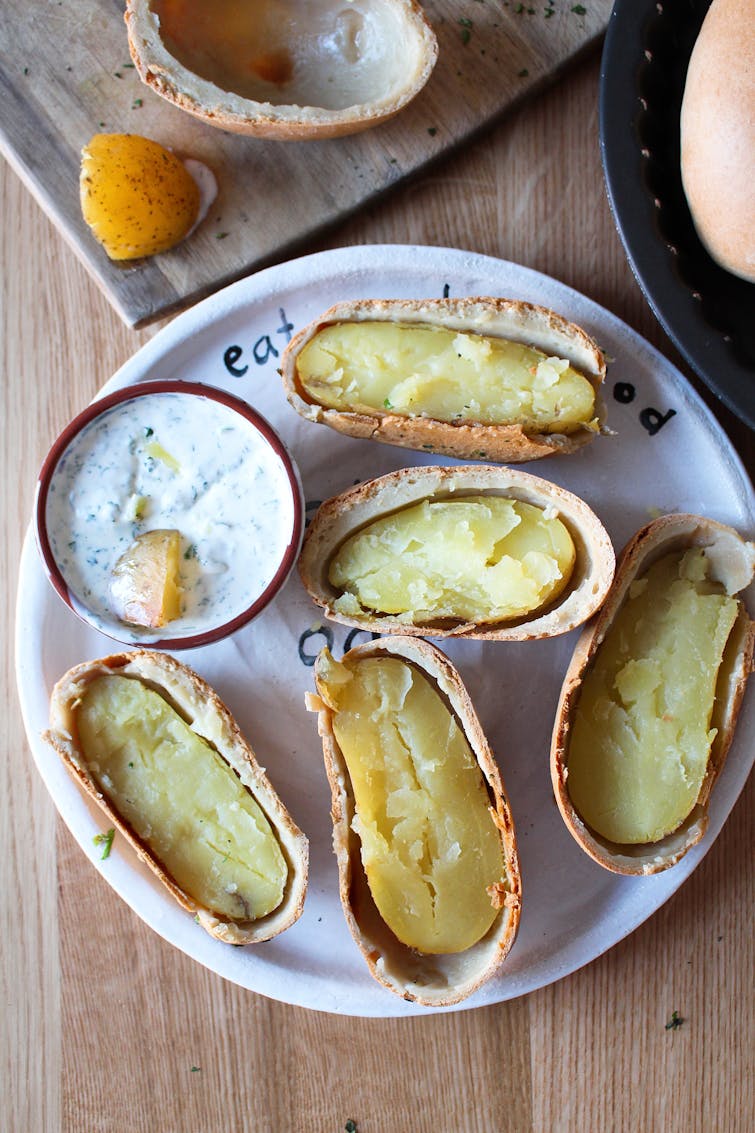 ---
How to store
Store in an airtight container in the fridge for up to 3 days.
Leftovers
Mash into a puree or serve the leftovers stir fry or salad recipes.