Salad Leaves & Pistachio Sauce with Gnocchi
Blanched gnocchi tossed in a quick, creamy and lemony green sauce using salad leaves, dill, basil, lemon, parmesan/vegan parmesan, garlic, extra virgin olive oil and delicious pistachios. It's a really special, indulgent dish that is quite simple to pull together.
Substitute:
No salad leaves? Use spinach or more fresh herbs instead. 
No gnocchi? Try with pasta or tender cooked potatoes instead. 
No pistachios? Use walnuts, hazelnuts, sunflower seeds or pine nuts instead. 
Vegan? Use vegan parmesan alternative or nutritional yeast instead. Use vegan butter or simply olive oil instead of the butter. 
No lemon? Try with lime instead.
Prep time: 15 minutes
Cook time: 10 minutes
Total time: 25 minutes
Servings: 2
Ingredients:
500 g Gnocchi
50 g Salad leaves
25 g Basil leaves
10 g Dill
40 g Pistachios
30 g Parmesan (or vegan parmesan )
2 Garlic cloves
1 Lemon (zested and juiced )
90 ml extra virgin olive oil
60 g Unsalted butter (or vegan butter )
Salt & pepper
Recipe:
Bring a large saucepan filled with water to the boil. Add a generous pinch of salt and cook the gnocchi following the packaging instructions. Drain and set aside.
Combine the salad leaves, basil, dill, pistachios, parmesan,  garlic, lemon zest, lemon juice and olive oil in a food processor. Pulse until roughly chopped. Season to taste with salt and pepper.
Add the butter to a large frying pan and place on a medium heat. When the butter has melted, add the gnocchi and mix well to coat. Turn off the heat and add the salad leaves pesto. Mix well and divide into plates. Enjoy!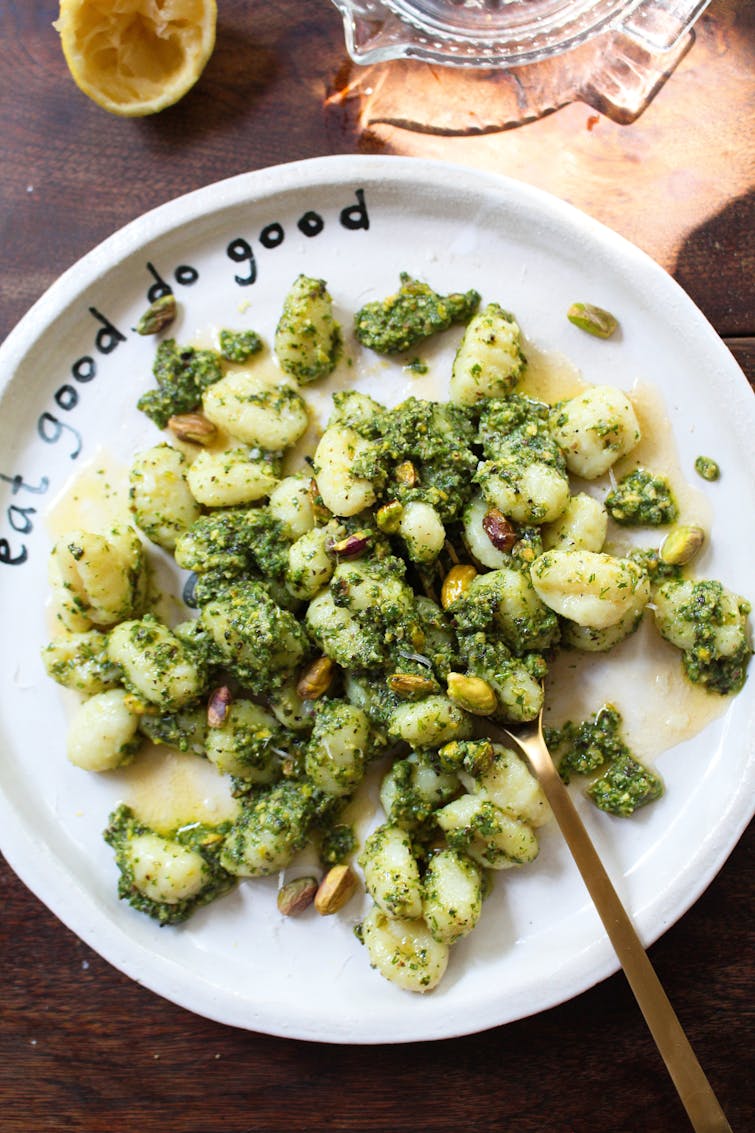 ---
How to store
Store in an airtight container, in the fridge for up to 3 days or in the freezer for up to 1 month.
Leftovers
Toss any leftover sauce in cooked pasta or tender cooked potatoes.