Rocket Tortellini
courtesy of guest chef Camille, @callherchef
Prep time: 40 minutes
Cook time: 5 minutes
Total time: 45 minutes
Servings: 2
Ingredients:
For the pasta :
200 g Pasta flour ( + extra for dusting )
2 Eggs
a pinch of Salt
For the filling:
45 g Rockets
30 g Walnuts
200 g Ricotta cheese 
½ tsp Ground nutmeg 
Olive oil
Salt & pepper
Recipe:
Make the pasta dough: In a mixing bowl, using a fork mix together the pasta flour, eggs and salt. Use your hands to press the dough together and knead on a clean surface for a couple of minutes until smooth and firm. Add a little water if too dry, or extra flour if too wet. Leave the pasta dough to rest while making the rocket filling with a bowl inverted over it. 
Make the rocket filling: Finely chop the rocket and place in a bowl along with the crushed walnuts, ricotta, nutmeg, and 1 teaspoon of olive oil. Mix well to combine and season to taste. Set aside. 
Make the tortellinis: Roll out the pasta dough into a long, wide strip of 1mm in thickness, either by hand or using a machine. If using a small domestic pasta machine, cut the dough into two equal sized balls and roll them out one at a time. Cut your long pasta sheet into discs using a pastry ring (or a glass). Place a little rocket filling in the middle of each ring (about 1 tsp) and brush around the perimeter with a little water. Fold in half forming a half-moon shape, and press down around the seal to push out any air bubbles. Take the corners of the pasta and bring together around your little finger and press together to seal. Repeat until you have used all the pasta and filling. 
Cook the tortellinis: Bring a large pan of salted water to the boil and gently lower in the tortellini. Cook for about four minutes or until the pasta is soft but still al dente. Drain and toss in seasoned olive oil. Serve with grated parmesan cheese.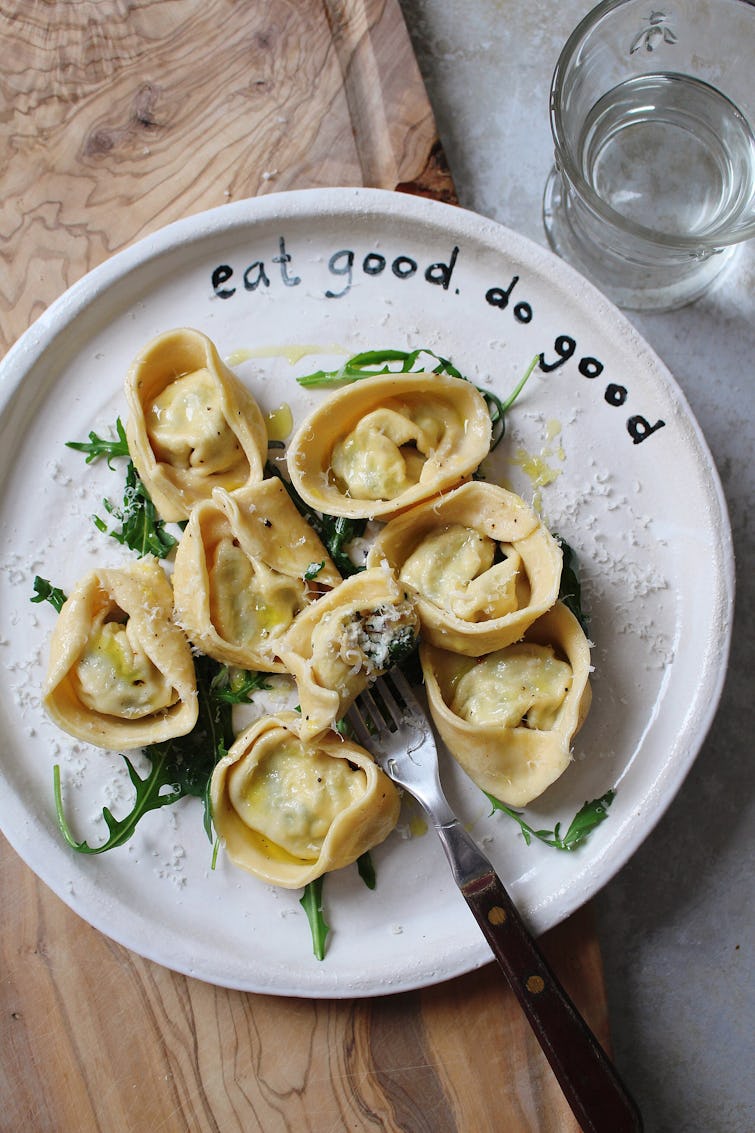 ---
How to store
Your uncooked tortellinis will keep for up to 3 days in an airtight container in the fridge. If you want to freeze them make sure they are nice and dry first. They will keep up to a month in an airtight container in the freezer.