Roasted Tomatoes Ramen Salad
A great Japanese inspired recipe for the warmer days! The chilled ramen salad showcases tomatoes tossed in sesame oil, soy sauce and sugar roasted until juicy, served with noodles, sesame seeds and a shallot and ginger dressing.
Substitute:
No chilli? Use a pinch of chilli flakes instead. 
Vegan? Swap egg noodles for vegan noodles like rice noodles. 
Prep time: 10 minutes
Cook time: 20 minutes
Total time: 30 minutes
Servings: 2
Ingredients:
200 g Tomatoes (any)
1 tbsp Sesame oil
1 tbsp Soy sauce
1 tsp Caster sugar
120 g Egg noodles (or any)
30 g Coriander leaves (roughly chopped )
For the dressing:
1 Shallot (diced )
1 tsp Ginger paste
1 tbsp Rice vinegar
1 tsp Mirin
2 tsp Soy sauce
2 tsp Sesame oil
1 tbsp Olive oil
1 Chilli (sliced )
Salt & pepper
For serving:
1 tbsp Sesame seeds
1 Avocado (quartered )
Recipe:
Preheat the oven to 180 C/160c fan/4 gas mark. Cut the tomatoes in half and place in a baking dish. Add the sesame oil, soy sauce and caster sugar. Toss to coat and bake for 15 minutes, until juicy and bursting with flavour.
Cook the noodles following the packaging instructions, then drain and rinse under cold water to stop the cooking process.
In a large mixing bowl combine all the dressing ingredients together. 
Add the noodles, tomatoes and chopped coriander. Toss well to coat and season to taste with salt and pepper.
Divide into plates and serve with avocado and sesame seeds. Enjoy!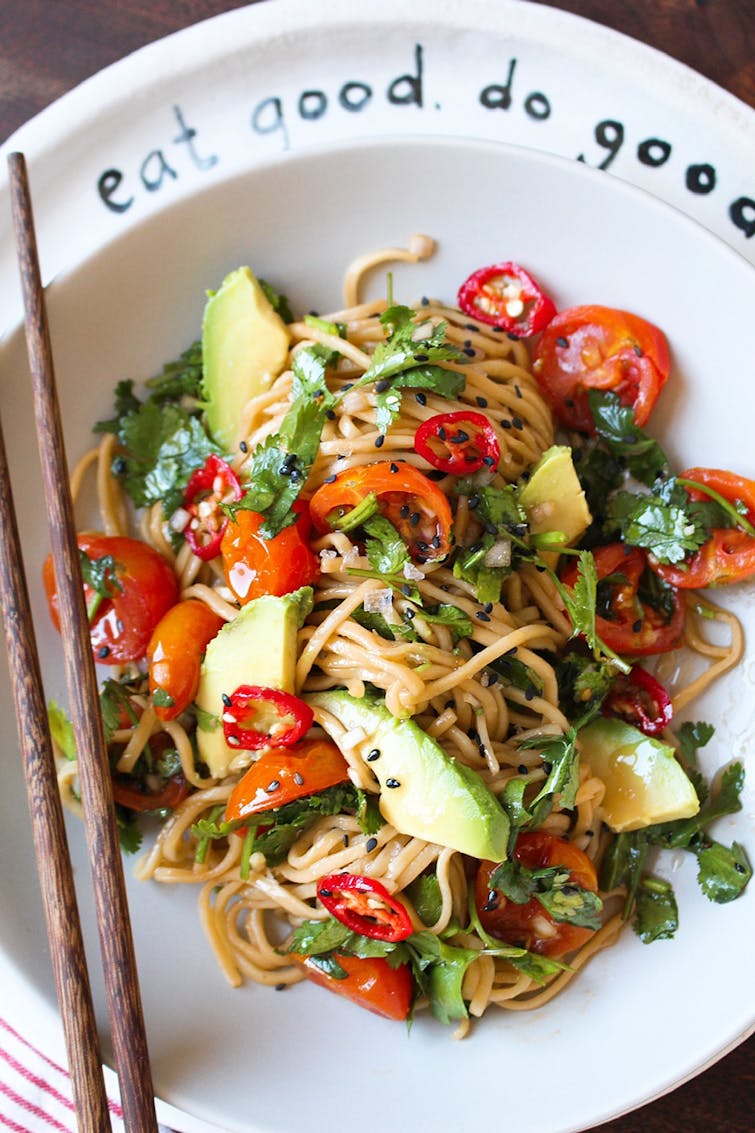 ---
How to store
Store in the fridge for up to 3-4 days.