Roasted Tomato Pasta Sauce
Try this quick and simple tomato recipe. The tomatoes are cut in quarters, seasoned with olive oil, dried herbs, garlic, salt and pepper then roasted to get all their sweetness and juice out. The tomatoes are then blended to a smooth sauce, along with basil. 
Substitute:
No oregano? Use any dried herbs you have on hand. Italian blends or herbs de Provence mix would be delicious. 
Do you like spicy food? Add ½ tsp of chilli flakes into the tomato dish before roasting.
More vegetables? Stir in some spinach, courgetti or other veggies from your Oddbox towards the end of cooking to dress it up a bit and make it slightly healthier.
Prep time: 10 minutes
Cook time: 20 minutes
Total time: 30 minutes
Servings: 6
Ingredients:
1 kg Tomato
5 Garlic cloves
1 tbsp Oregano
a bunch of Basil leaves
2 tbsp Olive oil
Salt & pepper
For serving:
500 g Spaghetti  (cooked al dente)
50 g Parmesan / vegan parmesan
Recipe:
Cut the tomatoes: Preheat the oven to 190 C/170 fan/5 gas mark. Wash under cold water and cut the tomatoes in quarters. Crush the whole garlic cloves to help release all their flavours when cooking. Place the tomato quarters and garlic cloves into an oven dish. Add the olive oil, salt and pepper, and give it a good stir to coat.
Cook the tomatoes: Roast the tomatoes in the preheated oven for 20 minutes, until juicy and lightly caramelised.
Finish the sauce: Place the tomatoes and garlic in a food processor, along with half of the basil leaves. Blend until smooth, and season to taste if needed. Toss in the al dente cooked pasta and serve with grated parmesan/vegan parmesan and fresh basil leaves on top.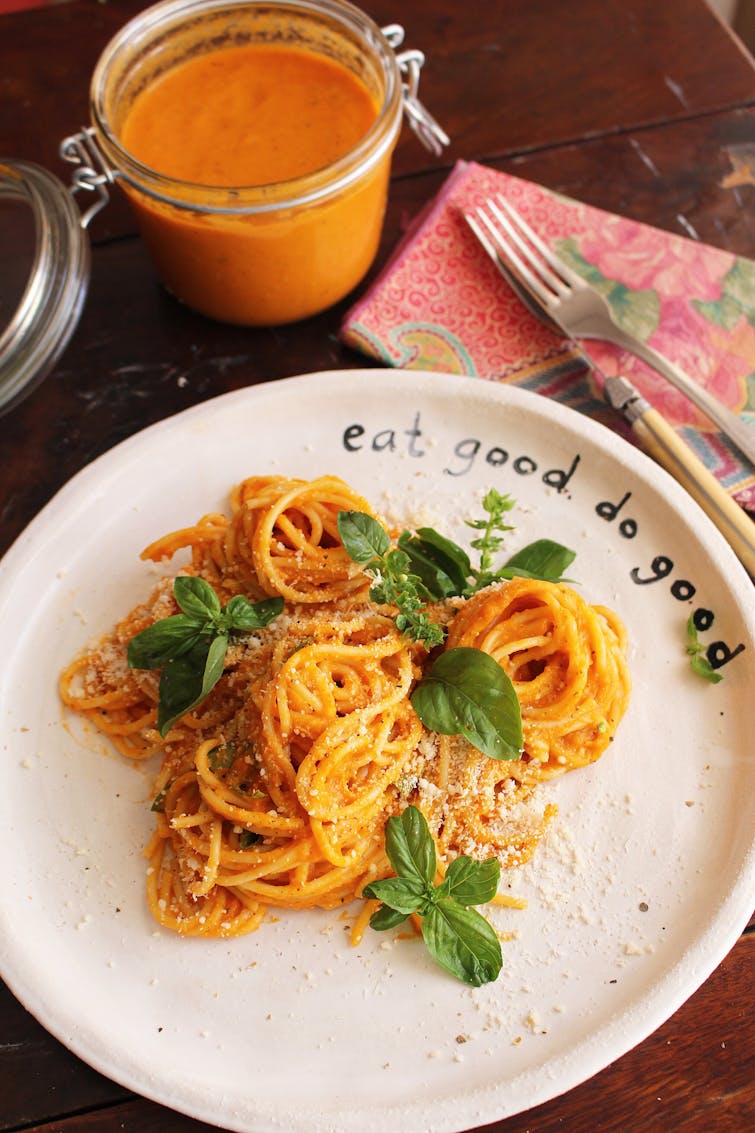 ---
How to store
Pour the tomato pasta sauce warm into a sterilised glass container, close the lid and turn the pot upside down to seal. Let it cool upside down, and store in a dark, cool room for up to 1 month. When opened the pasta sauce will last up to 5 days in the fridge. You can also freeze the tomato sauce in reusable freezer bags (make sure to let the sauce cool down before freezing), for up to 5 months. 
Leftovers
You can turn this pasta sauce into soup instead. Add 500 ml of stock to the tomato mixture before blending. Blend to a smooth soup - for a creamy soup add a dollop of creme fraiche/vegan creme fraiche to the mixture and blend.