Roasted Sugar Snap Pea Rolls With Sesame Dipping Sauce
These fresh and light spring rolls showcase garlicky roasted sugar snap peas with basil leaves, lime and rice noodles. Try these for a light lunch and serve them with a sesame dipping sauce. 
Prep time: 20 minutes
Cook time: 15 minutes
Total time: 35 minutes
Servings: 6
Ingredients:
100 g Sugar snap peas
1 tsp Garlic powder
8 Spring roll papers
16 Basil leaves
50 g Rice noodles
1 tsp Sesame oil
1 Lime juice
1 tbsp Sesame seeds
2 tbsp Soy sauce
1 tbsp Apple cider vinegar
1 tsp Toasted sesame oil
1 tbsp Honey (or maple syrup)
1 chilli flakes (pinch)
Recipe:
Cook the sugar snap peas: Preheat the oven to 200C/180 fan/6 gas mark. Trim the ends of the sugar snap peas and remove the tough string that runs along the side of the peas. The best way to do this is to snap off and pull the ends to peel off the strings. Add the sugar snap peas to an oven tray, drizzle with a little olive oil, season with garlic powder, salt and pepper. Roast for 15 minutes, until tender and lightly charred.
Make the dipping sauce: In a small bowl, combine the soy sauce, vinegar, sesame oil, honey/maple syrup and chilli flakes.
Cook the rice noodles: Bring a small saucepan of water to boil, and cook the rice noodles just until al dente, for 4 minutes, or according to package directions. Drain, rinse them under cool water, and return them to the saucepan. Off the heat, toss the noodles with 1 tsp sesame oil and salt, and set aside.
Make the rolls: Make sure to have all your ingredients close by and ready. Place one rice paper in a large bowl of water and let it rest for about 10 seconds, or until the sheet is pliable but not super soft. Carefully lay it flat on your work surface. Leaving about 2 cm of open rice paper around the edges, cover the lower third of the paper with 2 basil leaves, followed by a little rice noodles, 4 sugar snap peas. Sprinkle sesame seeds and add a squeeze of lime juice. Fold the lower edge up over the fillings, rolling upward just until the filling is compactly enclosed. Fold over the short sides then roll it up. Repeat with the remaining ingredients.
Serve: Serve the sugar snap pea rolls with sesame dipping sauce on the side. You can serve them whole, or sliced in half.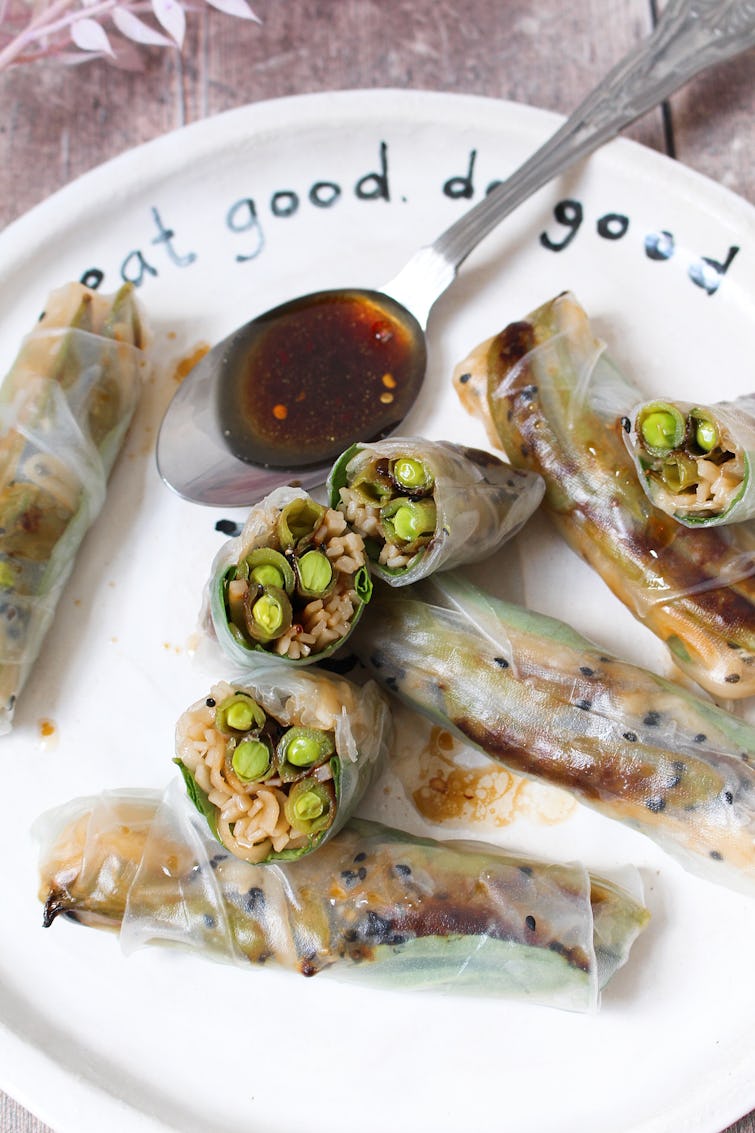 ---
How to store
Store the rolls in an airtight container in the fridge for up to 3 days.
Leftovers
Try frying the rolls in vegetable oil for crispy spring rolls.