Roasted Sesame, Miso & Ginger Aubergine
Our miso-glazed aubergine recipe is quick to make, umami-packed and absolutely delicious. Serve with cooked rice, sushi rice or noodles. 
Substitutes:
No soy sauce? Use tamarind instead. 
No maple syrup? Use golden syrup or honey instead. 
Prep time: 10 minutes
Cook time: 30 minutes
Total time: 40 minutes
Servings: 2
Ingredients:
2 Aubergine
2 tbsp Miso paste
1 tbsp Toasted sesame oil
1 tbsp Soy sauce
1 tbsp Maple syrup
1 tbsp White rice vinegar
1 tbsp Ginger (grated )
1 tsp Sesame seeds
Recipe:
Prepare the miso dressing: In a small bowl, combine the grated ginger, miso paste, sesame oil, soy sauce, rice vinegar, maple syrup, and 1 tablespoon hot water. Mix until you have a smooth dressing. 
Cut the aubergines: Cut the aubergines in halves lengthwise. Score the inside of the aubergine in squares making diagonal cuts or a criss-cross pattern using a sharp knife. The cuts need to be deep but keep the skin untouched. Place on a lined baking tray. 
Glaze the aubergines: Using a brush or a spoon, coat the top of the eggplant making sure you are using at least half of the dressing. Use your hands to open the aubergine flesh and let the dressing go in between the cuts. 
Roast the aubergines: Preheat the oven to 200C/180c fan 6 gas mark. Bake for 30-35 minutes, or until golden brown and the aubergine flesh has softened and is easy to scoop out. Remove from the oven and serve over cooked rice or noodles and top with sesame seeds and fresh herbs if you have any.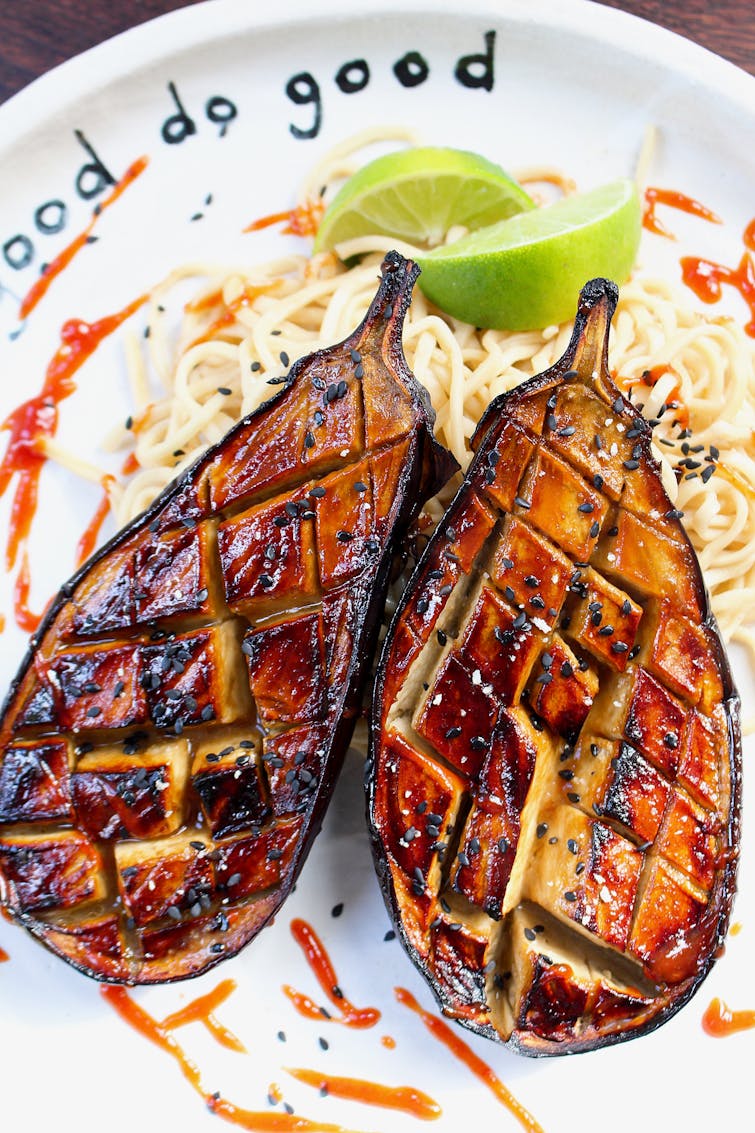 ---
How to store
Store in an airtight container, in the fridge, for up to 3 days.