Roasted Savoy Cabbage Steaks
Try this vegetarian option for a steak. A whole head of savoy cabbage sliced and brushed with a spicy marinade, then roasted until tender inside and crispy on the outside. The savoy cabbage is served with a creamy tahini based dressing. Serve on its own, or as a side.
Prep time: 10 minutes
Cook time: 15 minutes
Total time: 25 minutes
Servings: 3
Ingredients:
1 Savoy cabbage
1 tsp Smoked paprika
1 tsp Garlic powder
1 tsp Cumin
chilli flakes (1 pinch)
3 tbsp Olive oil
Salt (for the marinade and dressing )
Black pepper (for the marinade and dressing )
2 tbsp Tahini
1 tsp Mustard
Honey / Maple syrup
½ Lemon juice
Recipe:
Preheat the oven to 200C/180 fan/6 gas mark. Cut the whole savoy cabbage into 4 cm thick slices and place them on a large baking tray. 
Make the marinade: In a bowl, combine the smoked paprika, garlic powder, cumin, chilli flakes, olive oil, salt and pepper. Generously brush the savoy cabbage slices with the marinade and roast in the hot oven for 20 minutes, until tender. 
Make the dressing: Whilst your cabbage is roasting, combine the tahini, mustard, honey, lemon juice, salt and pepper. Add a splash of water (about 2 tsp) to make the dressing a little more light and liquid, and set aside.
Serve: Add the cooked savoy cabbage steaks onto a plate and drizzle with the creamy tahini dressing.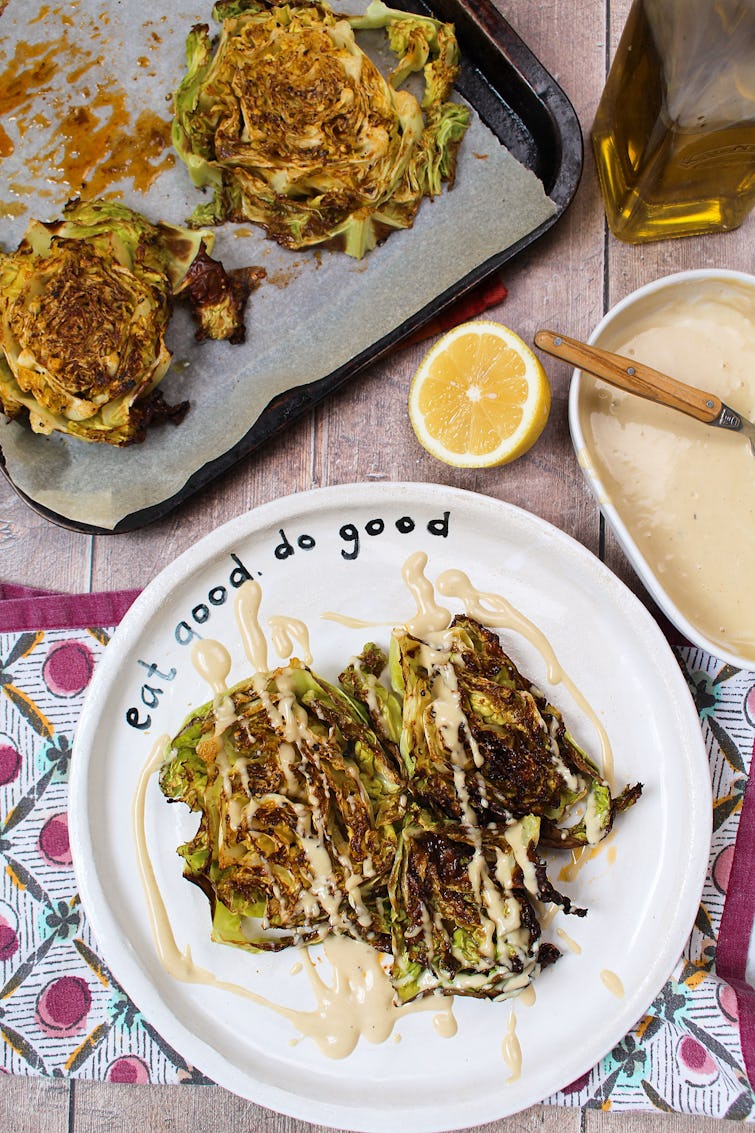 ---
How to store
Store the savoy cabbage steaks in an airtight container, in the fridge, for up to 3 days. Store the dressing in the fridge for up to 7 days.
Leftovers
The savoy cabbage steaks are delicious on their own, or as a side. Use the leftovers cold in salads, along with the already made tahini dressing. The savoy cabbage would work great with grated carrots, or vegetable kimchi.