Roasted Pumpkin Fondue
Crusty pieces of bread are loaded onto forks before dipping into the seasonal and creamy fondue to scoop the pumpkin and melted cheese delight. This is a perfect dish for sharing/entertaining which is fun too! 
Substitutes:
No cheddar? Use other cheeses such as reblochon or emmental. 
No dried thyme? Try oregano instead.
Prep time: 20 minutes
Cook time: 40 minutes
Total time: 60 minutes
Servings: 4
Ingredients:
1 Pumpkin (medium )
350 g Cheddar (grated )
2 tbsp Olive oil
1 tbsp Dried thyme
2 Garlic cloves (grated)
Bread (to serve)
Salt & pepper
Recipe:
Preheat the oven to 180 C/160c fan/4 gas mark. Cook the whole pumpkin in boiling water for 15 minutes. Remove from the water, cut a lid from the pumpkin and scoop out the seeds and strands. Place the pumpkin into a baking dish. 
In a bowl, mix together the olive oil, thyme and a generous pinch of both salt and pepper. Pour into the pumpkin and brush to season all the flesh. 
Add the grated cheese and garlic into the pumpkin. Place the lid back on and roast for 40 minutes. Meanwhile, cut chunks of bread. 
To serve, arrange the pumpkin on a platter surrounded by chunks of crusty bread. Use forks or skewers to dip.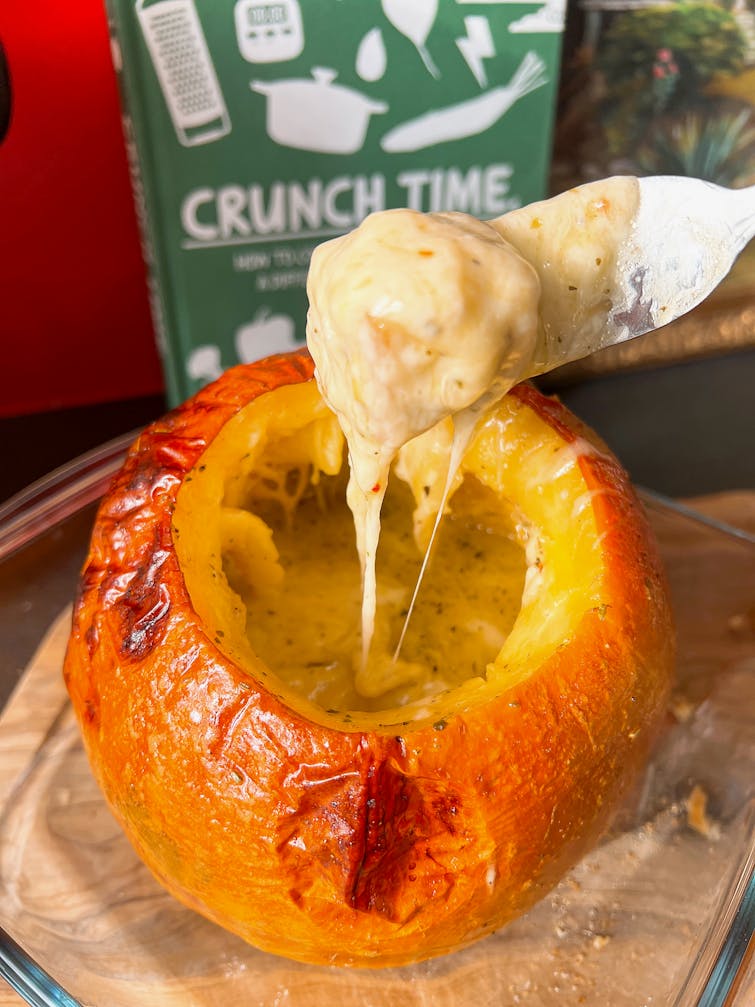 ---