Roasted Plum Trifle
Make the most of your plums with this trifle recipe showcasing layers of juicy roasted plums, custard and whipped cream.
Substitute:
No plums? Try with peaches, nectarines, cherries or apricots instead. You can also use fresh chopped strawberries instead - no need to bake them. 
No honey? Use maple syrup instead. 
Vegan? Make a vegan custard from dairy free milk (oat, soy, almond..), a touch turmeric for colour, vanilla for flavour and cornflour as a thickening agent. Use vegan whipping cream for the whipped cream topping.
Prep time: 15 minutes
Cook time: 15 minutes
Total time: 30 minutes
Servings: 2
Ingredients:
200 g Plums
2 tbsp Honey
For the custard:
3 Egg yolks
40 g Caster sugar
2 tsp Corn flour
190 ml Milk of choice
1 tsp Vanilla extract
For the whipped cream:
100 ml Whipping cream
For the topping:
2 tbsp Flaked almonds
Recipe:
Preheat the oven to 180 C/160c fan/4 gas mark. Cut the plums in half and remove the seeds. Place the plums in a baking dish and drizzle the honey all over. Bake for 10 minutes, until tender and juicy.
In the meantime make the custard. Add the egg yolks, cornflour and sugar into a mixing bowl. Add the milk and vanilla into a small pan and bring to a simmer. Whisk the yolks and sugar together, then gradually pour the hot milk mixture onto the yolk mixture, whisking constantly. Pour the mixture back into the pan. Heat gently, stirring with a whisk, until the custard is thickened, but before any lumps form. Set aside to cool.
For the whipped cream layer, simply add the whipping cream to a mixing bowl and whisk with an electric mixer until light and fluffy. Set aside in the fridge until ready to use.
When all your layers have cooled down, start building your trifles. Take two upcycled jam jars or water glasses and divide the plums inside each one. You can keep a couple to decorate the trifle tops.
Now pour the custard over the plums and top with a generous scoop of whipped cream. Add the reserved plums and top with flaked almonds.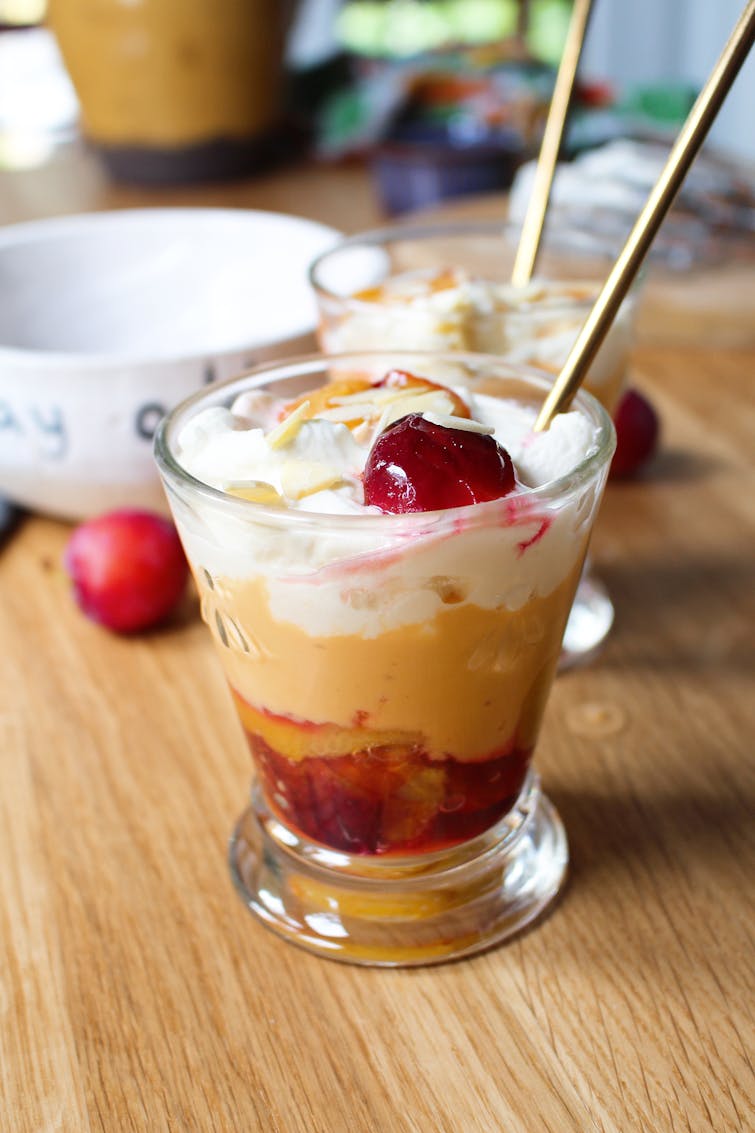 ---
How to store
Store the trifles in the fridge for up to 2 days.