Roasted Fennel Polpette
Make the most of your fennels with this vegetarian fennel meatballs recipe. Nutty and anise the polpette are delicious served with a simple tomato sauce. 
Substitute:
No egg? Try with flaxseed instead. Place 1 tbsp of flaxseed in a bowl, along with 3 tbsp water. Mix and set aside for 10 minutes until egg consistency. 
No oregano? Try with thyme. 
No chilli flakes? You can use fresh chilli instead. 
Prep time: 30 minutes
Cook time: 30 minutes
Total time: 60 minutes
Servings: 2
Ingredients:
2 Fennel
2 Garlic cloves
1 a pinch of chilli flakes
1 Egg (medium)
2 tbsp Pine nuts
3 tbsp Breadcrumbs
2 tbsp Parmesan
For tomato sauce:
Tin chopped tomatoes
2 Garlic cloves
1 tbsp Oregano
1 tbsp Balsamic vinegar
1 tbsp Olive oil
Salt & pepper
Serve with:
¼ a bunch of Parsley
Parmesan
Recipe:
Prepare the fennels: Preheat the oven to 180C/160 fan/4 gas mark. Cut the fennels into 3 cm thick wedges and place on a baking tray. Reserve any fennel fronds. Drizzle with olive oil, season, and roast for 20-30 minutes, until slightly caramelised and tender. Remove from the oven and leave to cool for 5 minutes.
Make the polpette mixture: Finely chop 2 garlic cloves and place in a mixing bowl along with the chilli flakes, grated parmesan, egg and breadcrumbs. Place the fennel wedges, and pine nuts in a food processor. Pulse blend until chopped but still quite chunky. Add the chopped fennel to the garlic mixture, and mix to combine. With wet hands, roll the mixture into 12 walnut-sized balls. Place them on an oiled oven tray and leave in the fridge to set for 15 minutes. 
Make the tomato sauce: Chop 2 cloves of garlic and gently fry in a little olive oil until soft. Add the chopped tomatoes, balsamic vinegar, season with salt and pepper and leave to simmer for around 20 minutes, or until the sauce has thickened a little.
Cook the fennel polpette: Preheat your oven again to 200C/180 fan/6 gas mark. Drizzle the polpette with olive oil and bake for 20-25 minutes, until golden and crisp. Turn them around half way through cooking.
Serve: Serve the polpette with the tomato sauce, grated parmesan, parsley leaves and reserved fennel fronds.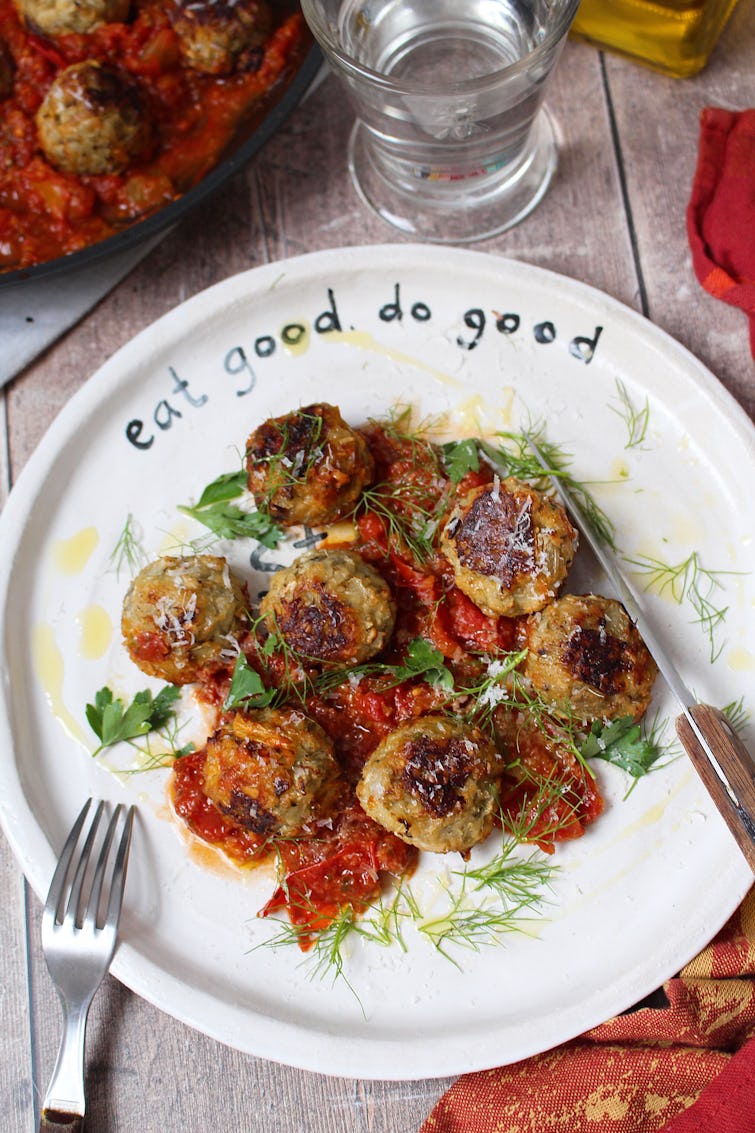 ---
How to store
How to store: Store your polpette in an airtight container, in the fridge, for up to 3 days. You can freeze the polpette for up to 3 months. Defrost and roast for 10-15 minutes in a hot oven, until warm again. 
Leftovers
Leftovers: Serve your polpette with your favourite pasta. Toss al dente pasta (spaghetti works well) in the tomato sauce first, then serve with the polpette.