Roasted Beetroot Soup with Wilted beetroot leaves and Creme Fraiche
A colourful, comforting soup perfect for this time of the year. It's made from caramelised roasted beetroots, garlic, ginger, allspice, thyme, and seasonings. Blended until creamy and smooth, served with a dollop of creme fraiche/vegan cream and fresh basil leaves. 
Substitute:
No beetroot? Try with carrots or parsnips instead. 
Vegan? Use vegan oat creme fraiche or vegan yoghurt for the topping.
No beetroot leaves? Use spinach instead.
Prep time: 15 minutes
Cook time: 50 minutes
Total time: 65 minutes
Servings: 2
Ingredients:
For the soup:
600 g Beetroots
1 Onion
2 Garlic cloves (chopped)
1 tsp Ground ginger
1 tsp Allspice
600 ml Water
1 vegetable stock cube
1 Bay leaf
Olive oil
Salt & pepper
For the topping:
Beetroot leaves
2 Garlic cloves (chopped )
Creme fraiche / vegan creme fraiche
Olive oil
Salt & pepper
Recipe:
Preheat the oven to 200 C/180 fan/6 gas mark.
Cut the beetroot in wedges, toss in olive oil, season with salt and pepper.
Place in a large baking tray, and roast for 20 minutes.
In a large saucepan, heat the olive oil over medium-high heat. Add the onion, garlic and cook for 5 minutes, until fragrant. Stir in the ginger, allspice and the beetroot wedges. Cook for 4-5 minutes, or until vegetables begin to stick to the bottom of the pan. 
Add the stock, water and bay leaf. Bring to the boil. Reduce the heat to low, cover, and simmer until vegetables are very tender, about 20-25 minutes. 
While the soup is cooking, make the beetroot leaves topping. Chop the beetroot leaves, and garlic cloves. Heat 1 tbsp of olive in a frying pan and cook the garlic and beetroot leaves for 5 minutes, until wilted and fragrant. 
Remove the bay leaf from the saucepan and use a hand blender to puree the soup until smooth. Season to taste with salt and pepper.
Ladle the soup into bowls and top with a dollop of crème fraîche/vegan creme fraiche and the wilted beetroot leaves.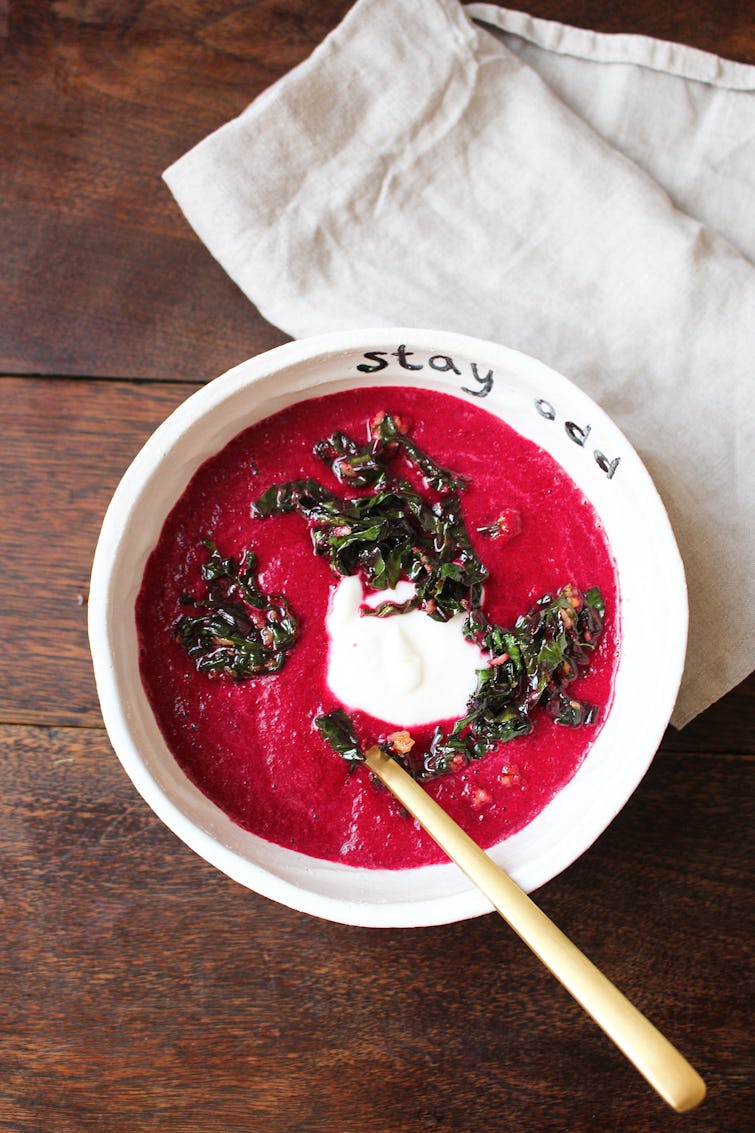 ---
How to store
Store in an airtight container, in the fridge for up to 3 days, or in the freezer for up to 1 month. 
Leftovers
Use any beetroot soup leftovers to make pasta sauce or to make a casserole recipe creamier or thicker.