Rhubarb & White Chocolate Victoria Sponge Cake  
A victoria sponge is the classic British cake for celebration! Here showcasing layers of sponge cake, rhubarb jam and white chocolate buttercream frosting.
Substitute:
No rhubarb? Try with strawberries, peaches or berries instead. 
Dairy-free? Use plant based baking butter and plant based double cream. 
Prep time: 30 minutes
Cook time: 30 minutes
Total time: 60 minutes
Servings: 8
Ingredients:
For the jam:
260 g Rhubarb
100 g Caster sugar
1 tsp Vanilla paste
For the cake:
200 g Unsalted butter (softened )
180 g Caster sugar
180 g Self raising flour
4 Eggs
1 tsp Baking powder
a pinch of Salt
For the buttercream:
50 g Unsalted butter (softened)
50 g White chocolate chips
60 g Icing sugar
1 tbsp Double cream (optional)
Recipe:
Make the jam: Chop the rhubarb into chunks and place in a saucepan along with the sugar and vanilla. Place over medium heat and cook for 20-25 minutes, until you have a jam consistency. If you like your jam a little pink, feel free to add a handful of berries (frozen or fresh). When ready, turn off the heat and set aside to cool.
Cook the sponge cakes: Preheat the oven to 180 C/160c fan/4 gas mark. Grease and line 2 x 20cm round cake tins with baking paper. In a large mixing bowl, cream together the butter, sugar and eggs using an electric whisk until light and fluffy. Add the flour a little at a time, whisking until fully combined. Spoon the batter evenly into the two prepared cake tins. Bake for 25-30 minutes, until springy to the touch and a skewer comes out clean when inserted into the centre of the cakes. Remove from the oven and set aside to cool on a wire rack for 5 minutes or until you can remove the cakes from their tins.
Make the buttercream: Melt the chocolate over a pan of hot water. Using an electric whisk, beat butter until soft and fluffy. Add the icing sugar and beat until combined. Pour the melted chocolate in the bowl and beat until combined. Add the double cream and whisk until light and fluffy. Keep the buttercream in the fridge until ready to use. 
Finish the cake: Transfer one of the cakes to a serving plate. Spread the bottom half of the cake with the jam in an even layer. Sandwich the cake with the other half of the cake, spread the white chocolate buttercream all over and serve.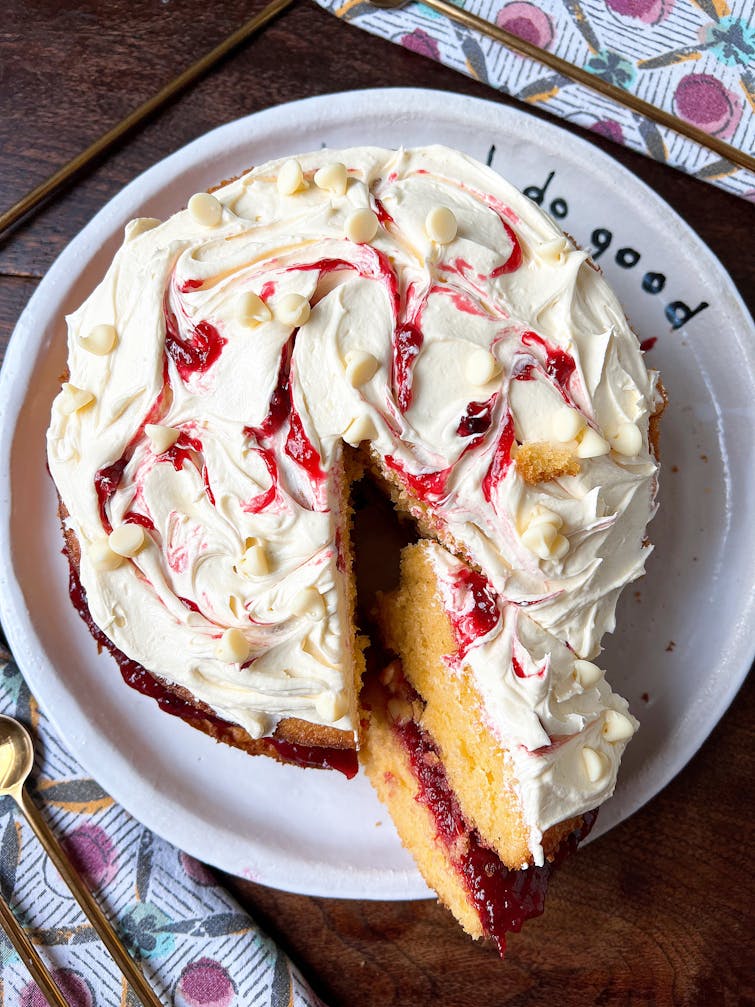 ---
How to store
Store in an airtight container, the fridge for up to 3 days.