Quick Apple Puddings 
These little pots of goodness can be made using any fruits you have on hand and help rescue bread from waste with the bread topping. 
Substitutes:
No apples? Use pears, mango, peaches, apricots or blueberries instead. Feel free to mix fruits together too for a fruity pairing, such as apples and blueberries. 
No cinnamon? Try with a little cardamom instead. 
Prep time: 10 minutes
Cook time: 20 minutes
Total time: 30 minutes
Servings: 4
Ingredients:
5 Apples
1 tsp Vanilla paste
1 tbsp Lemon juice
1 tbsp Caster sugar
4 Slices of bread (white or wholemeal)
2 tbsp Unsalted butter (melted)
1 tbsp Light brown sugar
1 tsp Ground cinnamon
Recipe:
Preheat the oven to 180C/160c fan/4 gas mark. Core and chop the apples into small chunks. Place in a small saucepan along with 2 tbsp of water and the lemon juice. Pop the lid on and stew over medium heat for 8-10 minutes, until soft. Turn off the heat and stir in the caster sugar and vanilla paste.
While the apples are cooking, prepare the bread toppings. Use an upside down ramekin on top of the bread slices and use as a template to cut 4 bread circles. 
Brush the bread circles with butter on both sides. Sprinkle brown sugar and cinnamon over the top and cut each slice into quarters. 
Divide apples into 4 ramekins and lay bread over. Place the ramekins on a tray and bake for 15 minutes, until the tops go crispy. Enjoy!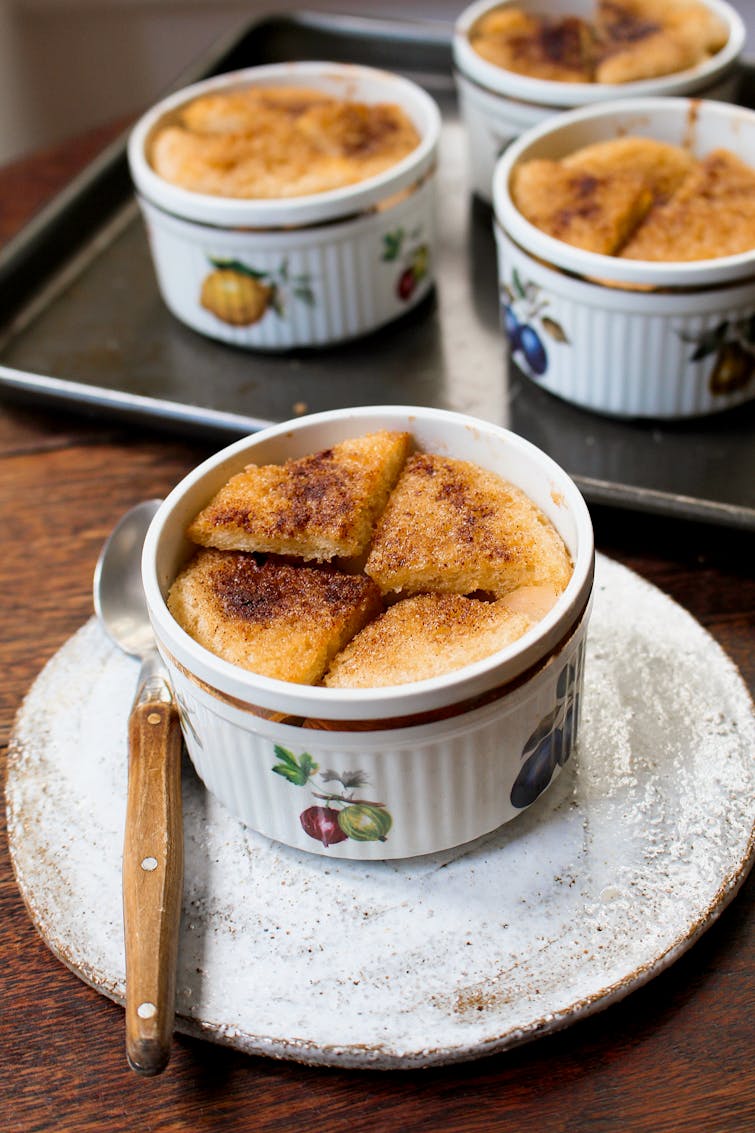 ---
How to store
Store in the fridge for up to 3 days and reheat in the oven to crisp up the tops. The stewed apples can be stored in the freezer for up to 3 months.