Potato, lentil & Dill Salad
This potato salad with the addition of lentils and plenty of fresh herbs is nourishing, satisfying and packable; perfect for summer picnics and on the go lunches.
Substitute:
No lentils? Use chickpeas or beans of your choice instead. 
No dill? Use basil or parsley instead. 
No shallot? Try with red onion instead. 
No lemon? Use red wine vinegar instead.
Prep time: 10 minutes
Cook time: 20 minutes
Total time: 30 minutes
Servings: 4
Ingredients:
400 g Salad potato
300 g Courgettes (sliced)
120 g Cooked puy lentils
10 g Dill (chopped )
For the dressing:
1 Lemon (zested and juiced )
1 Shallot (chopped )
1 tbsp Dijon mustard
4 tbsp extra virgin olive oil
Salt & pepper
Recipe:
Fill a saucepan with water and cut the salad potatoes in half. Add the potatoes to the pan along with a large pinch of salt. Bring to a boil over high heat. Boil the potatoes for 15-20 minutes, until tender. Add the courgette slices to the pan with the potatoes at about the last 3 minutes of cooking, to quickly blanch it. When cooked, drain and set aside.
While the potatoes and courgettes are cooking; prepare the dressing for the potato salad. In the bottom of a large mixing bowl, combine the shallot, mustard, lemon zest and juice and a generous pinch of both salt and pepper. Stream in the olive oil while whisking, until emulsified. Taste for salt and pepper and adjust if needed.
Add the cooked lentils, potatoes, courgette and dill to the bowl with the dressing and mix to combine. Serve right away or keep in an airtight container in the fridge until ready to serve.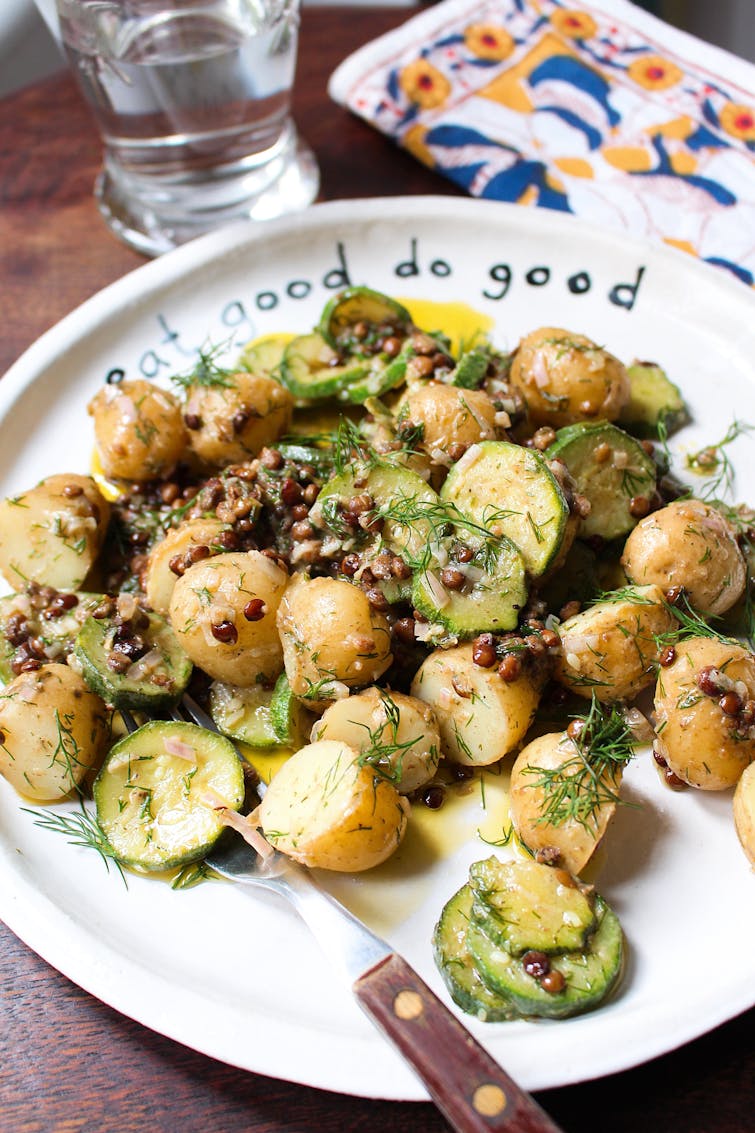 ---
How to store
Store in the fridge for up to 3 days.